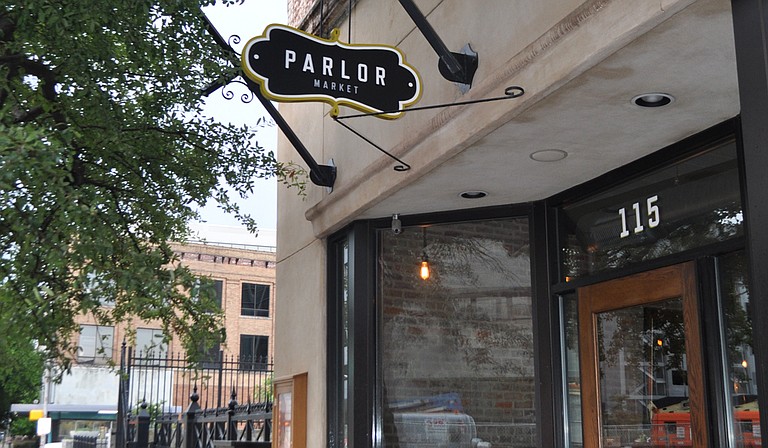 Ken Szilasi, owner of Maison Weiss, a women's fashion specialty store located at Highland Village (4500 Interstate 55 N., Suite 109), is hosting a celebration to commemorate his store's 40th anniversary today, Aug. 17, from 11 a.m. to 7 p.m.
Szilasi's grandparents, Bernie and Nell Weiss, opened Maison Weiss—French for "House of Weiss"—in 1975. The couple had formerly worked at a department store called Gus Mayer in downtown Jackson.
Szilasi met his wife, Tracy, while the two were employed at his grandparents' store. Tracy Szilasi started as a sportswear sales associate in 1982 before becoming Nell Weiss' assistant and later a buyer for the store's vendors. Ken Szilasi worked at The Rogue (4450 Interstate 55 N.) in Highland Village before his grandfather asked him to come work for him as an assistant manager in 1986. He became manager a year later and, over a period of time from 1990 to 2013, became a 95-percent shareholder of Maison Weiss.
Maison Weiss is a full-scale specialty store that carries cosmetics, denim, designer apparel, luxury outerwear, designer shoes and handbags, jewelry and more from more than 100 lines.
The 40th anniversary celebration will feature food and drinks from BRAVO! Italian Restaurant and Bar (4500 Interstate 55 N., Suite 244), La Finestra (120 N. Congress St., Suite 3) and Primos Cafe (2323 Lakeland Dr., Flowood). A keyboardist will perform from 11 a.m. to 2 p.m. and local jazz band Swing de Paris will be performing from 2 to 7 p.m. All customers who make a purchase will be entered into a raffle for one of 70 Maison Weiss items, including fragrances, scarves, cashmere clothing and more. Szilasi will donate 10 percent of all of the day's proceeds to Blair E. Batson charity Friends of Children's Hospital.
For more information call Mason Weiss at 601-981-4621.
Albriton's Jewelry Moving to New Location
Albriton's Jewelry (4500 Interstate 55 N., Suite 184), a fourth-generation family owned and operated jewelry store in the Highland Village Shopping Center, is making plans to move its shop into a new location of its own.
John Albriton, third-generation owner of the store, is planning to have a new building with 3,500 square feet of retail space and 1,000 square feet of office and storage space constructed in a space next to the BankPlus and Morgan Stanley building (4450 Old Canton Road), which is across the street from Highland Village. Albriton hopes to have construction started by Jan. 1, 2016, and be finished by fall 2016. Albriton's will move its inventory to the new location and close the current location when construction is finished.
Albriton's offers bridal and fashion jewelry, a variety of designer watch brands and more. Albriton's grandfather, John L. Albriton Sr., opened the original location of Albriton's on Capitol Street in 1920, shortly after serving in World War I. The current owner's father, John Albriton Jr., joined the family firm in 1946 after serving in World War II. The Albritons opened a second location in the mid-'50s at the old Northwood Shopping Center in Jackson, which eventually moved operations to Highland Village in 1972.
The downtown and Highland Village Albriton's locations consolidated operations at the current Highland Village location in 1991. Current owner John Albriton's son, Cameron Albriton, is working as a manager in the store in preparation to become the fourth-generation owner.
"I'm keeping our new location close to our old one because I believe in Highland Village and want to stay close to it," Albriton said. "I believe in Jackson as well, and I want my store to be an investment to both the people of Jackson and my son, to let them know that we will be there for them."
For more information call Albriton's Jewelry at 601-982-4020.
Network After Work with the Chamber
Every month, the Greater Jackson Chamber Partnership hosts Networking at Noon, a business luncheon held at varying local chamber restaurants. The goal of the event is to promote and encourage networking among local businesses. Now, the chamber is offering a new networking opportunity with Networking at 5.
Every three to four months, the GJCP will host a networking event from 5 p.m. to 7 p.m., to accommodate chamber member restaurants that do not have the capability of hosting a networking event at lunch. Networking at 5 will feature a special discounted food menu, a cash bar for adult beverages, and waived tea and soft drink charges for the first 40 attendees. Each restaurant participant will also give away a $20 gift card to one attendee at each event.
The next Networking at 5 event will be Wednesday, Aug. 19, at Parlor Market (115 W. Capitol St.). RSVP to Niki Carr Lowery at [email protected]