Wednesday, March 26, 2014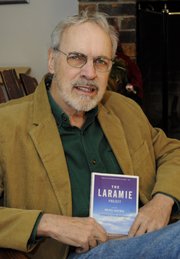 From his portrayal of William Faulkner in "Oh, Mr. Faulkner, Do you Write?" to his southern interpretation of the biblical character St. Peter in "Fish Tales," John Maxwell is a man of many faces.
He has performed nationally and internationally in venues such as The Bottom Line in New York City, The Smithsonian, Picolo Spoleto Festival, the Alliance Theatre in Atlanta and the Alabama Shakespeare Festival. He has also performed "Oh, Mr. Faulkner, Do You Write?" before former President Jimmy Carter and his wife, Roslyn, at the Cultural Olympiad in Atlanta.
This year, Maxwell received the Artistic Excellence Award at the 2014 Mississippi Governor's Arts Awards Feb. 20. "What's great about that is affirmation from your state, which is so important—and no matter who you are or what you do, a pat on the back is always appreciated," Maxwell says. He is best known for writing and performing his one-man play, "Oh Mr. Faulkner, Do You Write?" He has performed the play in 12 countries and almost all 50 states.
Maxwell was born the son of a cattle farmer named Hoover, and grew up two miles outside Pickens, Miss. His mother, Mighonne, who was a self-taught pianist and singer, first opened his eyes to the arts. "I probably picked up more of her genes than (my father's), because I knew I didn't want to be a farmer," Maxwell says. "My mother would take me around to talent shows when I was 5 and 6 years old, and I would sing and dance. I immediately loved it, loved being on stage and in front of an audience." It wasn't until college, however, that Maxwell decided to really pursue the craft. "When I went to college, I tried out for a couple of musicals to meet girls, and finally realized, hey, I love this again," he says. "It rekindled what I had when I was 5 and 6."
Maxwell received a master's degree in theater from the University of Mississippi. He then taught at Holmes and then Hinds community colleges, where he came up with the idea for "Oh, Mr. Faulkner, Do you Write?" His mother was also his inspiration for writing the play, which tells the story of Faulkner based on the author's memoirs.
"When I was 30 years old, my mother bought me 'The Hamlet'—which still remains my favorite Faulkner novel—and I said, 'Mom, I can't read Faulkner.' But I read it and fell in love with it," he says. "I got consumed by it. I'm sure people didn't want me at parties because I wanted to talk about 'The Sound and the Fury' all the time. I wrote (the play) and had no idea that it would do anything. I thought I would just do one run of it and go back to teaching."
But the opposite happened—the play got rave reviews. It opened at New Stage Theatre in the fall of 1981 and has received much acclaim and inspired a movie version that earned a variety of awards, including best actor for Maxwell's performance in the film at the Atlanta Film Festival in 2006.
Maxwell went on to found his own theater group called Fish Tale Group Theatre, a nonprofit organization dedicated to spreading the word of the Bible through modern dramas. Maxwell created a series titled "The Religious Monologues," which tell the story of a variety of biblical characters such as Paul in "The Last Epistle," Peter in "Fish Tales," John the Baptist in "Flower Child," Joseph in "Father to the Stepson," Judas in "Me and My Shadow" and Barnabas in "Giving, and the Son of Joy!"
Fish Tale Theater Group also performs a range of less directly biblical plays, from "Freud's Last Session" written by Mark St. Germain, which takes place during a session between C.S. Lewis and Sigmund Freud to "Bill W and Dr. Bob," written by Samuel Shem and Janet Surrey, a play about the creation of Alcoholics Anonymous, to "The Prodigal," a dramatic retelling by Maxwell of the parable of the prodigal son. The play takes place in the Mississippi Delta.
He is currently working on a play called "Martha," which is a modern retelling of the biblical story of Martha and Mary.
More like this story