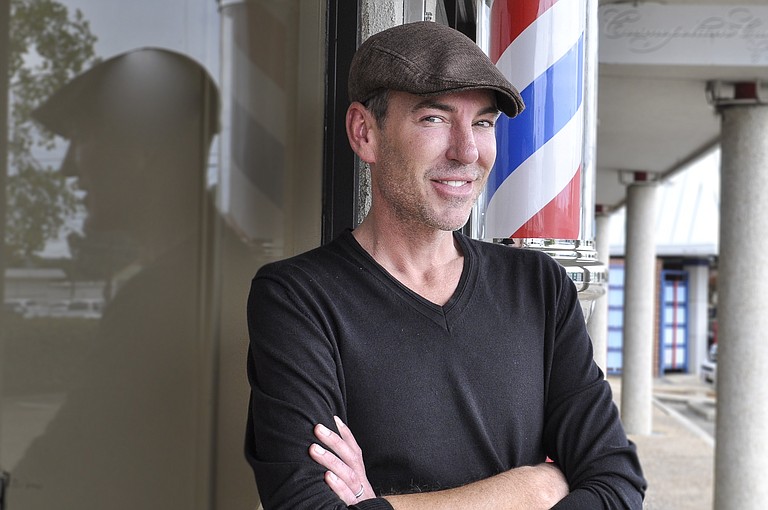 When Eddie Outlaw decided to go to Hinds Barber College in Raymond, he had a decision to make.
"When I made the decision to go to hair school, the options were cosmetology school or barber school. I think I found out than in barber school, you don't have to do pedicures," he said. "That did it for me."
Outlaw graduated in 1997, and now spends most of his time behind the chair at William Wallace Salon (2939 Old Canton Rd., 601-982-8300), which he owns with his husband Justin McPherson. Outlaw, 42, said he never thought about owning his own salon until he met McPherson.
"(Justin) was in hair school when we met. It was just something we started talking about," Outlaw said.
Twelve years later, Outlaw says he and McPherson have been able to do everything they talked about with the salon.
Outlaw is also an active advocate for the LGBT community, especially in Mississippi. Outlaw helps in whatever way he can, including through writing blogs and columns for the Jackson Free Press.
"While I can't always jump up and run to every rally, I can at least use my words and my voice to speak out and advocate for the LGBT community," Outlaw said.
Outlaw, who grew up in Silver City—a small town in the Delta—says people have contacted him through email and even dropped by the salon to talk with him about the LGBT community.
"I've been able to change hearts and minds," Outlaw said. "Sometimes their opinion completely changes, or sometimes they shift in a new particular situation."
Sometimes, people talk to Outlaw about how his writing has impacted their lives or those of others. For example, someone told Outlaw they knew a young man who stumbled upon his blog. After reading Outlaw's words, the young man decided to attend the University of Alabama at Birmingham because he decided that he could make it as a gay man in the South.
"It's always good to hear that I've been able to help someone in some way," Outlaw said.
Outlaw also helps the LGBT community by talking to media outlets, which he said started with a call from a local reporter one day and escalated from there. Now, he often talks to news outlets such as MSNBC about issues in the LGBT community.
"I feel a strong obligation to speak out when I can," Outlaw said.
Outlaw is optimistic for the future. He thinks the LGBT anti-discriminatory resolution that the Jackson City Council passed in early June is extremely positive.
"I think it shows willingness to think with an open mind and openness to accept other people's differences," Outlaw said.
Outlaw and McPherson star in the short documentary "A Mississippi Love Story," directed by Lauren Cioffi and produced by Robbie Fisher. The film highlights Outlaw and McPherson's relationship and their everyday lives, in the midst of historic U.S. Supreme Court rulings and legislation surrounding same-sex marriage. Filmmaker Lauren Cioffi spent much of 2013 documenting their lives, while another team filmed oral arguments during California's Proposition 8, which would have banned same-sex marriage in the state, and in the Defense of Marriage Act, a federal law enacted in 1996 that gave states the right to refuse recognition gay marriage. The Supreme Court ruled section three of the act, which outlined the parameters of marriage, unconstitutional last year.
Mississippi Museum of Art will show the film tonight, June 27, from 6:30 to 8:30. People can also see it on Vimeo.