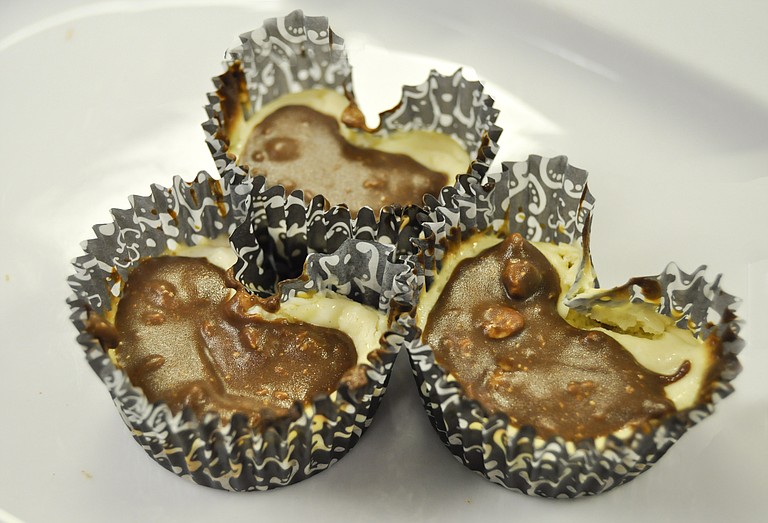 Wednesday, February 12, 2014
Besides cookies, cheesecake is my most favorite dessert. I could eat it any day, any time of the year and be totally happy. It's rich and decadent, only surpassed by the chocolate soup I had in Scotland. Cheesecake even tastes good when you screw it up.
The only problem with the dessert is that it's probably the most fatty kind of cake in the world, because cheesecake's main ingredient is, of course, dairy. So what's the best way to combat the richness of it? Make it mini.
And how do you make mini desserts just a little more romantic and fitting for Valentine's Day? Add a little bit of chocolate. To me, the best kind of chocolate comes from European countries such as Belgium and Switzerland.
Heart-shaped Toblerone Mini Cheesecakes
Ingredients and tools
Cupcake liners
12 marbles
2/3 cup graham cracker crumbs
2 tablespoons white sugar
2 tablespoons unsalted butter, melted
2 8-ounce packages of cream cheese, at room temperature
1/2 cup white sugar
3 teaspoons lemon juice
1/2 teaspoon vanilla extract
2 eggs
1 Toblerone chocolate bar
Directions
Preheat the oven to 325 degrees and set the cream cheese out to soften.
Pulse about 10 graham crackers in a blender. This should make about 2/3 of a cup. Combine the crumbs, two tablespoons of white sugar and butter in a bowl, and stir with a fork until combined.
Line the pan with cupcake liners and set a marble in each cup, between the metal pan and the liner. This will create an indention in the finished cheesecake to make a heart shape. Pour about a tablespoon of crust into the liners. Very carefully, compress the crust with your fingers. Toast the crusts in the oven for five minutes, then take the pan out of the oven and let it cool.
Combine the softened cream cheese with the 1/2 cup white sugar and mix until fluffy. Add the lemon juice and vanilla extract and mix until just combined. Add the eggs one at a time and mix until just combined.
Pour the batter into the cupcake liners until the liners are 3/4 full. Bake for about 25 minutes, or until the mini cheesecakes are done. Once done, let them cool for about 20 minutes.
Break the Toblerone bar apart and throw the pieces into a small to medium-size bowl. Heat the chocolate in the microwave for 30 seconds at a time until the chocolate is melted. Stir between each set of 30 seconds. With a spoon, pour the chocolate on each cheesecake in the shape of a heart.
Cool the mini cheesecakes in the refrigerator until ready to serve.
Serves 12.