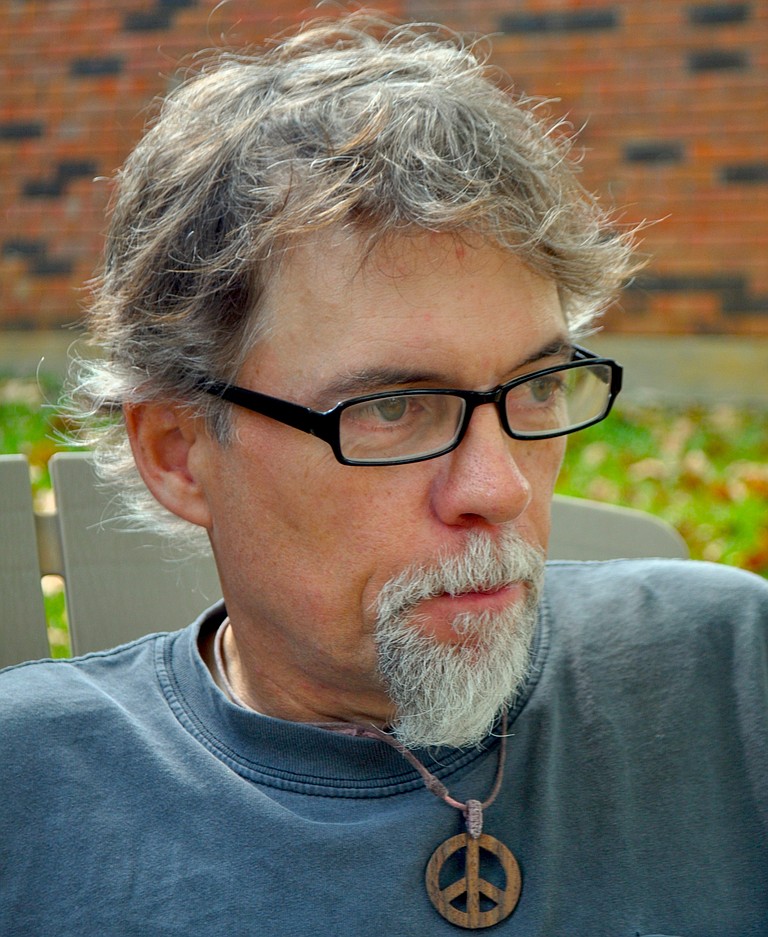 Wednesday, October 17, 2012
Nightclubs and bars are usually the places where bands and other musical acts go to celebrate the release of a new project, not authors. Clinton writer Thomas R. Ruffin, who recently released his fourth volume of poetry and prose, sees it a bit differently.
"I tend to sell more books at bars," Ruffin tells me. "It's my kind of people. The folks who go to get a beer after work."
As such, Ruffin will celebrate the release of his new book, "The Empty," at ToMara's on Highway 18 in Raymond Oct. 18 at 8 p.m. There is, of course, a full bar, pool tables and, interestingly enough, karaoke on that night as well.
While the "release a book at a bar" model may seem strange at first, a read-through of "The Empty" proves otherwise. This is blue-collar poetry and prose, written by a man who has worked hard and seen disturbing things in his days. Ruffin, 49, is a retired cop.
He started his career at Fort Hood, Texas, in the military police. He worked his first undercover job in Germany before coming to Mississippi to join the Clinton Police Department as a detective, eventually worked with the Narcotics Task Force. After a stint with the FBI in Newark, N.J., he returned to CPD where he headed up the Special Operations Group (which operates the SWAT team and so forth) before retiring as a lieutenant in 2007.
As you can imagine, Ruffin's words quite often reflect some of the things he saw while on the job; his experiences resonate even in the book's title. "'The Empty' is a place in your mind that cops and others can go after seeing and living through tragic events," he says. "It's a void, a nothing. A place where you can go to not feel anything."
In the introduction, Ruffin lays out the major theme, recounting an experience in 1998 when he was called to the scene to investigate the death of an infant found in a wooded area. While it wasn't the first time he sent his mind to the empty, it was the deepest he had gone up to that point. He writes: "It was the safest place for me. I could survive there. I could function there. 'The Empty' does not allow one to feel ... it does not permit emotion."
Many of the pieces in the book, whether based fully on actual events or stories pieced together from his experiences and those of others, deal with life as a cop and the subtlety of reaction and emotion. "Jumper" tells the story of a young Midwestern lady who leaps to her demise off of a water tower and the townspeople's search for who is to blame. "The Persistent Return of Michi Pfau" gives the reader a peak inside the mind of an undercover cop. And "Face Down on a Gravel Road" is the first person account of someone who has just been shot in the head.
This is intense stuff. "It's not for children," illustrator Joshua Rushing says. Rushing, who has teamed up with Ruffin for the second time in "The Empty," produces pencil drawings to give the reader a visual of Ruffin's words. For "Karma Goat," Rushing drew a simple goat head with just enough self-awareness to match the vernacular of the characters in Ruffin's poem. The two artists collaborate heavily and Ruffin refers to "The Empty" as "our book."
To be sure, not everything in "The Empty" is so dark. Ruffin made an effort with this book, he says, to examine the full range of human emotions, "happy, sad, everything." Ruffin writes in the introduction that what he wants is for his readers to feel something, anything, when they read his work, because "the Empty" allows us to get back in touch with our emotions at their basest level. "Everyone should be happy that we have 'the empty,'" he says.
Thomas R. Ruffin signs copies of "The Empty" at ToMara's Bar (9347 Highway 18 W., Raymond, 601-502-8580) at 8 p.m. Buy copies of the book at 7 p.m.