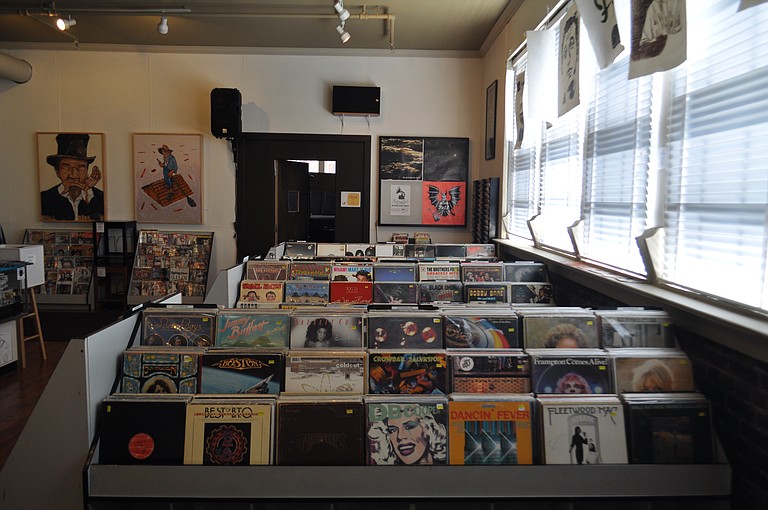 Wednesday, October 3, 2012
On Sept. 7, 5th Child celebrated the release of his newest album, "Love Letters and Suicide Notes," at Morningbell Records (622 Duling Ave., Suite 212, 769-233-7468) with a performance by 5th Wolf, a combination of himself and Jackson rock band Spacewolf. Here are some of my random thoughts from the night.
"Man, I love Morningbell." In less than a year, Morningbell has gone from an idea in the minds of Drew and Sarah McKercher to not only the go-to place to buy records, CDs, and other music-related stuff, but also one of the most consistent live music venues in the city. The store supports every facet of the Jackson music scene, and we are all grateful and better for it. Plus, what's better than watching music while standing in the record aisles?
"Wow, there's a lot of people here." Morningbell is one of the cozier venues in the city, and this is especially true when there is a good turnout. The excitement level for this show was huge, seeing as how two of Jackson's most beloved acts were combining forces. I'll put it this way: 5th sold out the CDs and shirts he brought with him with at least a dozen people still looking to make purchases. You don't see that very often. (Note: the CD is available at the store and I suggest you go cop one.)
"This is really special." As I looked around, I couldn't help but feel proud of my city. My main goal as a Jackson music supporter and promoter has been to unite the different scenes within Jackson into one cohesive scene with collaborations that bring everyone together. It's cool to see that vision play out in real life, and 5th Wolf was a concrete embodiment of that. On top of that, Jackson rock duo Liver Mousse is featured on a track off of 5th's new album. A local saxophone player joined 5th Wolf on stage for the night. Cross-pollination will continue to, as those of us within the city who share that vision have all kinds of shows, records, and new collaborations coming your way soon. For some, a show featuring a rock band and a rapper in Jackson doesn't seem like that big of a deal. But just remember, we aren't that far removed from the days where touring black singing groups had to play in the South to rooms with a white line down the middle to separate races.
"Whoa, Caitlin is crying." To be fair, Caitlin Cox (of Liver Mousse) cries a lot. Her sweet and empathetic nature requires it. I really understood where the tears were coming from on this night, for sure. The crowd at Morningbell was beautiful. People of different ages and races with different musical tastes were jammed in the room. One of the biggest complaints I hear from people who complain about things is that Jackson's music scene is segregated by both genre and race. As I mentioned, that is being worked on, and on this night it wasn't an issue. It's funny to me, I must say, that the people I hear complain about a segregated music scene or that there is nothing to do in Jackson are the people that you never see out at anything. Lame.

"Frank Ezelle is the coolest person in Jackson." If you don't know Frank, you need to. If you support local music in Jackson, you have probably seen him diligently videotaping shows all over town. Ezelle, 60, goes to more stuff than even my wife and me. Not only does he record the shows and post videos on his YouTube page (Jackson MS Music), he also burns DVDs of the shows and carries them around in his camera bag to give out to everyone involved.
"I absolutely love Jackson." At this point, that goes without saying. Peace.