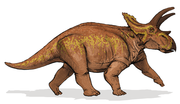 Today, see the exhibit "Dinosaurs: Big, Bad, Bold and Back" at the Mississippi Museum of Natural Science (2148 Riverside Drive) through Jan. 6. Tickets are $4-$6; call 601-576-6000. Jazz saxophonist Thomas "Tiger" Rogers performs at 8 p.m. at Yellow Scarf. BYOB. Tickets are $15 in advance, $20 at the door; call 347-754-0668. Los Papis performs at 9 p.m. at Underground 119. The cover charge is $10. The Submerged 6.0 drum and bass concert is at 9 p.m. at Club Friction at the Joint. Must be 18 to enter. Admission is $15 and $10 for people under 21. Opium Symphony performs at Sam's Lounge. Suite 106 hosts Re-wine with DJ Spre. The event is free. The Naked Eskimos play at Club Magoo's. The Lucky Hand Blues Band performs at Jaco's Tacos. The Jon Carter Band plays at Burgers & Blues from 6-10 p.m. At Hal & Mal's, the Josh Cavanaugh Band Showcase is in the Red Room, and Swing de Paris performs in the restaurant. Need more options? See our Best Bets.
On Saturday, the Jackson Audubon Society First Saturday Bird Walk is at 8 a.m. at Mayes Lake at LeFleur's Bluff (115 Lakeland Terrace). The event is free with a $3 car entrance fee; call 601-956-7444. The Mississippi Black Rodeo kicks off at 2 p.m. at the Mississippi Coliseum; encore at 8 p.m. Tickets are $16; call 800-745-3000. Blues artist Ben Payton performs at 8 p.m. at Yellow Scarf. BYOB. Tickets are $20 in advance, $25 at the door; call 347-754-0668. Nameless Open-mic is at 9 p.m. at Suite 106. Admission is $5, $3 to perform. Reggae and Salsa Saturday with DJ C-Lecta is at 10 p.m. at Soul Wired Cafe. Jarekus Singleton's Blues Birthday Bash is at Hal & Mal's. For more events, check out the JFP Events Calendar.
On Sunday, Art House Cinema Downtown at Russell C. Davis Planetarium (201 E. Pascagoula St.) features the films "Quill: The Life of a Guide Dog" at 2 p.m. and "Dark Horse" at 5 p.m. Tickets are $7 per film; for information visit msfilm.org. Teens enjoy games, music and more from 6-9 p.m. at Mississippi Veterans Memorial Stadium. Ongoing every Sunday through Aug. 4. The event is free; call 601-960-1084. Jesse Robinson performs at 6 p.m. at Underground 119. Admission is $5. Ronnie Dennis and Hannah Miller perform at 7:30 p.m. at Duling Hall. Proceeds benefit the Juvenile Diabetes Research Foundation. Tickets are $5; for information visit ronniedennis.com. Also, be sure to take some time to support a local restaurant such as Bon Ami, Two Sisters Kitchen, Julep, Cool Al's, or Cerami's. If you want more dining options, see JFP Restaurant Listings and the Menu Guide.
Is something missing? To make sure your event is listed on the JFP calendars, send the information to [email protected] or [email protected], or add your event yourself. It's easy!