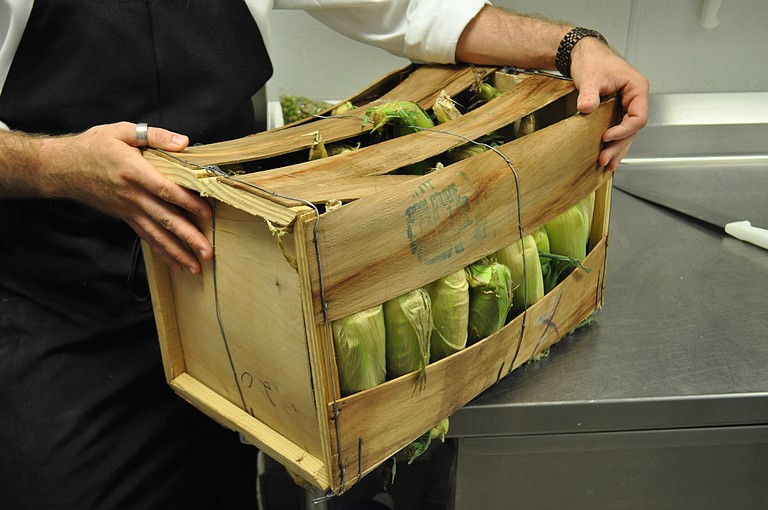 Wednesday, August 29, 2012
The piece of furniture that restaurant Table 100 is named after is topped with three long planks of glossy bodock wood, a light chestnut brown compared to the deep coffee tones of the other tables around it. The wood came from a woodpile in Madison after Hurricane Katrina blasted through Mississippi and the Gulf Coast in 2005. The table's legs are also salvaged from the storm; walnut wood from Eden.
Each of the six chairs at the table are hickory, with arms and legs that retain the gnarls and grooves of branches.
Master craftsman Greg Harkins of Flora made the table and chairs by hand, and the chefs at Table 100 strive to ensure the food they serves on it is equally handmade and homegrown.
Table 100 prides itself on serving fresh, farm-grown produce, meat and ingredients each day, but it is taking the idea to the extreme with Farm to Table 100, an upscale dinner event featuring the goods of seven farmers and distributors throughout Mississippi.
"We wanted to celebrate our local farmers, and that we get fresh, local produce and put it on people's plates every day," Mary Allen Bennett, the restaurant's marketing and sales manager, says.
"We wanted to celebrate their growing season, the bounty."
The evening will begin with a meet-and-greet among the guests, Table 100 staff, local farmers and members of the Farm Families of Mississippi. Cindy Hyde-Smith, the Mississippi Department of Agriculture and Commerce commissioner, will also be in attendance. Patrons will then sit down for a three-course meal, consisting of salad, entrée and dessert. Musicians will be on hand to provide entertainment, and each course will be paired with wine and cocktails selected by Paul Ruiter, the restaurant's resident
"wine guy."
When it came to choosing the menu, Executive Chef Mike Römhild says it's not terribly different from the regular Table 100 offerings, just a bit more special. "We looked at our farmers, what we are getting from them, what they can provide, so obviously it's kind of driven by the products the farmers have. (We want to) incorporate everyone in some way, at some stage of the menu," Römhild says. "For the menu I think it's a teamwork, it's the whole culinary team and the farmers together, which is great. The farmers support us; they help us, and we help them."
The restaurant maintains a close relationship with the farmers it works with, even participating in the planning process for future harvests. "If there's a product that we want to have in our kitchen, then we talk to (the farmers) and they plan it," Bennett says. "They are planning seasons right now, so they'll know what we want for the fall. They talk about what worked, what didn't ... and what else we might want next year."
The farms and vendors featured are Mississippi Bees, Reyer Farms, Delta Grind, Old Fannin Road Farmers Market, Bobkat Farms, Cooper Farms and Vineyard, and Two Run Farm.
A portion of the proceeds from the event goes to Farm Families of Mississippi. Greg Gibson, director of public relations for the Mississippi Farm Bureau Federation—which spearheads Farm Families—describes the organization as "a coalition of about 140 to 150 businesses, agricultural organizations and individuals who have banded together to tell agriculture stories."
Gibson stresses the need for people, especially youth, to regain a connection to the farm that has been lost in increasing industrialization. "The thing about agriculture is most people are two or three, maybe even four, generations away from the farm now," Gibson says. "They don't understand what farmers do for them on a day-to-day basis. There are kids who think chocolate milk comes from brown cows. It's amazing. They just don't have a connection to agriculture and just how important it is to support your local farmer, because he's the one who puts food in your mouth. Buy local!"
Farm to Table 100 is Sept. 5 at 6 p.m. at Table 100 (100 Ridge Way, Flowood, 601-420-4202). Each all-inclusive ticket is $95 and can be purchased at shop.eathere.com or at the restaurant.