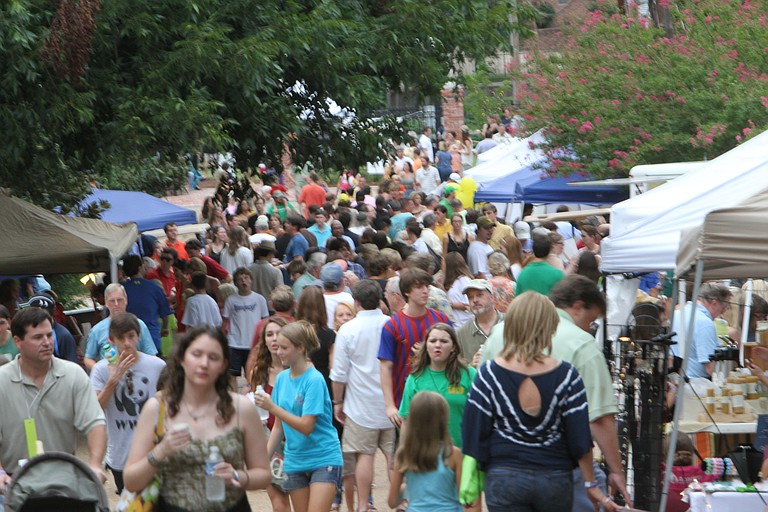 Today, the Storytellers Ball Juried Exhibition at the Arts Center of Mississippi (201 E. Pascagoula St.) hangs through Aug. 31. Exhibitors include Sharon McConnell Dickerson, Sandra Murchison, Ken Murphy and H.C. Porter. The event is free; call 601-960-1557, ext. 224. The Southern Crossroads Music and Tamale Festival kicks off at 5:30 p.m. at the Mississippi Coliseum (1207 Mississippi St.); the event continues Aug. 11 at 11:30 a.m. Performers include WAR, Bobby Rush and the Bluz Boys. Tickets are $18 in advance and $20 at the door; call 601-353-0603 or 800-745-3000; tamalefest.com. The artist reception for the "Faces of Science" exhibit at Gallery 1 (One University Place, 1100 John R. Lynch St., Suite 4) is from 6-10 p.m. The show hangs through Aug. 25. The event is free; call 601-960-9250. The comedy play "Lend Me A Tenor" debuts at 7:30 p.m. at Actor's Playhouse (121 Paul Truitt Lane, Pearl) and runs through Aug. 19. Tickets are $15 and $10 seniors and students; call 601-664-0930; actorsplayhouse.net. Flowtribe plays at Martin's. Mississippi Shakedown performs at Ole Tavern. The Dylan Moss Project plays at Reed Pierce's. Need more options? See our Best Bets.
On Saturday, Back to "Zool" at the Jackson Zoo (2918 W. Capitol St.) is at 9 a.m. and includes children's activities, and a visit from Dora the Explorer and Ty Lyricz. Free with paid admission ($10, $6.75 ages 2-12, children under 2 and members free); call 601-352-2580. Bright Lights, Belhaven Nights is at 5:30 p.m. at Carlisle Street and Kenwood Place behind McDade's in Belhaven. Performers include Grits & Soul, Jesse Robinson, Furrows, Taylor Hildebrand, Rhonda Richmond and the Jackson Irish Dancers; see the full lineup at greaterbelhaven.com. Tickets are $5 and $1 for ages 12 and under; call 601-352-8850. Supercrush performs at Martin's. Renegade is at Kathryn's. Martini Room hosts Soulful Saturday at 6 p.m. Good Paper plays at Cherokee Inn at 9 p.m. Admission is $5. Ragland performs at Reed Pierce's. For more events, check out the JFP Events Calendar.
On Sunday, the Doodle 4 Google Mississippi Exhibition at the Mississippi Museum of Art (380 S. Lamar St.) in Trustmark Grand Hall closes. The event is free; call 601-960-1515; msmuseumart.org. Mike and Marty's jam session is at Hot Shots. Enjoy spoken word and music from DJ Spre during Sugar Water Purple Open-mic Nite at Soul Wired Cafe. A Plea for Purging and As Hell Retreats perform at 6 p.m. at The Carter. Admission $12. Also, be sure to take some time to support a local restaurant such as Bon Ami, Two Sisters Kitchen, Julep, Cool Al's, or Cerami's. If you want more dining options, see JFP Restaurant Listings and the Menu Guide.
Is something missing? To make sure your event is listed on the JFP calendars, send the information to [email protected] or [email protected], or add your event yourself. It's easy!