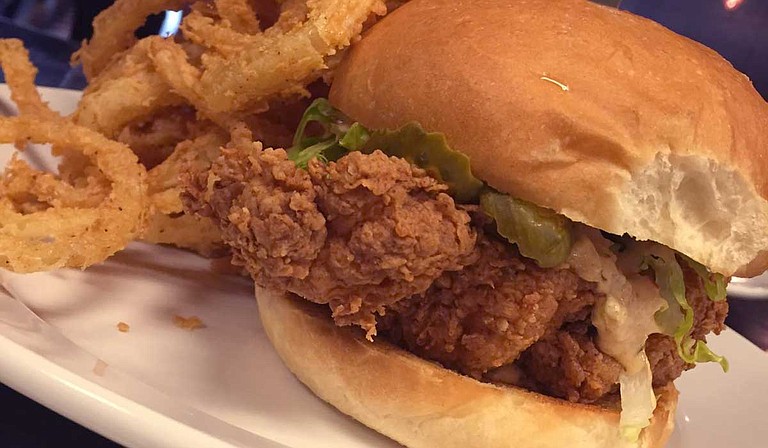 Wednesday, September 18, 2019
In the last few weeks, fried chicken sandwiches, and especially spicy ones, have gone viral on social media. We here at the Jackson Free Press like to spend and eat local, so here are some delicious, non-cookie-cutter fried chicken sandwiches you should sample.
Ariella's NY Delicatessen (Cultivaiton Food Hall, 1200 Eastover Drive, Suite 125, 601-326-1880)
"Better than Popeye's" chicken sandwich: pickled-brined chicken breast dipped in a Cajun-spiced batter and fried, with dill pickle slices and a sauce.
Lou's Full-Serv (904 E. Fortification St., Suite B, 601-487-6359)
The "Chick-Fil-Lou": fried-chicken thigh with comeback sauce and pickles. Customers can also get it "buffaLou" style
Fine & Dandy (100 District Blvd. E., 601-202-5050, eatdandy.com)
"The Grandma Chick": pickle-brined fried chicken with Duke's mayo and pickles
Fenian's Pub (901 E. Fortification St., 601-948-0055, fenianspub.com)
Fried chicken sandwich: buttermilk-fried chicken thigh, rasher (thin slice of bacon), pickled cabbage and Creole honey mustard
Barrelhouse (3009 N. State St., 769-216-3167, barrelhousems.com)
Spicy chicken sandwich: fried chicken, Barrelhouse sauce, pickles and shredded lettuce
Saltine Restaurant (622 Duling Ave., Suite 201, 601-982-2899, saltinerestaurant.com)
Comeback chicken sandwich: buttermilk and pickle-brined chicken breast, pickles, comeback slaw and fries
Rooster's (2906 N. State St., 601-982-2001, glennfoods.com)
"Hot, Hot Fried Chicken Sandwich": fried chicken tossed in hot sauce with cole slaw, pickles and Monterey Jack cheese