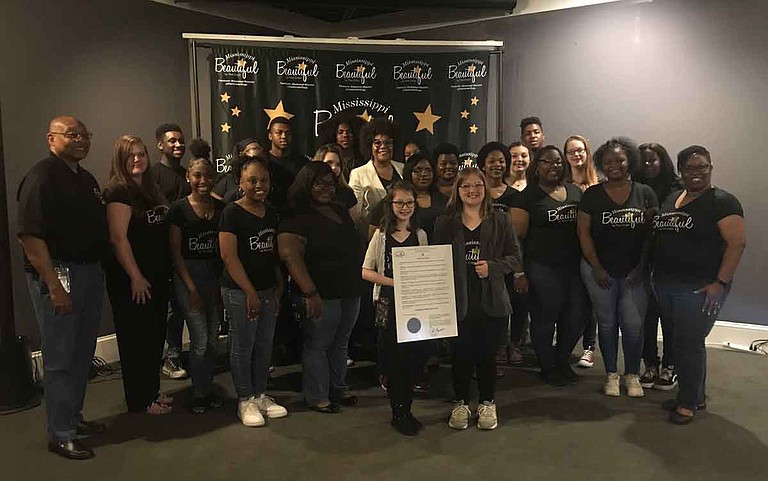 "Who are we? We're faces of joy and pain For we know that we're more than just a name Mississippi, who are we? I know we're beautiful, we're beautiful." —"Mississippi Beautiful" by Pam Confer
JACKSON—"Where are the sopranos? Any parents want to sing?" jazz singer Pam Confer joked on May 10, evoking laughs from parents and staff in the room.
She was rehearsing "Mississippi Beautiful," a song to commemorate May 10 as Mississippi Beautiful Day. On May 9, Gov. Phil Bryant made a proclamation for the day, which celebrates the "rich and complicated history" of the state, the proclamation says.
The celebration kicked off at a press conference inside the Arts Center of Mississippi. During the event guests could get Mississippi Beautiful fans or take pictures with Instagram cutouts displaying Pam Confer's profile name and various hashtags.
She performed "Mississippi Beautiful," which also plays in the Mississippi Civil Rights Museum's "Where Do We Go From Here?" gallery, with a youth choir of students from Terry High, Raymond High and Raymond Elementary schools.
"Everybody has a part in the success and progress of our state. I wanted to give the state something that made us feel whole, empowered," Confer told the Jackson Free Press.
Mississippi's complicated history often gives it a bad reputation, but Confer told the audience she hopes to highlight the good and beauty that exists here.
"We know no one cooks like a Mississippian, dances like a Mississippian, eats like a Mississippian, draws like a Mississippian. We set the example for what the country does," she said.
Pam Confer is a Jackson resident with more than 20 years of experience in community and economic development, environmental management and public relations. She was the first African American woman to serve as president of The Canton Chamber of Commerce Main Street Association.
She wrote and recorded the song in 2017, and went to several Hinds County schools and choirs with the song. It mainly targets the state's youth, she said.
"I wanted it to be designed for kids to sing so they can know they are beautiful. We are all beautifully different," she told the JFP.
None seemed surer of this sentiment than the youth choir surrounding Confer, donning black Mississippi Beautiful t-shirts and singing the song proudly.
Trinity Spille, a fifth-grader at Raymond Elementary, told the audience at the event what she feels makes Mississippi beautiful.
"Mississippi is always together," she said. "United. There's no judgment. Yes, we've had our problems, our mistakes. Mississippi so beautiful because we are always together in the end."
Kristian Bryant, a 10th-grader at Terry High School, also paid tribute to the state's beauty.
"I see how beautiful Mississippi is through this experience here," she said. "Us being here together and acknowledging that beauty shows that."
Kim Lewis, the communication and destination development manager of Visit Jackson, moved to Jackson from San Diego at 15 years old. She told the Jackson Free Press at the event that it took her a while to recognize Mississippi's beauty.
"What makes it most beautiful (is) the uniqueness and love that everyone has for each other," she said.
The celebration continued across the city as Sal & Mookie's New York Pizza & Ice Cream Joint gave out 100 complimentary scoops of ice cream and Broad Street Baking Company offered sugar cookies throughout the weekend in honor of the day.
Pam Confer says she hopes the song becomes the state anthem at some point and that it can help unify people regardless of their differences. As for what she finds beautiful about the state, it lies with the people, she said.
"The innocent beauty of the people of Mississippi. It's like a child not realizing the extent of their gift. We're so much more than a name," Confer says.
Follow Jackson Free Press reporting intern Aliyah Veal on Twitter @_alyiahvinyl_. Send tips to [email protected].