Thursday, September 27, 2018
As a child, local artist Kit Fields says she recalls loving to paint and draw, but it wasn't until age 45 that she started taking painting lessons. Her first class was with renowned watercolor artist Ann Barron.
"I've always loved drawing, and although I'd dabbled with painting before, this clicked with me," she says. "It's been a long learning process."
Fields was born and raised in Jackson and attended Murrah High School, where she graduated in 1969. She received a bachelor's degree in social work from Mississippi State University in 1973 and then served as a social worker with Mississippi State Hospital until 1975.
After realizing social work was not for her, Fields decided take a different path. She attended the University of Alabama from 1975 to 1976, earning a master's degree in deaf education. In 1977, she was on reserve as a Delta Airlines flight attendant and then officially began flying in 1979.
Around this time, Fields says that she started taking aerobics classes and discovered that she had a knack for choreography. In 1985, the Courthouse Racquetball Club hired her as the director of aerobics. While there, she trained instructors and choreographed workout routines, among other tasks. She stepped down from that position and retired from full-time work in 1995, but continued teaching there part-time until 2016, when she began leading classes at River Hills Country Club.
"I feel it's important to just keep moving and staying active as we advance in years," she says. Currently, she only teaches classes a few days a week at River Hills and The Club at St. Dominic.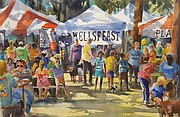 After entering partial retirement in 1995, she began to focus more on her art. Fields' work has been exhibited across in local and regional shows, including exhibitions for the Southern Watercolor Society, Mississippi Grand National Exhibition and the Mississippi Watercolor Society.
Along with being a member of the Mississippi Watercolor Society and Southern Watercolor Society, she is also a member of the Jackson Watercolor Society and the Gaddis Group, an artist association that focuses on teaching and advancing watercolor painting skills.
Fields was the official artist for the 2018 USA International Ballet Competition this past June. In creating what became the signature art for that year, Fields says that she wanted portray the diversity of the dancers, and create something colorful with energy and movement. She is more of a surrealist artist, she says, so she decided to make the piece whimsical.
She submitted a preliminary study in March 2017 and in the next round made a complete painting for submission. The judges liked what they saw, she says.
"(But) they were very particular about the posture of the dancers and asked me to make adjustments," Fields says. "I had to learn quickly how a dancer stands."
In July 2017, the judges announced that they had selected her as the official artist for the 2018 USA IBC, and her work went on display at Thalia Mara Hall throughout this year's competition from June 10-23.
Fields is also a long-time member Wells Memorial United Methodist Church in Jackson, which hosts the annual event WellsFest. Each year, she contributes a painting for the live auction at the WellsFest Art Night, which took place on Sept. 25 this year. Her piece for 2018 was of WellsFest itself, and the painting sold that night, she says.
"I like to paint scenes with people—markets, city scenes, etcetera. I think it tells a story," she says.
Fields currently lives in Ridgeland with Mark, her husband of 29 years. They have two sons, Markwood and Gavin.
WellsFest is Saturday, Sept. 29, from 9:30 a.m. to 4:30 p.m. at Jamie Fowler Boyll Park (1398 Lakeland Drive). For more information on event, visit wellschurch.org/wellsfest. To see artwork from Kit Fields, visit kitfieldsart.com.