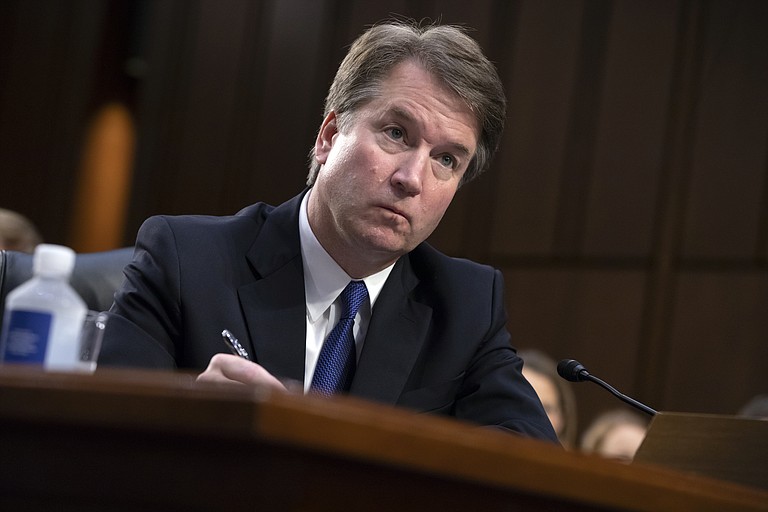 Wednesday, September 26, 2018
The Senate Judiciary Committee is wrestling with numerous sexual-assault allegations against U.S. Supreme Court nominee Judge Brett Kavanaugh that came out after the conclusion of his initial confirmation hearing. The allegations of Dr. Christine Blasey Ford, who alleges that Kavanaugh sexually assaulted her at a party in high school, came out first. She and the other women who have now made allegations about rapes and sexual assault have unnecessarily plunged the committee into chaos.
Why the rush? One possible answer to these questions may be a case that is pending on the October docket of the United States Supreme Court, Gamble v. United States.
The case is of particular interest to Trump and, curiously, committee member Sen. Orrin Hatch has taken a personal interest in the case by filing a brief in support of Gamble, a convicted felon in an Alabama prison.
In the case of Gamble v. U.S., the convicted felon did time for second-degree robbery in Alabama. But the case that is pending before the Supreme Court now is not about the second-degree robbery. The present one began in 2015 after Gamble had done his time for armed robbery and was driving a car without a headlight in Mobile, Ala. A police officer pulled him over for the busted headlight, searched his car and found marijuana, weight scales and a handgun.
The State of Alabama charged Gamble for being a felon in possession of a firearm. Then, a jury convicted him, and he received a one-year prison sentence. The U.S. then charged Gamble for being a convicted felon in possession of a firearm, for discharging a firearm into a vehicle and for possession of marijuana. Gamble filed a motion to dismiss the federal charges based on the protections of the Double Jeopardy Clause in the Fifth Amendment of the United States Constitution, which says, ""[N]or shall any person be subject for the same offence to be twice put in jeopardy of life or limb."
Why the 'Gamble' Case Matters Now
The four essential protections included in the clause are prohibitions against retrial after an acquittal for the same offense; retrial after a conviction for the same offense; retrial after certain mistrials; and multiple punishments for the same offense.
Gamble claimed that the clause barred federal prosecution against him for a crime of which the state court had already convicted him. The federal court denied his motion to dismiss. They relied on almost 200 years of SCOTUS precedent dating back to the early 19th century and coming forward into 2017, in which the Supreme Court has repeatedly denied claims like Gamble's Double Jeopardy claim.
Afterwards, he entered a guilty plea to the federal charges, reserving his right to appeal the issue of Double Jeopardy. The federal court sentenced Gamble to four years in prison, three years supervised release and $100 fine. He appealed, and that is the case that is presently pending before the Supreme Court.
The general rule of every SCOTUS since the early 1800s has been that Double Jeopardy does not preclude prosecution in federal court for violation of federal crimes when that same person has been or is being prosecuted in state court for violation of state crimes, even if those crimes arise out of the same conduct. This is known as the "dual sovereignty" doctrine: Federal and state governments are sovereign, and both have an interest in upholding their own laws.
They are dual or separate governments operating simultaneously. So it is not the Double Jeopardy Clause itself that Gamble is complaining about; it is the doctrine within its interpretation—the dual sovereignty that allowed both Alabama and the United States courts to simultaneously prosecute him, even though both prosecutions arise out of one traffic stop.
Enter Orrin Hatch, Two Weeks Ago
Sen. Hatch filed his brief in Supreme Court on behalf of Gamble two weeks ago on Sept. 11, 2018. In it, Hatch argues that Congress has passed too many federal criminal laws since 1980 (he has been a member of Congress since 1977). And this plethora of federal laws passed by the Congresses he has served too often overlap with state laws. Therefore, the dual sovereignty doctrine should be overruled, he argues. If a state prosecutes a person, the federal government should not be able to do the same, and vice versa.
Howard University Law School also filed an amicus brief about the Gamble case. Howard took no position about overruling the dual sovereignty law except to say that if the court does overrule it, an exception should be carved out for civil-rights cases. Howard points out that state courts acquit many civil-rights murders, but federal court later convicts them.
The university lists some cases exemplifying this point: the federal conviction for the murder of an American serviceman after state court acquittal; federal conviction after state court acquittal for the murder of Viola Liuzzo after the Selma to Montgomery March; and federal conviction of the police officers who beat Rodney King after state court acquittal.

It is well-known that the president and members of his business, who are also members of his family, and his campaign team are under federal investigation by a special counsel and the attorney general of New York. The counsel is looking into possible violations of federal laws, while the New York AG is looking into possible violations of state law.
From the beginning of these investigations, the president has talked publicly and reportedly in private about his pardon power and how he might use it to pardon himself, members of his business, family, and campaign team and administration. His lawyer has admitted that they have discussed the possibility of a presidential pardon with lawyers for Michael Flynn, Paul Manafort and others who have entered guilty pleas to conduct that arose out of the president's campaign and administration.

However, because of the dual sovereignty doctrine—the same one that Gamble and Hatch are asking the Supreme Court to overrule, and the same one that Trump, in his legal woes, no doubt wishes the court would overrule—a pardon would not stop state court prosecutions. If there is no dual sovereignty doctrine, a presidential pardon could conceivably stop a state court prosecution.
Although the pardon power is not expressly mentioned in Gamble v. United States, legal scholars do consider that expanding that power would be the next step if the court does overrule dual sovereignty. They believe that this president would seek to expand that power and soon.
The Right Judge to Save Trump?
It's not difficult to understand why the president and Hatch might believe Kavanaugh is a judge who will vote to overrule the dual sovereignty doctrine.
When the president was campaigning, he published a list of candidates he would consider for appointment to the United States Supreme Court. Kavanaugh's name was not on the list.

After it came out, Kavanaugh began writing quite a few dissenting opinions on the D.C. Circuit Court of Appeals in which he made clear his willingness to overrule long-standing precedents in a way that increase the power of the president. Also, he has written papers in which he stated that presidents should be immune from prosecution for criminal activity and civil liability. It's ironic because that negates Kavanaugh's own career of serving on Kenn Starr's staff when President Bill Clinton was prosecuted).
Kavanaugh has also made it clear in his writings that he would be willing to overturn the cases dealing with the unlawful behavior of President Richard Nixon.
In fact, his writings read like a wish list of answers to every legal peril the president currently finds himself in. In a way that is not totally clear, the writings grabbed Trump's attention; however, what is clear is that after these writings is the President added Kavanaugh's name to the list of Supreme Court possibilities.
Normal Procedures Ignored
There is a procedure in place for the judicial committee to deal with allegations people make late in the process of a judicial nomination, but it is the committee's refusal to follow this procedure and rush to a Kavanaugh confirmation vote that has plunged it into chaos.
The normal procedure for addressing these new allegations is for Committee Chairman Chuck Grassley to call for a reopening of the FBI background investigation on Kavanaugh. That process would normally take about three days and could have already been done. The procedure for reopening an FBI background investigation is so routine, Sen. Amy Klobuchar has said, that background investigations have been reopened 10 times in the past three months.
The rush to confirmation is not only evident in the committee's refusal to follow its own procedures; it is also evident in statements Senate leaders have made. Senate Majority Leader Mitch McConnell stated that they intend to "ram" Kavanaugh's nomination through. Grassley has been urgent to rush Ford into a hearing earlier than the date scheduled for the hearing, Thursday, Sept. 27. Sen. Lindsey Graham says he doesn't care what Ford says; he's voting for Kavanaugh. Both the president and the committee have refused to allow any FBI background investigation into any of the allegations.
This false sense of urgency has raised many questions: What is the urgency to seat Brett Kavanaugh on the Supreme Court bench? Why do the same senators who believed it was acceptable to leave Antonin Scalia's seat open for almost a year suddenly need to seat Brett Kavanaugh on the Court as soon as possible—this week or this month? And why won't the president call for the background investigation to be reopened?
Despite allegations of rape and other sexual misconduct against Kavanaugh, Trump remains convinced that Kavanaugh is the judge he wants to appoint to the Supreme Court. And Gamble v. United States might be the reason why.
Vicki Slater is an attorney in Jackson, Miss.
This column does not necessarily reflect the opinions of the Jackson Free Press.