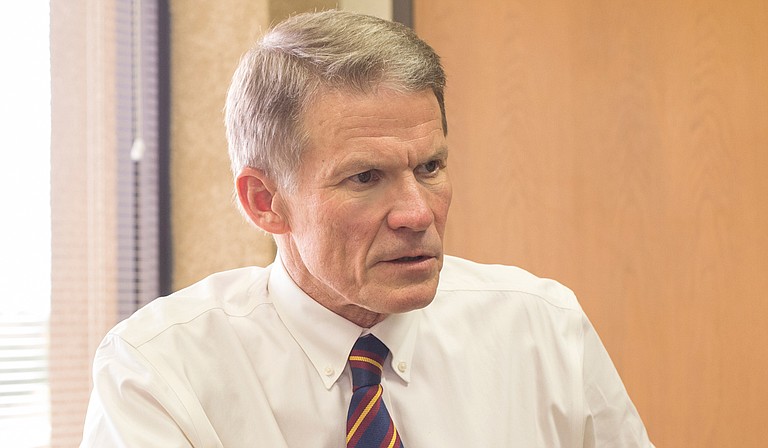 Monday, September 17, 2018
JACKSON, Miss. (AP) — Mississippi's public safety commissioner disclosed Saturday that state police will no longer buy Nike products, saying the athletic apparel maker is unpatriotic and fails to support those in uniform.
"As commissioner of the Department of Public Safety, I will not support vendors who do not support law enforcement and our military," Commissioner Marshall Fisher said in a statement Saturday to The Associated Press.
It isn't immediately clear how much gear the state police agency buys from Nike or if it purchases directly from the athletic apparel maker. Department spokesman Warren Strain said the department has bought shoes and shirts from the company, as well as tactical training uniforms.
But Mississippi's Republican establishment is jumping to support the cause, with Gov. Phil Bryant lauding his appointee's decision.
"I support the commissioner's decision," Bryant said in a statement. The governor said the commissioner has the right to choose vendors his department does business with "and it's not going to be a company that pays an individual who has slandered our fine men and women in law enforcement."
Nike didn't immediately respond to a phone call and an email seeking comment Saturday. Online news organization Mississippi Today first reported the story Friday.
It's the latest dustup following Oregon-based Nike's decision to use former San Francisco 49ers quarterback Colin Kaepernick in an ad campaign. Kaepernick began kneeling during the national anthem in 2016 to protest police brutality and social injustice.
Fisher's move is already drawing criticism from the Mississippi chapter of the American Civil Liberties Union and Democratic state lawmakers.
"These are the people that are representing all Mississippians," the ACLU chapter said in a statement posted Saturday on Twitter. "These are the people that are creating policy that impact all of our lives. These are the people that took an oath to uphold the Constitution. Yet they refuse to understand what equality, justice, and accountability means. This petty decision is just another show of racism, discrimination, stupidity, inequity, and divisive politics."
Other Republican politicians in Mississippi appear to see political advantage in excoriating Nike, though. The campaign of Lt. Gov. Tate Reeves, who plans to run for governor in 2019, sent out a statement Wednesday saying Kaepernick's acts are not a sacrifice — though that's how the Nike ad describes them.
"By supporting the NFL protests, Nike is making it clear that they would rather stand with those who show contempt for our country over those who defend it," Reeves said.
Strain couldn't say how much the department spends on Nike gear, or whether it buys directly from the company. Strain directed The AP to submit a public records request for further information. A state government database that catalogs state purchases shows no state government purchases directly from Nike by any agency in the budget year ended June 30 when searched Saturday by the AP.
Earlier this week, the mayor of a New Orleans suburb rescinded an order saying Nike products couldn't be bought for city recreation facilities or even by booster clubs using the facilities. Kenner Mayor Ben Zahn said Wednesday he was rescinding the order, saying it "divided our city and placed Kenner in a false and unflattering light on the national stage." The order prompted a protest Monday that include three members of the New Orleans Saints football team and hundreds of others.
Mississippi's Department of Public Safety includes the state Highway Patrol, Bureau of Narcotics, Bureau of Investigation, Office of Homeland Security, Crime Lab and Medical Examiner.