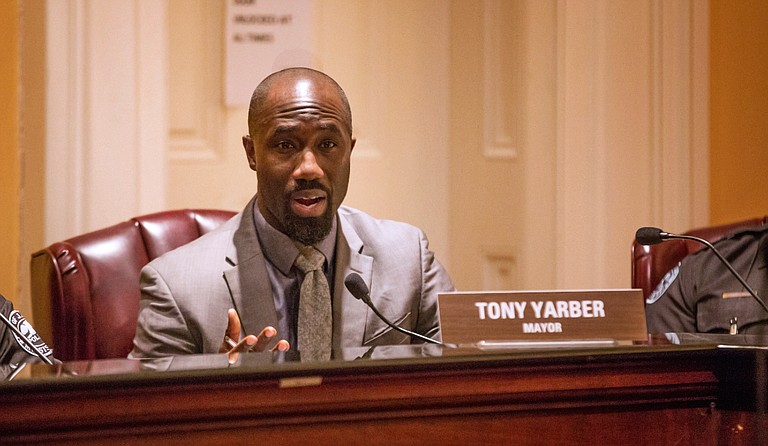 Monday, September 17, 2018
JACKSON — The Jackson City Council voted unanimously (5-0) at the Sept. 11 meeting to settle a longstanding sexual harassment lawsuit against former Mayor Tony Yarber and several other unnamed "John Does" for up to $35,000 without any admission of liability. In February 2017, Stephanie Coleman, the equal-opportunity business manager under Yarber, sued the City of Jackson for sexual discrimination, a sexually hostile work environment, quid pro quo sexual harassment and retaliation pursuant to a section of the Civil Rights Act of 1964.
A jury trial had been set to begin today in Coleman's case, but both parties reached a settlement on Sept. 6 before District Judge Henry T. Wingate, pending council approval.
Coleman's complaint described a supervisor asking her to perform sexual favors for him as a condition of her employment. She also alleged she received text messages from men on the mayor's staff asking for nude selfies and other sexual suggestions.
Document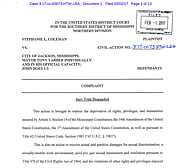 This lawsuit had implications in Atlanta, too. Coleman named Mitzi Bickers, who helped fund Yarber's 2014 mayoral campaign, as someone trying to steer contracts. Yarber once described her as a "kingmaker" in an interview with the Jackson Free Press.
Coleman's complaint describes an evening meeting at Parlor Market restaurant downtown in May 2015. Coleman said Bickers told her that Yarber "wanted to express his gratitude for her service by allowing her to participate in a few upcoming major contracts," Coleman's lawsuit says.
Bickers was indicted in an Atlanta federal court for bribery charges on March 27. Shackled in handcuffs and leg irons for her initial appearance on April 5, she pled not guilty to the 11-count, 23-page indictment, the Atlanta Journalism Constitution reported. Bickers made bond in April.
Court documents show that during a pretrial conference in August, both legal parties "acknowledged that there is an extraordinary amount of discovery" they needed to sort before filing pretrial motions. The court continued the hearing to Nov. 15, 2018, at 10 a.m..
Coleman also alleged that then-Public Works Director Kishia Powell may have altered scores and made disparaging statements to steer contracts to the Denali-Garrett team for a $15-million wastewater-treatment plant contract, which Powell then denied to the Jackson Free Press.
Following Bickers' indictment on April 9, Atlanta Mayor Keisha Lance Bottoms asked for resignations from her cabinet, which included Powell.
Document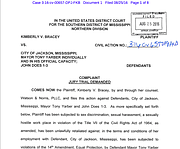 In another now-settled sexual harassment lawsuit from 2016, Yarber's then-executive assistant, Kimberly Bracey, described a fundraiser in spring 2014 where Bickers "paid for everything" at a strip club, Bracey alleged in the complaint. Her complaint also says she was required to watch the door to a room where Yarber and one of the strippers went to be alone.
Bracey described another alleged Yarber fundraiser in Atlanta, where strippers wearing only body paint greeted her and others at a friend of Bickers' home, to which they arrived by boat.
Payment to Coleman will go through her attorney, Wilson Carroll, who also represented another minority-contractor at the center of a wastewater contract dispute this winter.
Email city reporter Ko Bragg at [email protected].