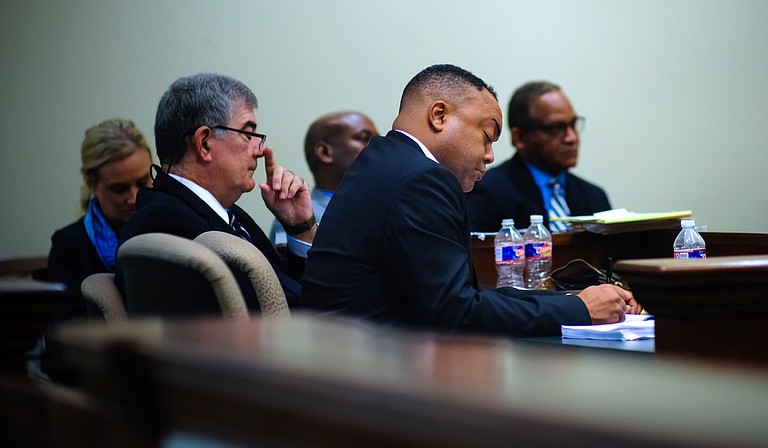 Wednesday, September 12, 2018
JACKSON — An all-white jury of eight women and six men settled in to listen to the state's case against Hinds County District Attorney Robert Shuler Smith on Tuesday, Sept. 11, in Rankin County. For the third time in two years, Attorney General Jim Hood's office is prosecuting the DA, who faces one count of aggravated stalking and one count of robbery for an incident involving a gun that took place with an ex-girlfriend more than three years ago. Domestic violence charges that Smith faces will will be handled separately.
In opening statements, the State painted a grim picture of Smith.
"I told you from the beginning, the evidence is going to show he thinks he's bigger than the law, and bigger than truth and justice," Assistant Attorney General Stanley Alexander said to the jury.
Smith's cast of defense lawyers will try to convince the jury of two things: 1. Smith tried to deescalate a potentially deadly and dangerous situation and, 2. The investigating agencies did not do a complete job because neither the FBI nor attorney general's office interviewed all the witnesses at the scene.
Michael Sterling of Atlanta, who represented Smith in his most recent trial, which resulted in an acquittal, made the opening statement in a suit the tone of a latte and a tie the hue of espresso beans.
Sterling maintained that Smith did not do "anything that robbers do" during the 2015 incident, but he did hint that Smith took property that did not belong to him.
"He takes the one thing that could have caused the situation to become a dangerous and deadly situation—the gun," Sterling said.
The jury will deliberate this afternoon, as the trial is moving along quickly. The defense called its first and only witness this morning: DA Smith himself. In a whirlwind of witnesses, the state rested its case Tuesday following testimonies from Smith's ex-girlfriend, Christie Edwards, and others.
Also testifying for the state were Sandy Middleton, the executive director of the Center for Violence Prevention in Pearl, which received Edwards and documented her bruises; William Fears, an eyewitness to the altercation in question between Smith and Edwards; the appraiser who had come to Smith's trailer in Pearl on the day of the incident and also ended up witnessing the incident; Lee McDivitt, a senior investigator with the attorney general's office who handled Edwards' case in 2017; and Robert Culpepper, an FBI agent who did the initial legwork in the case when Middleton contacted his agency within a week of the incident.
Aug. 13, 2015: The Incident
Edwards was called to the stand as the state's first witness. She did not immediately come into the courtroom after Judge William Chapman sent for her. Two women who seemed to be familiar with her worried aloud.
"She must be having a panic attack," one of the women said.
"This is not good," said the other.
"She's had a meltdown," the first woman said back.
Edwards entered the courtroom with teary eyes, stepped into the witness stand and promised to tell the whole truth as Smith looked on.
As Edwards tells it, she and Smith had been off-and-on for the better part of a decade, but got engaged in spring 2015. By that summer, they had called it quits after Edwards said she found out Smith had been cheating on her. Initially, he wanted her out of the trailer they shared together in Pearl, she testified, but he let her stay there until she could find a more permanent place.
On Aug. 13, 2015, Smith sent an appraiser to the trailer because he was looking to sell it. Edwards was there with her then-boyfriend, William Fears, who at the time was still married to Wanda Fears—the woman with whom Smith allegedly cheated on Edwards. On the appraiser's way through the home, he says he passed Edwards' pistol she kept on a table. As he told the jury, during his walkthrough, the appraiser said he found Fears in a bedroom closet. That discovery, paired with the gun, made him uneasy, so he headed out, but ran into Smith and his father, and then waited outside, where he said he heard Edwards do most of the yelling in the altercation that followed.
Smith knocked on the door, and Edwards testified that she was "shocked" to see him. She said after the breakup, the ex-couple had an arrangement for Smith to give notice before coming to the trailer, but that apparently had not happened that day in 2015. Edwards said she followed Smith through the house, and the two got into a screaming match.
One of the fuzzier things in the trial is at what point Fears decided to hide in the closet. He said he went in when he heard Smith enter the home, but decided to come out when he realized Smith would eventually notice him. Fears insisted he was not in the closet when the appraiser came in the bedroom. Nearly everyone who has testified has had trouble recalling some aspects of the day in question because of the amount of time that has passed.
Either way, Fears came out of the closet in time to allegedly witness Smith pushing Edwards around in the bathroom, first with a "grabbing shove," and then a second more forceful push, as both Edwards and Fears testified. At some point, Edwards said she wondered aloud where her gun was so she could defend herself.
"He slung me around, threw me up against the counter and the doorframe that time," Edwards said. "I recovered myself, and he started again, and that's when I said, 'Where's my gun?'"
Defense attorney Vicki Gilliam went the extra mile to dramatize the 2015 incident in question. She yelled through parts of her cross-examination of Fears in an attempt to suggest the volume of Edwards' and Smith's argument. Then Gilliam called Fears, the eyewitness, out of the jury box to demonstrate the shoves on Edward's body. Gilliam took her shoes off and pretended to be Edwards, and asked Fears to play Smith. Alexander, for the prosecution, noted that the interaction between GIlliam and Fears was merely a demonstration, not an accurate reenactment of what happened three years ago.
Based on her questions, and Smith's testimony this morning, it seems that the defense does not deny a physical altercation took place; however, Gilliam focused on asking Fears clarifying questions about how Edwards got shoved around in the bathroom—not if she did.
"Was she pushed against the cabinet? Did she fall on the ground, or was she pushed back against the cabinet? Kind of near the sink?" Gilliam asked in succession.
At some point in the altercation, Smith allegedly pulled his gun on Fears and Edwards. Both of them testified that the DA uttered "I'll do it" when he brandished his weapon at them.
Fears recalled closing his eyes when he saw the gun because he did not want to see the bullet come toward him—he said he "just wanted to be shot."
"I thought that's the way I'm going to leave this earth," Fears testified.
In Sterling's opening statement for the defense, he said "like most prosecutors," Smith carries a badge and a gun on his person.
Smith then allegedly went into the living room, where his father had been. Edwards followed behind Smith, still asking why he was there. Edwards said Smith reached for her gun on the table and put it in the holster.
"No, why are you taking my gun? It's my gun," Edwards recalls yelling at Smith. The gun was a gift from her father, she said, for protecting herself in the Pearl woods.
That gun was only recently recovered. John Reeves, former counsel for Smith, revealed in a meeting within a judge's chambers, that he still had the gun in his possession as late October 2017. Lee McDivitt, from the attorney general's office, retrieved the gun around Halloween, he testified, and kept it sealed until yesterday's testimony when Judge Chapman had him double-check that the gun was secured.
Edwards testified that when she reached to get her pistol from Smith, they entered another struggle.
"By trying to push me, he actually got me in the face, and it threw me over, like, the sofa that was sitting there, and my phone went somewhere," Edwards said. She said that not long after, Smith left out of the door, went to the bottom of the steps, looked at her and said, "Call whoever the fk you want, nothing will come of this."
From the bedroom, Fears said he heard Smith say something along the lines of "I'm not going to give you sh*t back. ... I don't give a fk who you call."
Neither Fears nor Edwards called the police after this incident, they said, out of shared fear of Smith and his connections to law enforcement. Edwards said she called her dad immediately after and weighed her options. Upon recommendation from a therapist, Edwards said she went to the Center for Domestic Violence.
Middleton, who runs the organization, brought the case to the FBI. After doing some preliminary investigation, agents there deferred to local law enforcement, but Rankin County District Attorney Michael Guest, who is now running for U.S. Congress, did not pounce on the case. FBI Agent Culpepper testified that when someone in the AG's office showed interest, he shared the information he had from 2015. A grand jury indicted Smith in 2017.
After the incident in 2015, Edwards said she saw Smith and his dad drive off from that trailer, allegedly in his county car.
"Do you consider coming to your house, pushing you around, taking your gun as being Hinds County business?" Assistant Attorney General Stanley Alexander asked Edwards.
"No sir," she replied.
Infidelity and Inconsistencies
On cross-examination, Gilliam starkly put Edwards' and Fears' sex life out on the table, asking Fears to clarify that they had sex at the trailer rather than his place. She also asked him to put his sex life with Edwards into perspective concerning the Aug. 13 incident.
"After that day (Aug. 13, 2015) when was the next time you slept together?" Gilliam asked. The State objected to this question, and Judge Chapman sustained the objection.
"Did you see her in the nude in order to observe her bruises?" Gilliam asked instead. Fears could not recall.
"When she showed me the photos, I think she showed me her arms and her butt, because (the bruises) were still there," Fears said. He estimated this happened three or four days later.
Edwards painted a picture of her off-and-on relationship with Smith that spanned the better part of a decade and resulted in the two getting engaged sometime around February or March of 2015. She then broke her lease in Brandon and moved into a mobile home in Pearl with Smith. Things were "very good, very briefly," Edwards said, until she noticed a change.
"At some point in his career he became very busy," she said of Smith. "He became distant—more and more distant—and when I would ask for explanations, it was always that a new event in his career was demanding all his time."
When Edwards first suspected Smith had been cheating, she snooped and found "suspicious numbers" in his phone attached to messages that contained "things friends don't say to each other," she said without elaborating further. One such number belonged to Wanda Fears, Edwards said, so she added the woman's number to her phone. Eventually, Edwards said she got Smith to admit he was cheating.
Putting Wanda Fears in her phone led Edwards to a new friend: Wanda's then-husband, William, a man from Rankin County who now lives in Indianapolis with his new wife, when Facebook had recommended him via its "People You May Know" feature.
Edwards reached out to William in a Facebook message, which she characterized as a platonic exchange. However, when he took the stand later that afternoon, he said Edwards flirted with him immediately. Both in deteriorating relationships, the two agreed to meet for a meal at Applebee's in Flowood within a matter of days. Edwards told him that her then-boyfriend Smith was cheating on her with William's soon-to-be ex-wife. Within a week or so, Edwards and William became intimate. Although the two considered getting married, they ultimately split up.
"I think I was more on the rebound, and I was hurt by Wanda, and I kind of I guess I just wanted to rush into something," Fears said.
Throughout Tuesday, Edwards went through a visible range of emotions. She took a series of deep breaths. She was admittedly nervous. She dabbed tears from her eyes with Kleenex. Then she seemed much more pointed when Sterling cross-examined her. But when it comes to her sentiments toward her alleged abuser, she says she knows exactly how she feels.
"I forgive him, but I'm hurt," Edwards said. "I want justice."
Email city reporter Ko Bragg at [email protected] and read more at jfp.ms/dafiles.