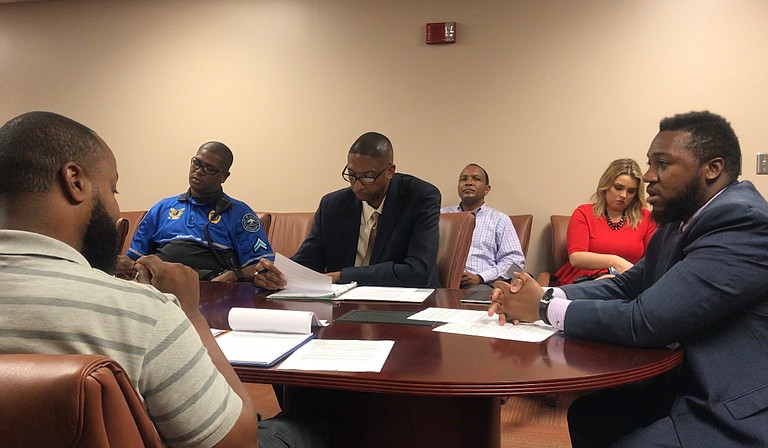 Friday, September 7, 2018
JACKSON — The rise in officer-involved shootings under Mayor Chokwe A. Lumumba, now at nine, and the lack of transparency thereafter posed an issue for the self-proclaimed most radical mayor in America.
Jackson Police Department officers killed two people in the first two months of 2018 alone, with three officer-involved shooting deaths total this year. There are various circumstances around each of these shootings, but all officer-involved shootings in the history of Jackson share a common thread: The City has never publicly identified any of the officers who pulled the trigger at any point during the process.
So, for the last five months, the mayor's officer-involved shooting task force has been meeting to find a solution. The mayor appointed the group to draft policy recommendations about when to release officers' names following officer-involved shootings. On Sept. 6, the members reached a consensus, and their findings should be on the mayor's desk later today.
The Jackson Free Press did not receive a finalized copy of the task force's recommendations by press time, but based on the Sept. 6 meeting the most standout recommendations are:
● Within 72 hours of an officer-involved shooting, JPD will release the names of any officers who discharged a firearm, absent exigent circumstances, such as a credible threat to the individual officer.
● Exigent circumstances include whether an officer was undercover at the time of the shooting.
● A three-member board comprised of a community member and two municipal court judges will determine if there is a credible threat to the officer.
● Within 72 hours, JPD will release video that provides a general overview of what occurred, if any such video has been identified, with the caveat that the immediate family must be informed and allowed to view the video first. Video would not be released if it compromises an ongoing investigation.
These recommendations are not set in stone, but they are on trend for national best practices following officer-involved shootings. The mayor will revise them has the full discretion of what he wants to consider. Notably, the recommendations do not mention the Mississippi Bureau of Investigations that now handles all officer-involved shooting cases in the City of Jackson. The state agency does not release any information about open or closed cases.
By press time, the mayor had not yet seen the recommendations from the task force so he could not offer a timeframe in which his policy would go to the legal department for review, but he expressed gratitude for the members who completed this endeavor.
"I'm thankful for deliberation of the task force—I know that they've taken their considerations seriously," the mayor told the Jackson Free Press this morning. "I've done all that I could to not interrupt the task force beyond the convening of the first meeting. I intentionally have kept my distance to foster an objective process."
Bureaucracy or Bravery?
Mayor Lumumba appointed 21 people to the task force initially, but as weeks turned into the better part of a year, some members stopped showing up. Of the 15 people who remained on the task force, 11 were in the room physically and virtually for the Sept. 6 decision. They represented the most dedicated bunch.
The mayor intentionally distanced himself from the task force, save for the first introductory meeting. Some people, including this newspaper's editorial board, criticized him for not stepping up and making the decision himself, especially considering the mayor's personal beliefs that officers' names should be released when they shoot people. Before taking office, Lumumba as a practicing attorney represented families who lost loved ones at the hands of police.
"I have literally stood over the bodies after autopsy for family members who were questioning whether their family member had been killed unjustifiably," the mayor said at a council meeting on March 27. "My commitment to this issue is longstanding, and I do not apologize for that."
Only Mayor Lumumba has the power to issue an executive order to release officers' names when they fire at civilians. But he opted for a task force, and his reasoning for this bifurcates. On one hand, the mayor said he wanted to defer to a more people-oriented process, as his campaign slogan echoed, "When I become mayor, you become mayor."
"I think it's important to hear people out," Lumumba told the JFP in July. "I can't claim to be about people-first politics, I can't claim to be about collective genius and I don't even take the time to listen to what people have to say."
The mayor was also about to lose his police force. This spring, Mayor Lumumba had prepared to draft legislation to release officers' names within 72 hours following officer-involved shootings. Chief of Staff Safiya Omari and Chief Administrative Officer Robert Blaine had a meeting at the police department headquarters about the mayor's desires, and as Omari put it in a July interview, "it was met with 100 percent disagreement from the police department."
On March 26, a Jackson resident posted on NextDoor, a neighborhood messaging board-like website, to relate that a JPD commander had asked citizens to push back against releasing officers' names. The post invited citizens to the JPD headquarters on March 27 at 11 a.m. to ultimately inspire citizens to go to the city council meeting later that night and show support for JPD's desires to keep their names out of the record. Of the dozens who attended the meeting, only one woman from that room spoke before the council at the evening meeting.
An hour before that community meeting at headquarters, Mayor Lumumba sent out an executive order announcing the officer-involved shooting task force to address JPD's "long-standing practice of not releasing the names of officers involved in shootings during the performance of their duties."
At last night's meeting, the mayor's sister, task force member, and founder of the People's Advocacy Institute, Rukia Lumumba, addressed the critique about her brother implementing a task force rather than making the decision himself. She focused on the diversity in the group of lawyers, activists, law enforcement officers and those who had directly experienced violence or served time behind bars.
"The difference of having a task force do it is that we were allowed to create a policy that has more breadth, has more reach, has more transparency than if the mayor—one individual—had created it by himself," Rukia said. "Having just the mayor create it would have just allowed status quo to continue to exist and wouldn't have allowed community input."
Five Months Too Long?
While the group expressed pride in getting through this process, no one involved could have fathomed the process would take this much time.
"Personally it's taken us too long—I feel like we just need to deal with it and move forward," the mayor's chief of staff, Safiya Omari, told the Jackson Free Press in July—back when the group thought they would make their final recommendations in August. Omari sat in on most meetings as a non-voting representative from the mayor's office.
But during the season of meetings, the group evolved.
JPD once represented one-third of the group, often sitting side-by-side in uniform. Some JPD officers resigned completely or stopped coming. Other officers seemingly did a 180-degree switch, or at least opened up to the idea of transparency, with one officer, in particular, leading those conversations.
"Everyone who puts on this gun and badge knows the risks that come with it. ... Every day we go out there, we wear a nametag, there's no privacy," Officer Eric Stanton said at a meeting in June when Hinds County District Attorney Robert Shuler Smith was present. Stanton drilled down on the notion that more transparency makes officers safer because people will want to engage with officers and perhaps provide information.
"When you put on this gun and badge, you have to be held to a higher standard," Stanton said. "If there is lack of transparency, there is going to be lack of trust between the citizens and the police department, and that creates a more dangerous situation for what we do on a daily basis."
Another task force member, Terun Moore, also had a change of heart. Moore faced adult charges for capital murder at the age of 17 and was sentenced to life without parole in 2001.The late Chokwe Lumumba represented him. A 2012 U.S. Supreme Court ruling that life-without-parole sentences for juveniles were unconstitutional granted Moore his freedom last fall. Last night, he expressed his own apprehension about the task force in one of the closing comments of the night.
"It was difficult for me to come in here from the door and work with the police," Moore said." But I see people for who they are, and not what their job titles are. You're going to have bad apples in everything, but it's important to look at people as individuals. ... Everybody has mistakes and faults and flaws and egos."
Unique, But Imperfect
The process was likely the first of its kind anywhere in the nation. While unique, this task-force ordeal was not perfect. Notice for meetings often went out so late that press releases felt more like an aside rather than an honest invitation. Meetings were not live-streamed to the public, nor were minutes posted for public consumption. Although some task force members suggested moving the meetings to more neutral spaces beyond City buildings, most took place across from City Hall in the Porter Building that houses City departments.
But not all the onus falls on the City, as the group of adults and two high-schoolers had full autonomy to govern itself. Meetings often started late, sometimes without a clear quorum as membership dwindled. It took at least three months for the group to begin writing the policy, and once they began deliberating it, they spent hours hanging on each word in the policy, which would have to go through legal review anyway pending the mayor's acceptance and input.
The end of the meeting felt like the last day of high school, with members hugging one another, shaking hands and saying goodbye. The final meeting adjourned on a high note, a sharp contrast with the previous Aug. 29 meeting that activists derailed.
The task force and heightened pressure on the mayor directly reflect back to Jackson Free Press' reporting and editorials that have long supported national trends of releasing officer names within 72 hours of an shooting incident. This paper has also been the only source to keep track of officer-involved shootings under this administration with the scarce information that JPD provides.
The task force could continue meeting, however, to mull over city issues about the use-of-force policy in Jackson.
"It's definitely been a process, but I'm glad that we were able to do this together," Lawrence said. "I'm looking forward to what else can be born out of this collective."
Email city reporter Ko Bragg at [email protected]. Read more at jfp.ms/policeshootings.