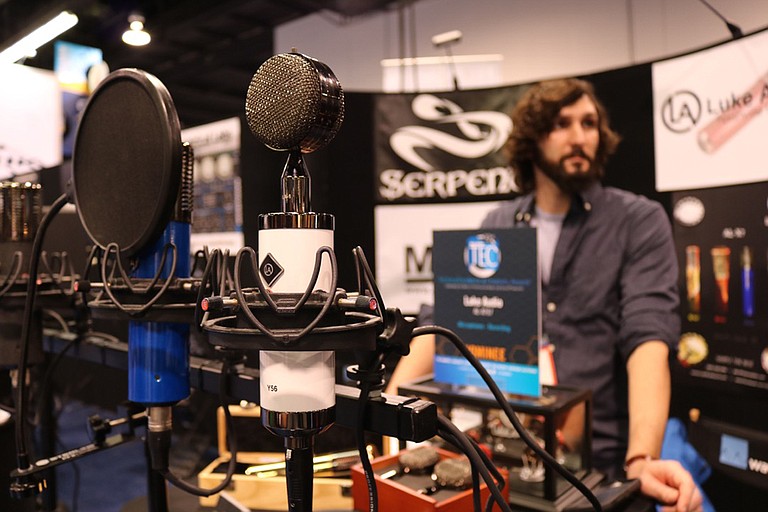 Wednesday, September 5, 2018
Allen Luke sat on the patio outside of Crown Studios in Fondren, taking a quick break before jumping back into an already long day in late July.
While he was technically on vacation visiting his family, who were throwing him and his wife, Jessie, a baby shower in Flora, Miss., work came with him. Thankfully, his work fits in a convenient carry case.
For most of that day, Luke, 27, had been on a tour of local studios, including Crown and Malaco Recording Studio, to demonstrate his latest product, the AL-Y56 microphone. He also invited the studios to compare his microphone to some of their most expensive vintage equipment.
"For one, it's about confidence, but the confidence comes from playing with vintage mics and having them side by side with your product and knowing what you're offering for $1,000 can outperform or stand with something that costs $20,000 or $30,000," he said.
Luke experienced his "competition" firsthand after moving to Nashville, Tenn., in 2013. There, he entered an engineering education program at Blackbird Studio, which has recorded artists such as Buddy Guy, Taylor Swift and Willie Nelson. He spent six months in the program and another six months as an intern, working with high-end gear.
"When I got done with Blackbird, I worked repairing vintage mics for a little while and doing DIY stuff, capsule mods," he said. "From that, I kind of figured that I could build my own, basically. I could offer something that people would want (that is) much more affordable than all this vintage stuff that everybody's crazy over."
In 2015, he incorporated as Luke Audio and released his first product, the AL-X7 series, transformer-less field effect transistor (FET) style microphones. He followed that with the Y56, which is a large-diaphragm tube condenser microphone with three interchangeable capsules, in February 2018.
Although pricing challenges made it impossible to keep all the parts American-made like on the X7, Luke outsourced the metalworking, and builds the circuits and capsules himself in order to keep his 
products affordable.
"I'm aiming more for the home-studio people is the point," Luke said. "It's aiming for that, but it's also something the major studios can use, too, not only if they want to lighten their load and get rid of vintage mics, (but also) if they just want to free up some of the vintage mics ... for something here and use my mic there."
As to why he puts a high priority on keeping his prices low, Luke said it might have something to do with his formative years in Flora, playing in rock bands and tinkering with instrument electronics.
"I guess when I was coming up here, we were always trying to record ourselves, to make band demos and stuff," Luke said. "We never had good gear because it was way too expensive."
Between the friendships and business connections, remaining in Nashville has been beneficial in launching Luke Audio, he said. With he and his wife welcoming a new child in October, Luke said Tennessee is the best place for his family for now, but he wouldn't rule out returning to the Jackson area one day.
"For the time being, (Nashville) is the place to be, but there is something about home, too, you know," he said.
For more information, find Luke Audio on Instagram or visit lukeaudiollc.com.