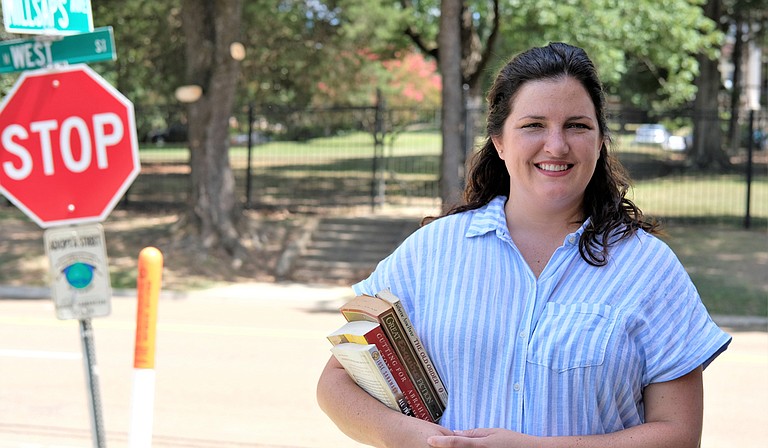 Wednesday, September 5, 2018
JACKSON — A building at the corner of West Street and Millsaps Avenue sits seemingly undisturbed, appearing like just another vacant one in midtown Jackson.
However, there's more than immediately meets the eye at the building, now dubbed The Monastery.
In mid-August, the inside was being demolished to make way for something new: the coffee-shop-bookstore combination Coffee Prose, slated to open in winter 2018 or early 2019
Co-owner Emily Pote long had a dream of owning her own bookstore. She has been in the Jackson area since age 10. She attended Mississippi College, where she received a bachelor's degree in English in 2004, later getting an MBA from the University of Mississippi in 2017.
Pote was the children's manager at Lemuria Books from October 2009 to August 2014, and the marketing coordinator for chef Tom Ramsey's pop-up dinner series staege. She also worked as the program administrator at the University of Mississippi Medical Center's The MIND Center and was programs coordinator for the 2017 Mississippi Book Festival.
"I've been in books for a long time," she says. However, she did not want to sell new books.
"One of the things I love when I travel is I always search out the used bookstore because those books have stories," Pote says. "New bookstores are going to change who carries what and everything, but you're bound by what's in print. A used bookstore is not."
When the group undertaking the project, including her business partner and The Monastery owner Rucker Culpepper; his father David Culpepper, the chairman of Millsaps' ELSEWorks program; and Millsaps professor Michael Pickard approached Pote about being involved in the bookstore, she jumped at the chance.
With her background in the business side of bookstores, Pote knew that they would need to sell more than books.
"When they came to me with this idea, I knew books couldn't just be the sole thing, but I thought it should be a very important thing," she says. "We started looking at other things. Coffee seemed like a really smart way to go, especially being right by Millsaps. And while Fondren has two (coffee shops), midtown doesn't have any. It just seemed like a good fit."
Now, they plan to have a drive-through for coffee, craft beer, wine, sweets, books and more.
"I'm really hoping (this will) be a place where the community wants to come and hang out and stay," she says. "... (Midtown) does a lot of artistic things really well, but there's nowhere to just go and hang out."
Pote hopes that the business' location on the edge of the neighborhood will get people used to going to midtown, and essentially make going a habit. "Get people used to coming there, and they'll go to more things in midtown," she says.
In addition to Coffee Prose, The Monastery will have at least four loft apartments upon completion. After demolition in mid-August, developers started working on the build-out.
Pote says they will begin putting in equipment for the retail space after plumbing and electrical are done.
Coffee Prose and The Monastery will showcase what midtown has to offer, such as beer from Lucky Town Brewing Company, fermented products from Sweet & Sauer, products from Mississippi Cold Drip Coffee & Tea Company, food from FEAST, and art from businesses such as AND Gallery and Pearl River Glass Studio.
"We're just really happy to be part of that story and part of that growth," Pote says of her new business.
For more information, find Coffee Prose (1619 N. West St.) on Facebook or visit coffeeprose.com.