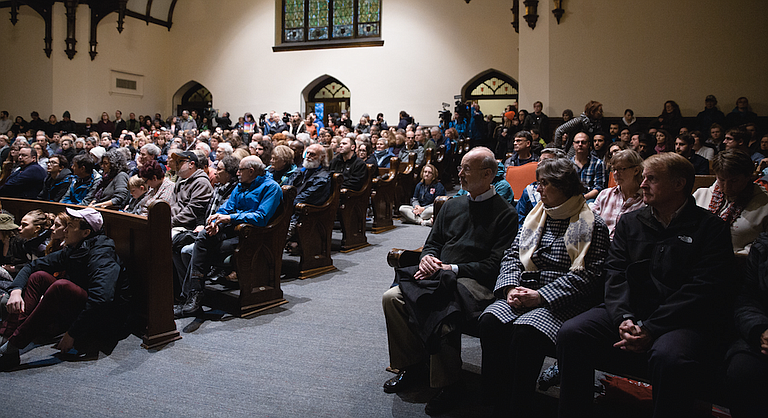 PITTSBURGH (AP) — As Barry Werber walked into the Tree of Life Synagogue, he passed a cart carrying glassware and whiskey meant for the baby-naming ceremony scheduled at Dor Hadash, one of three small congregations that worship there.
He went downstairs, where his New Light Congregation meets, and found only a few people gathered. Melvin Wax, 88, was chatting up front with David Rosenthal, who had intellectual disabilities and spent hours helping out there. Rosenthal soon went upstairs for his own service at Tree of Life. Two other men, Daniel Stein and Richard Gottfried, were in the kitchen.
Minutes later, Werber found himself hiding in a dark storage closet after an anti-Semitic gunman tore through the building and opened fire, killing Wax, Rosenthal, Stein, Gottfried and seven others across two floors.
"I don't know why he thinks the Jews are responsible for all the ills in the world, but he's not the first and he won't be the last," Werber, 76, said Sunday. "Unfortunately, that's our burden to bear. It breaks my heart."
Werber's recollection was among the harrowing accounts that emerged from survivors as authorities worked to piece together the background and movements of the suspected gunman, Robert Gregory Bowers, who is due in federal court Monday. Prosecutors have set in motion plans to seek the death penalty.
The first funeral — for Rosenthal and his older brother, Cecil, also killed in the attack — is planned for Tuesday.
The weekend massacre spurred a number of fundraising efforts. A crowdfunding campaign called Muslims Unite for Pittsburgh Synagogue raised more than $90,000 for survivors and families, while a fundraiser led by a graduate student in Washington, D.C., had taken in nearly $545,000 as of Monday morning, with funds to go to the congregation.
Bowers killed eight men and three women before a tactical police team tracked him down and shot him, according to state and federal affidavits made public on Sunday.
He apparently posted an anti-Semitic message on a social media account linked to him just a few minutes before he opened fire. He expressed hatred of Jews during the rampage and later told police that "I just want to kill Jews" and that "all these Jews need to die," authorities said. The Anti-Defamation League called it the deadliest U.S. attack on Jews.
Six people were injured, including four officers.
It isn't clear whether Bowers, who underwent surgery and remains hospitalized, has an attorney to speak on his behalf. A message left with the federal public defender's office in Pittsburgh wasn't returned.
All three congregations were conducting Sabbath services when the attack began just before 10 a.m. Saturday in the tree-lined residential neighborhood of Squirrel Hill, about 10 minutes from downtown Pittsburgh and the hub of the city's Jewish community .
Speaking at a vigil in Pittsburgh on Sunday night, Tree of Life Rabbi Jeffrey Myers said about a dozen people had gathered in the main sanctuary when Bowers walked in and began shooting. Seven of his congregants were killed, he said.
"My holy place has been defiled," he said.
In the basement, four members of New Light were just starting to pray — with the two others in the kitchen — when they heard crashing coming from upstairs, looked out the door and saw a body on the staircase, Werber recalled Sunday in an interview at his home.
Rabbi Jonathan Perlman closed the door and pushed them into a large supply closet, he said. As gunshots echoed upstairs, Werber called 911 but was afraid to say anything, for fear of making any noise.
When the shots subsided, he said, Wax opened the door, only to be shot and fall back inside.
"There were three shots, and he falls back into the room where we were," he said. "The gunman walks in."
Apparently unable to see Werber and the other congregants in the darkness, Bowers walked back out.
Werber called the gunman "a maniac" and "a person who has no control of his baser instincts."
Perlman, who also spoke at the vigil Sunday night, said New Light lost three congregants.
"These three men, they cannot be replaced," said Perlman, his voice breaking. "But we will not be broken. We will not be ruined."
Rabbi Myers, who helped get police to the scene by making an emergency call, said Monday on ABC's "Good Morning America" that he didn't always make a habit of carrying a cellphone on the Sabbath — until August, when a security expert advised him to do so.
The 20 minutes he spent on the phone, Myers said, "felt like an eternity."
Officials released the names of all 11 of the dead . The youngest was 54, the oldest 97. The toll included a husband and wife, professors, dentists and physicians.
Bowers shot his victims with an AR-15, used in many of the nation's mass shootings, and three handguns, all of which he owned legally and had a license to carry, according to a law enforcement official who wasn't authorized to discuss the ongoing investigation, and who spoke Sunday on the condition of anonymity.
Bowers was a long-haul trucker who worked for himself, U.S. Attorney Scott Brady said Sunday.
Little else was known about the suspect, who had no apparent criminal record. It appears he acted alone, authorities said.
Bowers was charged with 11 state counts of criminal homicide, six counts of aggravated assault and 13 counts of ethnic intimidation. He was also charged in a 29-count federal criminal complaint that included counts of obstructing the free exercise of religious beliefs resulting in death — a federal hate crime — and using a firearm to commit murder.
Of the six survivors, four remained in the hospital Sunday night, and two — including a 40-year-old officer — were in critical condition.
Gab.com, a social media site popular with far-right extremists, where Bowers had a profile, was offline Monday. Gab wrote it had been "systematically no-platformed by App Stores, multiple hosting providers, and several payment processors," including PayPal.