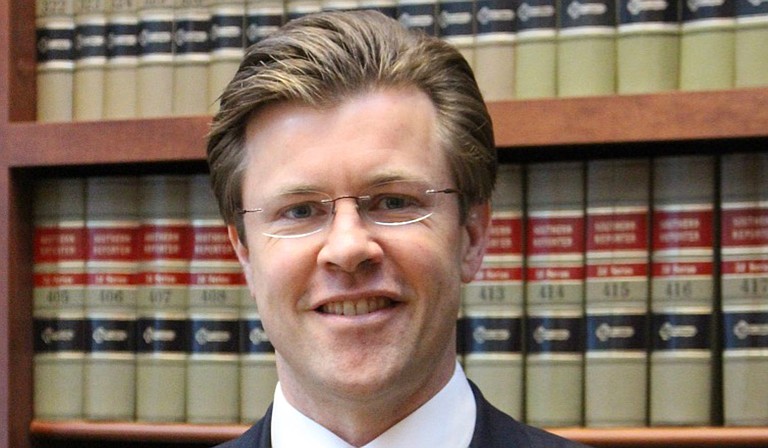 Thursday, October 11, 2018
Fast Facts About Matt Allen
Age: 41
Title of Specific District/Position Campaigning for: Hinds County Circuit Court Judge, Subdistrict 1
Educational Background: Currently working towards a Ph.D. in Criminal Justice at the University of Southern Mississippi; J.D., The University of Texas School of Law (2004); M.B.A., Millsaps College (2001); B.A., Mississippi State University (2000).
Professional Background: Brunini, Grantham, Grower, & Hewes, PLLC (2005-present); Law Clerk to the Honorable William H. Barbour, Jr., United States District Court for the Southern District of Mississippi (2004-2005).
Place of Residence: Subdistrict 1, Jackson, Hinds County, Mississippi.
Spouse/children: Megan West (evening news anchor for WAPT), Hartley (daughter, 3), and Thatcher (son, 1).
The Jackson Free Press reached out to all judicial candidates who are running on the Nov. 6 ballot to represent jurisdictions throughout the Jackson Metro Area, regardless of whether they had a challenger or not. Each candidate received the same questionnaire. We've published their responses in full below, with minimal edits for editorial/reader clarity only. The JFP did not copyedit or line-edit candidate responses. The views expressed by candidates do not necessarily reflect the views of the JFP.
Please list any endorsements you have received to date:
N/A. Consistent with Code of Judicial Conduct Canon 5(C)(2), which prohibits a candidate from "personally solicit[ing] publicly stated support," Mr. Allen has neither sought nor will he seek publicly stated support in the form of endorsements. Mr. Allen believes this Judicial Canon is imperative to protect the independence of the judiciary. Consistent with the Judicial Canons and state law governing judicial elections, Mr. Allen has formed a Committee to Elect Matt Allen. The Committee is composed of the following persons: Walter Boone, Co-Chair; Matthew McLaughlin, Co-Chair; Ben Allen; Michael Boerner; Dorsey Carson; La'Verne Edney; Matt Eichelberger; Ashby Foote; Mary Margaret Gay; Nick Giallourakis; Karen Gilder; Tray Hairston; Bo Harwell; Eric Hatten; John Hooks; Chad Hosemann, M.D.; Matt James; Sam Lane; Jay Meacham; Sam Peters; Brad Reeves; Sabrina Ruffin; Lisa Shoemaker; Clarence Webster; and Bo Zimmerman.
If you have run for this judicial seat before, please state when. (If you are an incumbent, please cite years in current position):
N/A.
Why do you want to serve Hinds County right now?
Our judicial system needs improvement. One overarching urgent problem is the backlog of cases on both the criminal and civil docket. Judges control the docket and scheduling of cases. To address the backlog problem, I will set criminal and civil cases for trial and hold the lawyers to it. Cases, particularly criminal cases, linger far too long exacerbating the case backlog problem. Regardless of whether you tend to view criminal matters from more of a law and order perspective or more of a civil liberties perspective, having criminal cases linger for years on end is incredibly problematic. Justice delayed is justice denied. If the state has brought charges against someone, that case needs to move in a timely fashion both to enable law enforcement to address crime and to protect the rights of the accused.
I also want to improve our drug court so we can ultimately reduce the impact that addiction has on our criminal justice system and our society in general. If we can help those non-violent offenders who suffer from addiction get out of the criminal justice system, into recovery, and back into mainstream society, we all win. A comprehensive, successful drug court system will have a lasting impact on the participants and, more importantly, society as a whole.
I invite everyone to visit my website, www.mattallenforjudge.com, and Facebook page, www.facebook.com/mattallenforjudge/, to learn more about me.
Provide one or two examples of your legal and/or judicial experience when you have made an impact in Hinds County, and describe the result.
In my law practice I have had the honor of representing many clients in cases that have had an impact on Hinds County. Probably the most high profile case was successfully representing the Mississippi Secretary of State in the statewide redistricting litigation that took place after the 2010 Census. That case went to the United States Supreme Court, twice, and the Secretary won both times. The end result is that counties, including Hinds, have a longer period of time within which to redistrict themselves than was previously thought. While that is a "big litigation" example of where I have made an impact, I think sometimes we make the biggest societal impact by smaller, individual efforts. For example, over the years, I have enjoyed coaching high school mock trial teams and teaching appellate advocacy at Mississippi College School of Law. I hope I have played some small part in helping and inspiring others to join and advance our noble profession.
Do you think there is anything that can be done in a judicial capacity to alleviate or reduce crime in your jurisdiction?
Yes. Set cases for trial and have trials. It is a well-known phenomenon that it can take years before a criminal case is taken to trial in Hinds. Sometimes even years before a defendant is indicted. Our current system is operating exactly the opposite of how it should operate if it intends to send a message to would-be offenders and reduce crime. The message should be: the system will work fairly and impartially but also swiftly and with certainty. And what a judge can do in his or her judicial capacity is simple: work hard and hold trials.
Additionally, expanding the scope and maximizing the efficiency of our existing drug court will reduce crime. We all know that substance abuse and addiction issues often go hand-in-hand with criminal activity. I have been very open with voters about how I have enjoyed the gift of sobriety for years now. As a member of the recovery community, I would like to work to improve our drug court system so that participants can find the same freedom that I found through the gift of sobriety, so that they may climb the ladder out of the criminal justice system, and so that their families and our society can all benefit from their productive lives. Comprehensive, successful drug courts can and will reduce crime.
In the past year or so, what has been the most consequential/at-risk issue facing the area you wish to serve and what do you plan to do about it?
Cases linger far too long. In the criminal justice arena, the delay affects everyone from the police who patrol the streets and feel as though their efforts are in vain, to correctional facilities whose resources are stretched while housing the many accused awaiting trial, and to society as a whole that pays for our criminal justice system and does not see a fair, timely, or efficient process.
Like a cork in a bottle-top, when cases are clogged at the courthouse door and not processed in a timely manner, it causes pressure in other parts of the criminal justice system. We have been witnessing this pressure at our Hinds-Raymond Detention Center that houses inmates, often for years on end, before they are brought to trial. This is causing pressures our Detention Center was not built to withstand. I intend to address this problem-causing backlog in the civil and criminal docket by setting cases for trial, holding the parties to deadlines, and not allowing new cases to follow the same path as those in the current pipeline.
What are the characteristics of a good judge, and how do your characteristics compare?
Judgment, temperament, knowledge, and experience. I believe I have the right combination of these and make for the best candidate. I believe these characteristics can be seen in my many service activities and leadership roles within the community and the bar association, from serving on boards of directors of organizations, to leadership roles within the state bar and American Bar Association, and to church and recovery community work. I believe I have the legal expertise needed, as reflected in the fact I have the highest peer review rating available as to my legal abilities, as judged by follow lawyers and judges, and passion for the subject matter, as evidenced by the fact I have been working towards a Ph.D. in Criminal Justice.
What sets you apart in this race?
I am a native Jacksonian, born and raised in Subdistrict 1. I live, have a law office, and attend church in Subdistrict 1, the community I intend to serve.
I am the best qualified. I have the highest peer review rating available as to my legal abilities, as reviewed by fellow lawyers and judges. I have been working towards a Ph.D. in Criminal Justice through the University of Southern Mississippi for just over a year. I have been recognized in Super Lawyers as a Top Business Litigation Lawyer in the Mid-South, in Best Lawyers in America in several different practice areas, and I am a graduate of the National Institute for Trial Advocacy. Finally, I clerked for a federal judge, and know from this experience how to organize and run an efficient courtroom.
I am in long term recovery, and I believe that experience will prove invaluable in expanding and improving our drug court system.
If you are unsuccessful in your race, how specifically will you continue working on behalf of your district?
I grew up in Jackson, and moved back here in 2004 after graduating from law school at The University of Texas-Austin. Consistent with what I have done for the past 14 years, I will continue to champion Jackson, Hinds County, its citizens, and its interests in this metro area and this state. I will continue to serve on boards of directors which improve our community, as I have done in the past for the Mississippi Opera, Jackson Rotary Club, New Stage Theatre, the former I.S. Sanders YMCA (Farish Street), Capital Club, and Mississippi State University Central Mississippi Alumni Association.
Most importantly, I will continue my work in the recovery community, holding hands with those from across the spectrum of humanity, beating the disease of addiction one day at a time, and watching miracles happen.