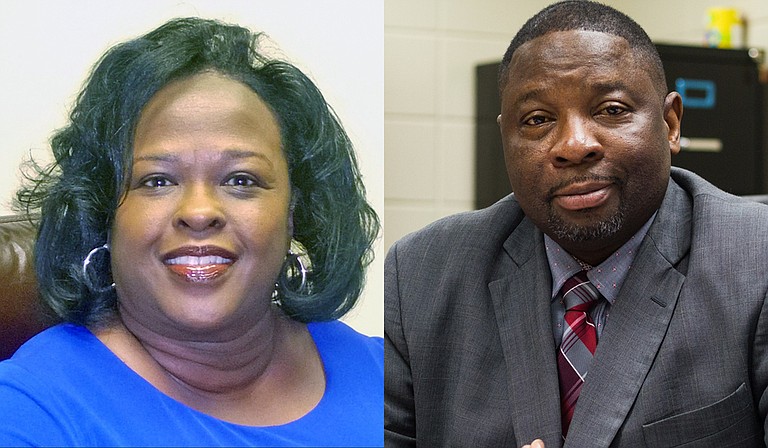 Friday, November 23, 2018
JACKSON — Although the nation waits with bated breath for the results of the U.S. Senate runoff between Cindy Hyde-Smith and Mike Espy, six judicial seats are still up for grabs in Hinds County. Candidates who did not receive 50 percent plus one on Election Day automatically go to the runoff ballot.
When the runoff polls open on Nov. 27 at 7 a.m., voters could create women majorities on multiple benches. Juvenile-justice reform is also at stake.
A Chance for Juvenile Reform in Hinds County
Large counties like Hinds have county judges to deal with case overload and the youth-court docket. Of the three county-court judge seats, two were decided in landslides on Election Day. Senior County Court Judge Melvin Priester Sr. will return, as will Larita Cooper-Stokes, who ran unopposed.
However, in District 3, Johnnie McDaniels, executive director of Henley-Young Juvenile Detention Center, came close to winning outright—he missed the mark by 1.65 percentage points. He and John Fike, a Raymond attorney, will go to the runoff. Fike got 35.10 percent of the vote.
If elected, McDaniels wants to be appointed to serve over the youth docket with hopes of also adding a separate docket for juveniles charged as adults to expedite their cases in Hinds County. Last year, Henley-Young began caring for juveniles charged as adults, who face the same intense and unconstitutional delay seen in the adult system. Some teenagers in Henley-Young, at what is supposed to be a short-term facility, are kept there for over a year at the risk of aging out of the juvenile system all together once they turn 18.
Fike is leaning on his experience as the city attorney and city prosecutor in Raymond for the past 27 years. His campaign site says that Fike has practiced in all areas of the law, including in circuit, county, chancery and federal courts.
Women-Led Hinds County Circuit Court?
Senior Judge Tomie Green is currently the only woman on the circuit-court bench. But, if the other two women contenders win their races, there could be a three-to-one woman-to-man ratio.
For the District 7-1 seat, which outgoing Judge Jeff Weill left vacant as he campaigns for the court of appeals, Jackson attorney Matt Allen and Rep. Adrienne Wooten are heading to a runoff. Allen, the son of the former Downtown Jackson Partners president and a previous city council member, Ben Allen, took 36.44 percent to Wooten's 45.44 percent.
District 7-4 Circuit Court Judge Joseph Sclafani inherited this role when Gov. Phil Bryant appointed him this spring to fill the remainder of Circuit Court Judge Bill Gowan's term when he retired. Sclafani with 26.9 percentage of the vote will enter a runoff with former Hinds County District Attorney Faye Peterson who amassed 39.4 percent of the vote.
Sclafani hails from the private sector as an attorney at Brunini, Grantham, Grower and Hewes, PLLC and as an associate at Wilson, Sonsini, Goodrich and Rosati, PLLC. He also clerked for the United States Court of Appeals for the Fifth Circuit. He promises to eliminate backlog on the criminal docket in 18 to 24 months.
In response to a Jackson Free Press questionnaire, Sclafani identified lenghty pre-trial detention as one of the most consequential issues facing Hinds County. He sees drug court as a way to assuage this issue.
"Since taking the bench, I have been a strong supporter of the drug-court program," he wrote. "Providing defendants (with) an opportunity to receive drug treatment can reduce crime in Hinds County and end the cycle of incarceration."
Faye Peterson served as Hinds County district attorney after controversial DA Ed Peters stepped down in the middle of a term after serving for many years, later losing his law license for offering a Hinds judge a $1-million bribe. Peterson was best known for her willingness to challenge former Mayor Frank Melton and joining with Attorney General Jim Hood to try him and his bodyguards for destroying a duplex with sledgehammers and on gun charges, drawing vicious condemnations from the mayor. She was also responsible for banning boys from living with Melton, who was not a certified foster parent, when she brought him up on charges. Current District Attorney Robert Shuler Smith, a defense attorney who was backed by both Melton and former DA Peters, successfully challenged her for the seat in 2007.
While DA, Peterson worked to resolve backlogs in the system, using grant funds to appoint a court facilitator to help with the flow. Since she was defeated for a second full term as DA, Peterson has worked as a defense attorney.
Two Women Face Off For Final Chancery Seat
Gov. Phil Bryant endorsed Monique Brown-Barrett for the District 5-4 chancery-court seat, and she received 29.09 percent of the vote. She competes against attorney Tiffany Grove, who got 27.57 percent on Election Day.
These two women seek Judge William Singletary's vacated seat, as he also retired this year. No matter the outcome, a woman will join two others, Judge Denise Sweet Owens and newly-elected Judge Crystal Wise Martin, leaving Judge Dewayne Thomas as the sole man on the chancery court bench.
Brown-Barrett has lived in Byram for the last 24 years and Hinds County for the last 46. After going to Mississippi College School of Law she opened her own self-named practice, where she has handled matters of family law/domestic relation matters for over 18 years.
Her campaign Facebook page says Monique has been a certified guardian ad litem, the person a court can appoint to seek solutions that in the best interests of a child, for over 12 years. She has also spent time in youth courts to represent abuse and neglect matters.
For over a decade, Tiffany Grove of Raymond has been with the firm Williford, McAllister & Jacobus, LLP trying cases in chancery court. Her campaign site says she specializes in estate and fiduciary litigation, but also has experience with probate, estate and trust administration, guardianships, conservatorships. She's also handled domestic matters like divorces, child support cases, contempt and termination of parental rights.
She has been a law clerk to the Mississippi Court of Appeals and got her law degree from Mississippi College.
Court of Appeals
Hinds County voters will again cast votes in two Court of Appeals races that cover large portions of the state. For the District 2-1 seat, which encompasses the Mississippi Delta and some of Jackson, a former municipal court judge in Fayette, Miss., Debra McDonald, will go to a run-off with attorney Eric Hawkins of Greenville, Miss. As the Washington County prosecutor, he represents the state in all felony matters in justice and county courts as well as misdemeanor youth-court proceedings.
In the race for District 4-2, which includes Jackson and sprawls to Laurel, attorney and Mississippi College School of Law professor David McCarty came just a point or so shy of the 50 percent plus one required margin to avoid a run-off. He will face off against a former Hinds County Circuit Court judge and Jackson city councilman, Jeff Weill Sr., whom Gov. Bryant endorsed.
McCarty, of Belhaven in Jackson, has been a solo practitioner at his eponymous law firm since 2009 focusing on appeals to state and federal courts. Since just a year after graduating from Mississippi College's law school, McCarty has been teaching pretrial practice, evidence, trial practice, legal writing and appellate advocacy at his alma mater.
Although he has not yet served on the bench, McCarty said in his response to the Jackson Free Press judicial questionnaire that he has "the heart" to do the job right.
"Just as important as my deep experience as a lawyer and teacher is the heart to do the work of a judge," he wrote. "Some people may not like that we elect judges in Mississippi, but I think it is critical. Our justice system is accountable to the people. There is a reason we give judges robes, and not crowns—they are never above the people that they serve."
Weill, a former Ward 1 Jackson city councilman, gained notoriety on the circuit bench for knocking heads with DA Smith over cases against Christopher Butler and a long-time acquaintance of the DA, Darnell Turner. Smith argued that both were unfairly targeted on various charges and refused to prosecute them. After the attorney general successfully took over the men's prosecutions, Judge Weill eventually sentenced Butler to 30 years on drug charges for being a habitual offender and Turner to 45 years for assaulting a woman in Jackson.
Here's how Hinds County voted:
Court of Appeals District 2 Position 1
(VOTE FOR) 1
ERIC HAWKINS . . . . . . . . . 3,781 (votes) 23.88 (percentage)
CEOLA JAMES. . . . . . . . . . 3,179 (votes) 20.08 (percentage
DEBRA MCDONALD. . . . . . . . . 8,772 (votes) 55.40 (percentage)
WRITE-IN. . . . . . . . . . . 102 (votes) .64 (percentage)
Over Votes . . . . . . . . . 19
Under Votes . . . . . . . . . 1,346
Court of Appeals District 4 Position 2
(VOTE FOR) 1
BYRON CARTER . . . . . . . . . 13,972 (votes) 23.98 (percentage)
DAVID MCCARTY . . . . . . . . . 26,401 (votes) 45.32 (percentage)
JEFFREY WEILL . . . . . . . . . 17,465 (votes) 29.98 (percentage)
WRITE-IN. . . . . . . . . . . 417 (votes) .72 (percentage)
Over Votes . . . . . . . . . 54
Under Votes . . . . . . . . . 4,261
Anyone who registered to vote by Oct. 29 will be eligible to vote in the runoff, even if they could not vote in the Nov. 6 election. Voters must have a valid form of photo ID, such as a driver's license or student ID. The Secretary of State's website has a full list of acceptable forms of ID. Polls are open in Mississippi from 7 a.m. to 7 p.m.
Email city reporter Ko Bragg at [email protected]. Donna Ladd contributed to this story.
Note: This story has been updated to correct Crystal Wise Martin's name. A previous version of this story erroneously refered to her as her mother, Patricia Wise, who retired this year.