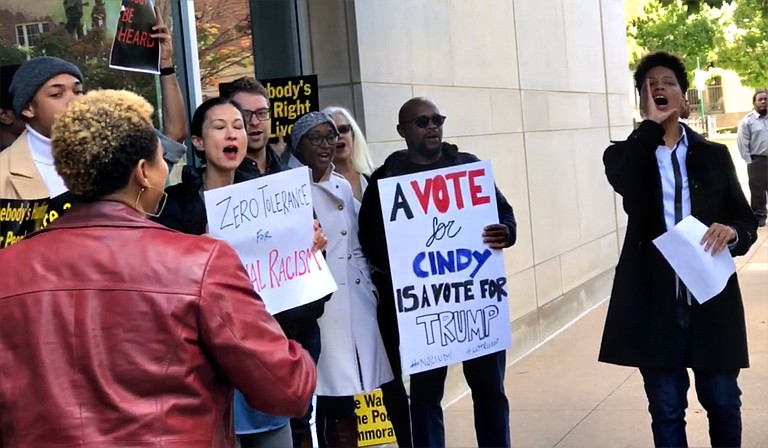 Monday, November 19, 2018
Alvin Jackson, president of the NAACP chapter at Tougaloo College, led a call-and-response outside Sen. Cindy Hyde-Smith's downtown Jackson office during a noon protest Friday, Nov. 16, 2018.
"No hate!" Jackson yelled.
"In our state!" the crowd shouted back.
Jackson told the Jackson Free Press that people on campus are upset, energized and in disbelief, but energized following her viral "public hanging" comment and recently surfaced video of the senator laughing as she chatted about imposing voter suppression on "liberal folks" in some Mississippi colleges. Some of the 30 or so people at the protest called for the senator's resignation, shouting "Hell no, Cindy gotta go," which also appeared on signs.
"A lot of the students who aren't from Mississippi, from out north or out west, they're like, 'Really? Your public officials would say something like that?' So they're energized," Jackson said. "People in Mississippi are energized because I believe they believe enough is enough."
Many protesters hailed from Tougaloo College, a private, historically black institution with a long legacy of civil- rights activism, while others turned out from local high schools.
Students Take the Lead
Leslyn Smith, a 17-year-old senior at Callaway High School in Jackson, said Hyde-Smith's comments made her very uncomfortable.
"The statement made by Hyde-Smith was more than insensitive—it was racist, heartless and disappointing," Smith said as the crowd circled around her. "Even bigger than that, it shows why she should not be in office. Mississippi has had a history of deadly lynchings and public hangings. … How long will we let her make a mockery of us? How long will it be before we realize she means us no good? How long will we stand for this?"
Smith begged registered voters to show up to the polls, even though she cannot yet.
Jackson said Hyde-Smith's videos show the importance of voting, especially for young African Americans in Mississippi.
"She obviously is not going to resign, so that's out," Jackson said, addressing the crowd. "They're not going to remove her because they agree with her. So on the 27th, that's when the people, we the people, will say, 'You've got to go. You've got to be removed.'"
While the news cycle around the Mississippi runoff election has been churning rapidly, this group had kept up with all of the news around Hyde-Smith's comments, with another controversial clip hitting the Internet the day before the protest.
Marquise Hunt, who serves as the NAACP state president of the Youth and College Division, read those comments aloud before characterizing Hyde-Smith as a "white, racist, egotistical supremacist."
"For us to have a new Mississippi, we must vote," Hunt added. "For us to defeat hate, we must vote. For us to get rid of the racist, egotistical supremacists who vote on policies and legislation that suppress and oppress African Americans and people of marginalized communities. We must vote on November the 27th."
Protesters Speak out Against Gov. Bryant
Although most of the protesters focused on Hyde-Smith, Gov. Phil Bryant came under fire, too.
Valencia Robinson, the executive director of reproductive and sexual health organization Mississippi in Action, was upset by the governor's comments from a pro-life event for Hyde-Smith on Nov. 12, the day after the "hanging" video went public. That morning, he opened a press conference implying that black women are participating in "the genocide of 20 million African American children" through abortion.
"I didn't appreciate it," Robinson told the Jackson Free Press. "To me, it's just a slap in the face that instead of addressing these comments, he deflected it, talking about abortion—a hot-button topic in the State of Mississippi."
Robinson said as a black woman voter, she felt more liberated to go to the polls in spite of those comments.
"We don't want to be the object that you compare death with," she added. "So I do feel like black women, especially young black women, are going to come out in droves and show them that, number one, we're not murderers; number two, what you said was disrespectful; and number three, Gov. Phil Bryant, we know you're about to leave, but you'll still hear from us at the polls."
Tougaloo professor Edelia J. Carthan, who says she is the late Emmett Till's cousin, brought up Gov. Bryant's immediate response condemning Jackson's Forest Hill High School band after a controversial performance in Brookhaven, Miss. At the time, some people assumed the show, which took place just two days after two Brookhaven police officers were killed in the line of duty, depicted students drawing fake guns on officers. In Bryant's response to Hyde-Smith's "public hanging" comments, however, the governor not only defended the senator, but pivoted into a baseless critique of black women, Carthan said.
"It's OK when they are, I guess, under attack; it's a state of emergency," Carthan said. "But you let a black child get shot in the streets, you hear silence from everybody. These are the issues that Cindy Hyde-Smith should be addressing."
Carthan, who also leads efforts to change the Mississippi flag that bears the Confederate emblem in its canton, told the Jackson Free Press she couldn't believe Hyde-Smith's comments at first; rather, she thought it was a joke, especially in 2018. She believes Hyde-Smith makes comments like that often, "when she's in certain company."
She was proud to see young people step up at the rally and address Hyde-Smith, Carthan said. She stressed the importance of everyone getting out to vote on Nov. 27.
"Freedom is on the ballot, and we have to show up in mass numbers to vote like we never voted before," she said. "Because (Hyde-Smith's) base is going to show up—she's exciting her base. She knows exactly what she was saying to rally her base up just like Trump. We have to show up and counteract those people that are going to be at the polls that day."
'Bad, Embarrassing, Mortifying, Humiliating
Jackson Realtors Elizabeth Knight and Cecilia Reese Bullock were also a part of the protests. As white women, Hyde-Smith's comments appalled them, and they launched Mississippi into the national spotlight yet again in a "bad, embarrassing, mortifying, humiliating" way. Both said they will continue to support Hyde-Smith's opponent, Mike Espy, whom they consider to be someone who thinks before he speaks.
Bullock said Hyde-Smith's comments were the topic of conversation at a recent open house she hosted. "The conversation was how appalling and how embarrassing it has been for us to hear someone handpicked by our governor to represent us in Washington, D.C., use such abhorrent language," Bullock said.
Knight said her friends do not think the way Hyde-Smith does. She did not understand how the "public hanging" comment could just roll off her lips and said Hyde-Smith should be setting the example for unity.
"It's very unfortunate because she is supposed to be representing all of Mississippi, and she just threw out about half of them with those kinds of comments, knowing that it's going to hurt people, and to make things worse between the African Americans and the whites that are coming together and try to work together," Knight said.
Bullock suggested Hyde-Smith spend a few hours at the lynching exhibit at the Mississippi Civil Rights Museum, not far from her office. "See if that doesn't change her attitude toward attending public hangings—or private hangings," she said.
'Mississippi is a Microcosm of the Nation'
Genesis Be, an artist and activist originally from Biloxi, Miss., also had some feelings about what Hyde-Smith has done for Mississippi's reputation. She detailed it as she performed a spoken-word poem at the protest.
"See, Mississippi is a microcosm of a nation that gaslights this generation," Genesis Be said in her piece. "See, where I'm from, children walk across stages at their own graduation with the racist symbol waving and just the display is saying we are forgotten and forsaken and disrespected on the daily."
She has been traveling the nation for the last two years, she said, learning from divided communities and observing "what America is really like."
Genesis Be, whose grandfather was targeted by the Ku Klux Klan in the 1960s, told the Jackson Free Press that growing up here, she thought Mississippi was different, as she heard people call her home state backwards, racist, misogynistic and homophobic. She added that when leadership refuses to recognize ills of the past, it affects not just Mississippi, but how the world views America.
"It's easy for those outside to point at states like Mississippi and say that's the problem with America without being accountable as to how they are perpetuating bigotry in their communities, in their families," she told the Jackson Free Press.
Mississippi voters will choose between Espy and Hyde-Smith in a Nov. 27 runoff. Anyone who registered to vote by Oct. 29 will be eligible to vote in the runoff, even if they could not vote in the Nov. 6 election. Polls are open in Mississippi from 7 a.m. to 7 p.m.
The candidates will debate on Nov. 20 at 7 p.m. at the Mississippi Farm Bureau Federation's auditorium in Jackson. The debate is not open to the public, but will air on television and radio throughout the state. Voters in the Jackson metro area will be able to watch the live broadcast on WLBT.
Email Ko Bragg at [email protected].