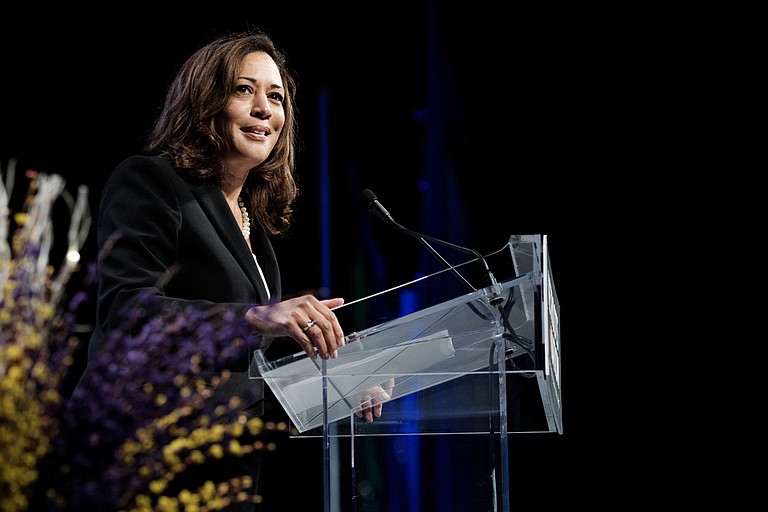 Monday, November 19, 2018
JACKSON, Miss. (AP)—For Mike Espy, a high-profile woman helped Espy make the argument Saturday that the Democratic man would be a better choice in Mississippi's U.S. Senate runoff for the state's women.
But the Republican woman in the race, Cindy Hyde-Smith, will get support from the party's highest-profile figure—President Donald Trump—as she makes her closing argument before the Nov. 27 election.
The two are vying for the final two years of a six-year term.
It's a race that has grown more heated in the last week as video emerged of Hyde-Smith praising a supporter by saying: "If he invited me to a public hanging, I'd be on the front row." Hyde-Smith said that was "an exaggerated expression of regard." She has counterattacked against Espy by pointing out that he lobbied for a later-deposed African leader who's now on trial for crimes against humanity.
U.S. Sen. Kamala Harris, a California Democrat and potential 2020 presidential candidate, came to Jackson to back Espy in front of more than 100 Democratic women at a morning breakfast.
"Racism, anti-semitism, sexism, homophobia, these issues are real in this country," Harris told the group. Let's speak those truths to we can deal with that. Let's have leaders who are willing to do that like Mike Espy."
Espy argued he was a better choice because of his support for expanded health care coverage, gender equity, reducing student debt, and protecting insurance availability for people with pre-existing health conditions.
"Not every woman is for women," he said, drawing a contrast with Hyde-Smith, the first woman to ever represent Mississippi in Congress. Appointed to the Senate seat by Gov. Phil Bryant after Sen. Thad Cochran retired, the Republican wants voters to see the race through a different lens in a state that hasn't elected a Democrat to the Senate since 1982.
"This race is not about identity politics, it's about conservative versus liberal," Hyde-Smith spokeswoman Melissa Scallan said in a statement. "Cindy is the conservative in this race and Espy is the liberal."
Hyde-Smith cancelled a scheduled appearance Saturday in Hattiesburg. Scallan said she was instead busy preparing for a Tuesday debate between the candidates.
Trump will doubtless underline the liberal-conservative split in two rallies on the Monday before the election. His campaign announced Saturday that it will hold the first event at 5 p.m. on Nov. 26 at Tupelo Regional Airport, followed by a second event three hours later in at the Mississippi Coast Coliseum in Biloxi. It will be Trump's fifth and sixth public events in the state since he began running for president, an unusual level of attention to what's usually a safe Republican state. Trump endorsed Hyde-Smith in August, and they appeared together at an October rally in the Mississippi suburbs of Memphis, Tennessee.
Espy won a larger share of women's votes in the first round of voting on Nov. 6 according to VoteCast, a survey of the electorate conducted by The Associated Press. Of female respondents, 43 percent said they voted for Espy while 33 percent said they voted for Hyde-Smith. There were two other candidates in the election. The share of men's votes was flipped, with Hyde-Smith winning 41 percent and Espy winning 34 percent, VoteCast found. That reflected a similar gender split nationwide.
Democrats argue that a high turnout among women, especially African-American women, could deliver an upset victory to Espy, in the same way that black women were the bedrock supporters of Democrat Doug Jones' Senate victory in Alabama. Many of the same advisers who worked for Jones are working for Espy. For example, Harris went on Saturday to speak to door-to-door canvassers working for Espy.
"The time has come for Democratic women to reshape the perception of the state of Mississippi," Democratic state Rep. Debra Gibbs of Jackson told Saturday's crowd. "The time has come for the Democratic women to be the deciding factor in the upcoming election."
Hyde-Smith is also looking to turnout in the election, which will come days after Thanksgiving. She has been highlighting the support of liberal Democrats including Harris, saying she wants "to make sure all conservatives know they have a very clear choice in this runoff election."
Espy isn't shying away from the support, saying there are differences but also shared interests.
"Mississippi's not California, Mississippi's not Massachusetts and Kamala knows that. If I'm lucky enough and blessed to be in the U.S. Senate, we may not always vote alike, and she knows that. But there are common core values that we believe in."