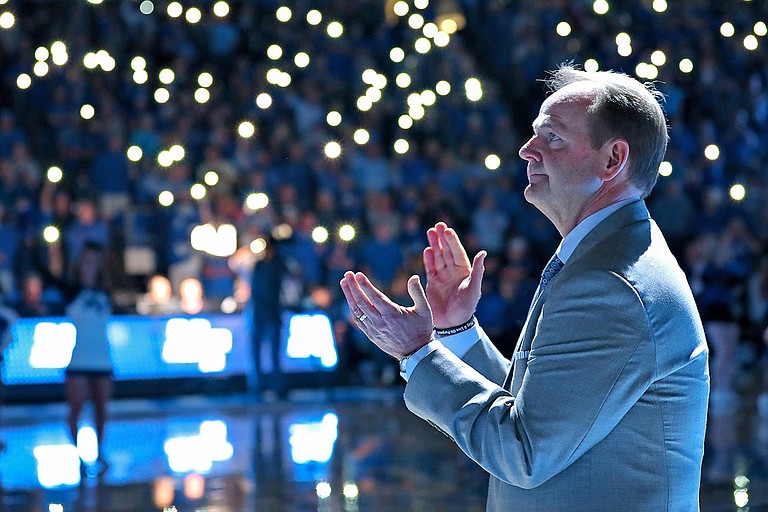 Tuesday, November 13, 2018
OXFORD, Miss. (AP) — There were no fireworks, no drama and that was exactly what Kermit Davis wanted in his Mississippi head coaching debut Saturday as the Rebels defeated Western Michigan 90-64.
"I'm really pleased. Really pleased. We played with energy, shared the ball and got on them defensively," Davis said. "We got off to a good start and took a well-coached team out of what they wanted to do."
Terence Davis scored 17 points to lead four in double figures for the Rebels (1-0), who led 43-22 at halftime and by as many as 29 points in the second half. Breein Tyree, Devontae Shuler and D.C. Davis scored 14, 13 and 12 points, respectively.
Jared Printy and Josh Davis led Western Michigan (1-1) with 17 and 11 points, respectively. Seth Dugan added 10 points and a game-high seven rebounds.
The Broncos trailed 30-8 in the opening 12 minutes and never got closer than 12 points in the second half.
"This was a necessary, but painful lesson," Western Michigan coach Steve Hawkins said. "They had 39 points off turnovers and their athleticism and intensity was too much for us to match in the first half.
"I was proud we played hard and battled in the second half."
Ole Miss shot 33 of 61 (54 percent) from the field, including 10 of 22 (46 percent) from the 3-point line. Western Michigan was 20 of 49 (41 percent) from the field and 7 of 19 (37 percent) from 3-point range. The Rebels outrebounded Western Michigan 31-28.
BIG PICTURE
Western Michigan: The Broncos fly under the radar nationally, but have been consistently successful during the 16-year run of Hawkins, whose impressive resume includes 400-plus wins, eight MAC West Division titles and a pair of NCAA Tournament berths. A demanding non-conference road schedule and nagging injuries are concerns, but the Broncos figure to remain among the top teams in the MAC, despite a poor road performance against the Rebels.
Ole Miss: It was a solid opening win for Davis, after serving 16 seasons at Middle Tennessee State and remaining the winningest coach in Sun Belt Conference history.
The Rebels flashed overwhelming stretches of defense, forcing 15 early turnovers and
24 overall. Successfully mixing a 1-3-1 zone and man-to-man schemes, Ole Miss blocked three shots and had 11 steals in a dominating first half performance, an encouraging sign for a team that was picked last in the preseason SEC media poll.
UP NEXT
Western Michigan: The Broncos visit Oakland of the Horizon Conference on Tuesday.
Ole Miss: The Rebels make their road debut at Butler of the Big East Conference on Friday.