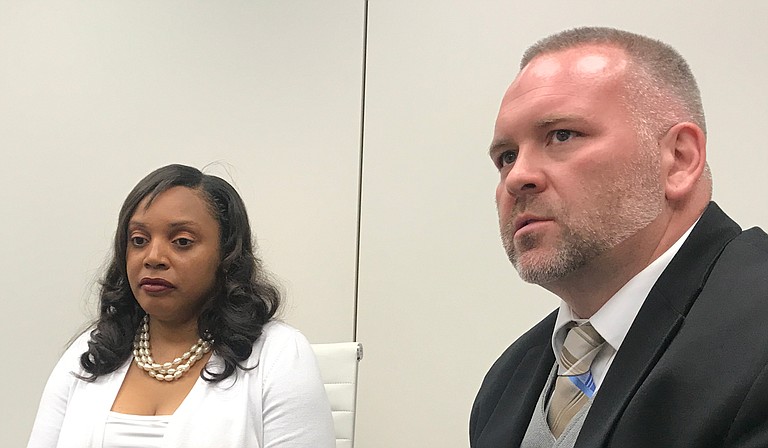 JACKSON — Pelahatchie Mayor Ryshonda Harper Beechem sat at the head of a conference table on May 23 wearing black pants with elegant white ruffles down the side that had fanned as she walked into the room. As her eyes panned reporters around the room, Beechem seemed nervous but firm.
For almost as long as she has been in office, Beechem, 38, has had an investigation looming.
On May 21, State Auditor Stacey Pickering issued demands for current and former town officials, including Beechem, to repay $500,000 because of misspent drug-forfeiture funds dating back to 2015.
"As the mayor, I will take accountability for signing checks because I did sign checks—I had to pay bills," she said. "[A]s the new mayor and, walking into this situation (for) a month and a half, I was under the impression that people abided by the law."
Beechem became Rankin County's first black mayor in July 2017. A couple of months into her tenure, she raised questions about checks that seemed off to her and reached out to the state auditor's office for clarity. The formal state investigation into the town began a month later, she said.
The state auditor says that Pelahatchie officials had been transferring drug-seizure funds to the town's utility account, the fire department and the town's regular checking account to prevent overdraft, and to pay salaries of people outside the police department. Those funds legally can only go toward law-enforcement uses.
"For years, the leadership of Pelahatchie abused these funds by attempting to use them to enhance the overall city budget when they were mandated to be allocated to the Pelahatchie Police Department," State Auditor Stacey Pickering said in a statement provided to the media.
Pickering issued two separate demands with some overlapping parties involved. The first is for $421,688.10 from January 2015 to June 2017 for which the following parties are jointly responsible: former Mayor Knox Ross, Jr.; former Alderman Jerry Norwood; former Alderwoman Megan Hall; former City Clerk Bettye Massey; current Alderman Frank Boyd; current Alderman Michael Adams; and current Alderwoman Margie Warren.
The second demand is for $80,694.97 from July 2017 to December 2017 after Beechem had become mayor. Former City Clerk Massey, Beechem and all five of the town's aldermen are jointly responsible for this second demand.
Beechem does not believe she should have to pay back the funds. Her lawyer, Thomas Bellinger, who sat next to her during the press conference last week, said he will pursue justice for his client.
The board of aldermen has not been open to the media, with all five aldermen either ignoring this reporter's past calls or hanging up at the mention of Beechem.
However, the group released a statement Tuesday entitled "The Mayor Who Cried Wolf," condemning Beechem and resurfacing accusations that she does not live in Pelahatchie, among other statements. Beechem said she dealt with these claims when she ran for mayor and submitted proof of residency. The Pelahatchie aldermen and former Mayor Ross are holding a press conference Wednesday.
The aldermen's statement says their own city auditor told them they could borrow drug-seizure money as long as they repaid it each year. The statement also says that Pickering's office did not interview the aldermen or the former mayor, and that borrowing the drug money is common. "Aldermen want to know why their town is being singled out by Pickering since many small towns across the state use drug seizure money to pay the bills and then repay those funds during the same calendar year," the statement says.
Around 1,300 people live in the small town 25 miles east of Jackson. However, the town drama and tension between the aldermen and mayor have made national news. At their Feb. 5 meeting, the board of aldermen voted to cut Beechem's salary by 75 percent and to halve their own salaries, citing budget cuts. The mayor and the board now make the same, $250 per month. The mayor wrote a veto a week later, laying out her vote of "no confidence" in the board and its financial dealings because of the ongoing state auditor's investigation of Pelahatchie for alleged misappropriation of funds.
The aldermen blame Pickering's investigation for the salary cuts, saying since drug-seizure funds could not be used, "aldermen say they had to find a way to raise the money to pay the bills."
Beechem has also had to step into some clerking duties, as three town clerks resigned in the first three months of 2018. Beechem said two walked out one afternoon in March while Beechem was out of the office. The other one was Massey, who is a named party in the state auditor's investigation and made at least $80,000 working for Pelahatchie.
On average, in cities around the same size as Pelahatchie with part-time mayors, the aldermen tend to make less than the mayor, a Mississippi State University survey shows. Some part-time mayors have salaries as much as 120 times more than Beechem's.
While aldermen earn more than part-time mayors in some towns in the state, they tend to be outliers.
The Pelahatchie Board of Aldermen is not the most transparent, with the board voting to not allow cellphones inside its public meetings earlier this year.
At the January board meeting a month before the salary cuts, Margie Warren recommended that the board should be able to bring up and vote on any items of their choosing, even ones not on the agenda.
The board sided with her unanimously, overriding Beechem's eventual veto. That's how an alderman was able to introduce a pay cut not listed on the agenda. Beechem said in April that the pay cut was "harsh" but not detrimental to her household. Beechem hopes to restore trust among the constituents in her hometown.
"At some point things have to stop, and you have to start doing things the right way. I'm glad that I am in this position because it could've been worse than it is now," the mayor told the Jackson Free Press.
Email city reporter Ko Bragg at [email protected].