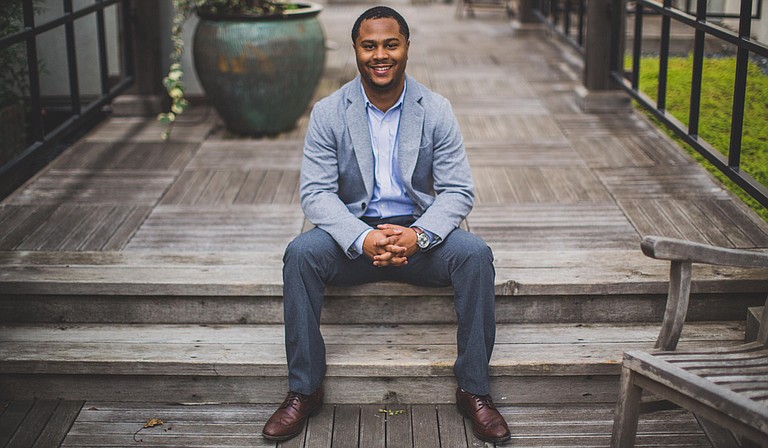 After Marcus A. Williams witnessed injustices in his community, such as friends and people he grew up with getting arrested and not having good, fair and adequate representation, he decided to go into law.
"I went to law school to help people, and I actually felt like that's the best avenue because I feel like everything as it relates to America, at least, it comes down to a legal question sometimes," he says.
Williams, a Jackson native, graduated with a bachelor's degree in political science and history in 2010, and a law degree in 2014, both from the University of Mississippi. He worked as an associate attorney at Daniel, Coker, Horton & Bell, P.A., in Jackson from August 2014 to January 2016, when he began working as an attorney at Blackmon & Blackmon, PLLC. He handles cases in areas such as criminal defense and personal injury, and represents some small businesses and government entities.
After the state elections in 2015, when the House and Senate became majority Republican and Democrats only won 
attorney general, Williams says he felt that Mississippi's Democratic Party needed some new energy and more young people involved. He decided to join Young Democrats of Mississippi, and in December 2016, the organization elected him president.
Williams, 30, says it's important to be involved in politics because that's where citizens truly have a voice.
"Politics affects us in every way, so I wanted to be able to help my community by getting involved politically so that I can help people recognize their voice, organize with them so we can have a collective, and effectuate change that can truly, truly make our communities progress," he says.
He is also one of the co-founders of Jackson Professional Group. Williams says he and the other founders were at a legislative reception when they realized that Jackson needs a group that would regularly get together and discuss politics and business, and also help people network and grow professionally. Since the organization's founding in 2015, Williams says more than 400 people have attended JPG events.
"Millennials and young folks, we get so busy with our careers and jobs and student loans and working that sometimes we don't get time to come together and do things so that we can have a collective voice," he says.
In his free time, Williams likes hanging out with friends, traveling and reading. His wife, Christin Williams, is a lawyer for the Mississippi Department of Health.