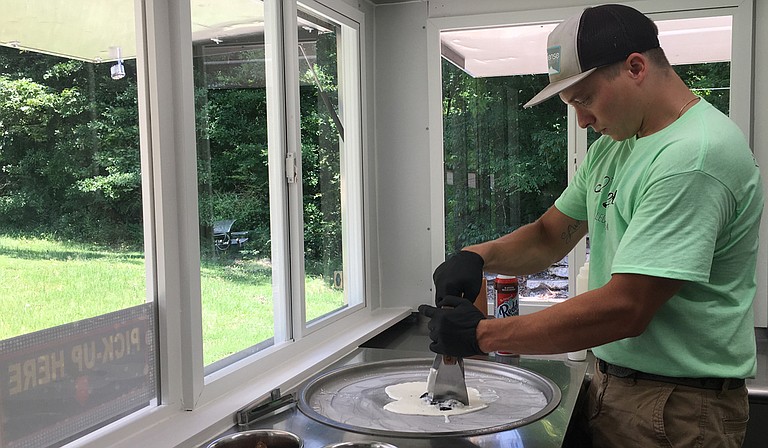 Ryan Parmentier, co-owner of 30 Below Rolled Ice Cream, pours a thick mixture into a small plastic cup, filling it up almost to the top. Then, he transfers it onto a frost top, a metal plate used to make rolled ice cream.
Parmentier places Oreos in the middle of the mixture. Then, he uses two food-grade scrapers to chop up the cookie pieces and combine the mix into a thick, almost-ice-cream-like substance.
He then grabs the handle of the scraper and puts it upright with the metal edge down on the plate. He spreads the ice cream out into a rectangle, using the edge of the scraper in his left hand as a guide for straight lines. Then, starting at the back of the rectangle, he scrapes the ice cream until they form tight roles.
For this treat, which 30 Below calls the "Cookie Jar," he puts Oreos, whipped cream and chocolate syrup on top.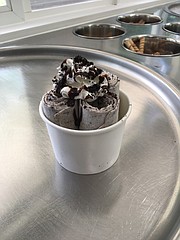 Parmentier says he grew up loving to cook and always wanted to own a food truck. His initial idea was to open a barbecue truck, but after trying rolled ice cream in St. Louis, Mo., he decided the Jackson metro area needed the frozen treat.
"It's something totally different," Parmentier says.
He told Patrick Molpus, a friend since childhood, about the idea, and they decided to go into business together.
"I had never heard of it, and he showed me pictures, and I was like, 'What?!' I (asked him), 'Do you know how to do this?' He goes, 'No, but we'll learn it.'"
The recipe for rolled ice cream is much the same as regular ice cream, save for a secret ingredient to make it more pliable, Molpus says. However, it was not an easy dish to master. The duo received their LLC designation around August 2017, but it took them four months to perfect the mixture and method.
"It's definitely not as easy as it looks," Parmentier says.
"The first rolls should have been called '30 Below ice sheets,'" Molpus says with a laugh. "It would just come up like sheets of paper. You couldn't roll it."
Once the rolling machine came in, they got the formula down and the Mississippi Department of Health cleared them, so they officially started serving their creations about two and a half months ago.
30 Below currently operates out of a converted trailer, setting up shop around the Jackson metro area. However, Parmentier says the goal is to eventually have a 30 Below food truck, as well as a food truck with Asian-inspired barbecue dishes.
For more information, find 30 Below on Instagram and Facebook.