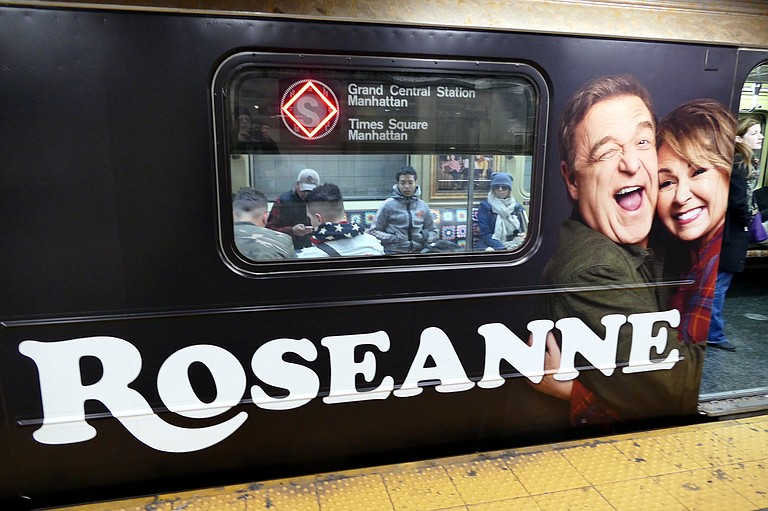 NEW YORK (AP) — ABC canceled its hit reboot of "Roseanne" on Tuesday following star Roseanne Barr's racist tweet that referred to former Obama adviser Valerie Jarrett as a product of the Muslim Brotherhood and the "Planet of the Apes."
ABC Entertainment President Channing Dungey said the comment "is abhorrent, repugnant and inconsistent with our values." Barr had apologized and deleted her Monday-night tweet, calling it a "bad joke," but the damage had already been done.
Barr was also dumped by her talent agency, ICM Partners.
The revival of the comedy was a surprise smash for ABC, owned by the Walt Disney Co., and was counted on to lead the network's fortunes next season. Its first new episode in March was seen by more than 25 million people, with delayed viewing counted in, numbers that are increasingly rare in network television. ABC expected advertisers to pay millions of dollars for the chance to be seen during commercial breaks on television's most popular comedy after "The Big Bang Theory."
And it was all killed in a 53-character tweet.
One of the few network shows about a working-class family, "Roseanne" attracted considerable attention upon its return when Barr's character supported President Donald Trump. That made the show popular with conservative viewers, and Trump himself suggested the character's backing had a lot to do with the show's success.
Barr herself has a history of diving into political conspiracy theories on her Twitter feed, and she ended her Memorial Day weekend with a series of statements. She criticized Democratic financier George Soros and tweeted that Chelsea Clinton was "Chelsea Soros Clinton," implying she was married to a nephew of Soros. Clinton herself corrected Barr online. Donald Trump Jr. retweeted two of Barr's statements about Soros, although not the remark about Jarrett.
Jarrett, who is black, was brought up in response to Twitter commentary that raised her name in relation to an Obama conspiracy theory. Barr tweeted: "muslim brotherhood & planet of the apes had a baby=vj."
She later tweeted an apology to Jarrett. "Forgive me," she wrote. "My joke was in bad taste."
Barr was quickly condemned. Comic Wanda Sykes, a "Roseanne" writer, tweeted that she wouldn't be returning to the show. Sara Gilbert, a co-star, also tweeted that the remark was abhorrent.
It was a quick decision at ABC for Dungey, who is the first African-American to serve as programming chief for one of the major broadcast networks, and her boss, network president Ben Sherwood. Disney chief executive Robert Iger tweeted his approval: "There was only one thing to do here, and that was the right thing."
Three weeks earlier, "Roseanne" was the toast of ABC's annual presentation of its programming plans to advertisers. Sherwood even joked then: "If anyone came to play a drinking game based on how many times we mention 'Roseanne,' you're welcome."
ABC has lately downplayed the show's political angle. Dungey three weeks ago suggested the show next season would focus more on family than politics.
The NAACP applauded ABC's actions on Tuesday.
"Roseanne Barr's comments were appalling and reminiscent of horrific time in our history when racism was not only acceptable but promoted by Hollywood," said Derrick Johnson, NAACP president and CEO. "We applaud ABC for taking a stand against racism by canceling 'Roseanne.' We commend the network and ... Dungey for placing the values of diversity, inclusion and respect for humanity above ratings."
Barr got what she deserved, said Shonda Rhimes, creator of hit ABC shows like "Grey's Anatomy" and "Scandal."
"As I tell my 4-year-old, one makes a choice with one's actions," Rhimes tweeted. "Roseanne made a choice. A racist one. ABC made a choice. A human one."
ICM dropped Barr within hours of the cancellation, saying in a statement that the agency was "greatly distressed by the disgraceful and unacceptable" tweet. Bruce Helford, executive producer of "Roseanne," said he was "personally horrified and saddened by the comments and in no way do they reflect the values of the people who worked so hard to make this the iconic show that it is."