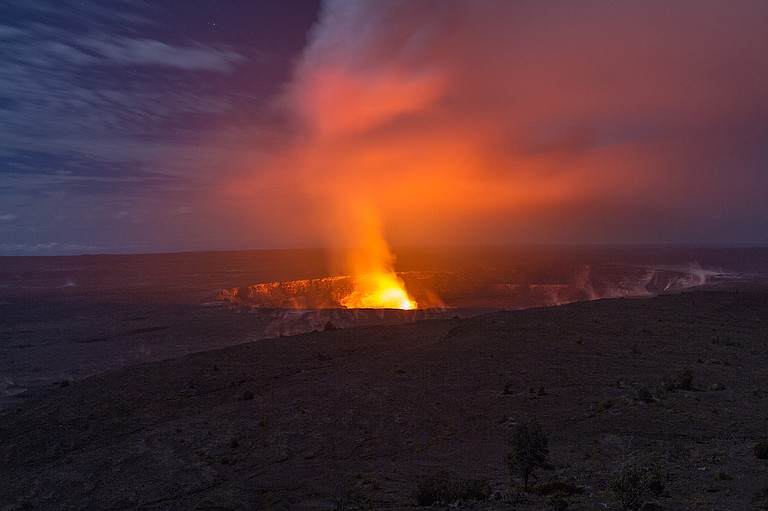 HONOLULU (AP) — Hawaii's Kilauea volcano erupted from its summit before dawn Thursday, shooting a dusty plume of ash about 30,000 feet (9,100 meters) into the sky.
The explosion came at about 6 a.m. after two weeks of volcanic activity and the opening of more than a dozen fissures east of the crater that spewed lava into neighborhoods, said Mike Poland, a geophysicist with the U.S. Geological Survey.
Residents who live in a nearby town reported light amounts of ash falling following the eruption.
Poland said the explosion likely only lasted a few minutes and that ash accumulations were minimal, with likely trace amounts near the volcano and at the town, named Volcano.
The lava that has emerged over the last two weeks has destroyed at least 26 homes and 10 other structures.
The crater sits within Hawaii Volcanoes National Park, which has been closed since May 11 in preparation for an eruption.
Officials have said they didn't expect the explosion to be deadly as long as people remained out of the closed national park.
Kilauea is one of the world's most active volcanoes. An eruption in 1924 killed one person and sent rocks, ash and dust into the air for 17 days.
Scientists warned on May 9 that a drop in the lava lake at the summit might create conditions for an explosion that could fling ash and boulders the size of refrigerators into the air.
Scientists predicted it would mostly release trapped steam from flash-heated groundwater released as though it was a kitchen pressure cooker.
Communities a mile or two away may be showered by pea-size fragments or dusted with nontoxic ash, they said.
Kilauea volcano has been erupting continuously since 1983.
It's one of five volcanoes that comprise the Big Island of Hawaii, and the only one currently erupting.