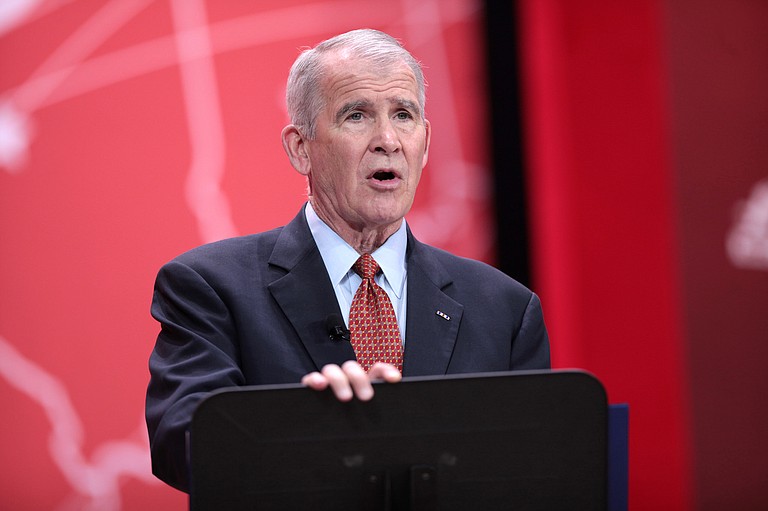 ATLANTA (AP) — Retired Marine Lt. Col. Oliver North, a popular speaker before the National Rifle Association, is poised to become the group's next president, bringing star power at a time it's pushing back against momentum for gun control in the wake of the deadliest mass shooting in modern U.S. history and one of the deadliest school shootings.
North, who was a central figure in the Iran-Contra scandal, is already drawing comparisons to former NRA president Charlton Heston, who famously uttered that his firearms could only be taken "from my cold, dead hands." The NRA in its news release announcing North's upcoming appointment cast him as a hero and a warrior who will vigorously fight to preserve gun owners' rights.
"Oliver North is a legendary warrior for American freedom, a gifted communicator and skilled leader," NRA CEO Wayne LaPierre said.
North will be replacing Pete Brownell, who decided not to seek a second term. LaPierre remains as vice president and chief executive.
Robert J. Spitzer, chairman of political science at the State University of New York at Cortland and an expert on firearms and Second Amendment issues, called North the closest thing the NRA has to a celebrity "and maybe they figure they need a more prominent person at the helm, as opposed to the string of relative unknowns who have served in recent years."
North, 74, first emerged into the spotlight in the 1980s for his role in the Iran-Contra scandal, involving the sale of weapons to Iran with proceeds being funneled to right-wing rebel groups in Nicaragua. He has since run for office, written several books and is frequently on the speaking circuit.
"Oliver North is, hands down, the absolute best choice to lead our NRA board, to fully engage with our members, and to unflinchingly stand and fight for the great freedoms he has defended his entire life," LaPierre said. "Oliver North is a true hero and warrior for freedom, and NRA members are proud to stand with him."
Calls for gun control have gained momentum following a mass shooting in Las Vegas last year that killed 58 people and a Feb. 14 shooting at Parkland, Florida, high school that killed 17.