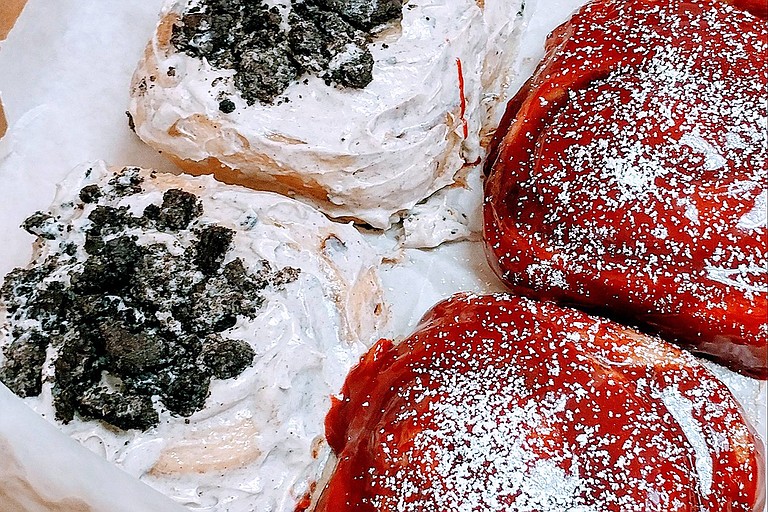 Wednesday, March 21, 2018
Michael Harris' business, Your Cravings Gourmet Cinnamon Rolls, sprung from a family tradition.
"My grandma taught me how to make them," he says. "It's something that everyone enjoyed, and she would try to make them for our family when we gathered at her house."
But Your Cravings does not just have traditional cinnamon rolls. Besides the classic, Your Cravings, which Harris opened in late 2017, has daily signature rolls such as banana pudding, bourbon caramel, red velvet, Oreo, and peanut-butter and strawberry jelly.
"I started off with the basics and began playing around and adding flavors that I love," Harris says. "I perfected it in my own way."
When making the rolls, he uses his grandmother's classic yeast dough recipe. He mixes the ingredients, kneads the mixture and then lets the dough rise. After that, he spreads on the fillings and shapes the rolls into their iconic swirl. He bakes them for about 15 to 20 minutes before topping them off with different icing flavors. Harris says a batch of cinnamon rolls usually takes about three hours to make from start to finish.
Customers can also customize their sweet treats, with multiple toppings to choose from. The rolls are available individually or by the dozen, although large custom orders are available upon request.
Harris says that what makes Your Cravings' rolls different from other bakeries is that they actually taste homemade.
"They aren't the biscuit-like or donut-like rolls you'll find elsewhere," he says. "They are soft and doughy, like a cinnamon roll should be."
Despite only being open for a few months, Harris says that Your Cravings has already seen a lot of business in the Jackson metro area.
"Every time people try them, they love them and come back for more," he says.
Your Cravings also sells cinnamon-roll ice cream, which Harris says tastes just like a frosted cinnamon roll.
"I like variety and putting different things together," he says.
Your Cravings' cinnamon rolls are currently available for delivery or pick up Wednesday through Saturday, but Harris says that he plans to turn the business into an "in-and-out bakery" in the near future. He will also soon add pies, cookies, brownies and other baked goods to the menu, and says that he envisions Your Cravings shops on street corners around Jackson.
Your Cravings Gourmet Cinnamon Rolls (5096 Parkway Drive) is open Wednesday through Saturday from 9 a.m. to 2 p.m. for delivery and pick-up only. For more information, call 601-503-5288 or find the business on Facebook.
Cinnamon Roll Fun Facts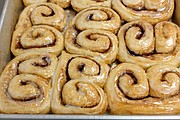 Cinnamon rolls are said to have originated in Sweden in the 1920s, though they didn't become popular until the 1950s.
Sweden's Cinnamon Bun Day is Oct. 4.