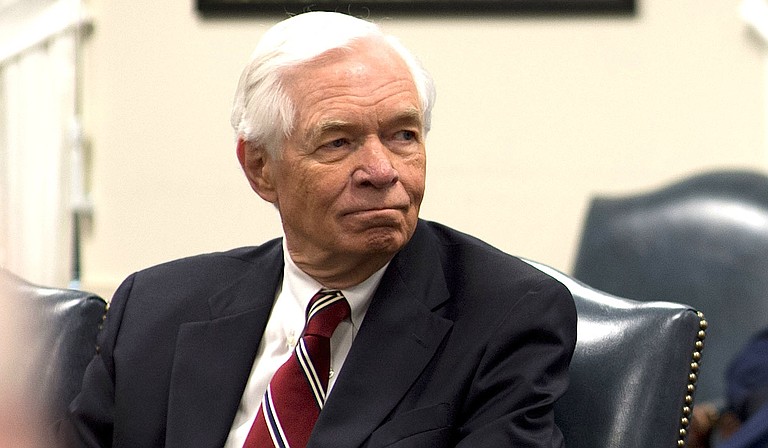 JACKSON, Miss. (AP) — Longtime Republican Sen. Thad Cochran of Mississippi, chairman of the Senate Appropriations Committee, told The Associated Press on Monday that he will resign April 1 because of health problems.
Cochran, who turned 80 in December, stayed home for a month last fall with urinary tract infections, returning to Washington in October to give Republicans the majority they needed to pass a budget plan.
"I regret my health has become an ongoing challenge," Cochran said in a statement. "I intend to fulfill my responsibilities and commitments to the people of Mississippi and the Senate, through the completion of the 2018 appropriations cycle, after which I will formally retire from the U.S. Senate."
He was first elected to the Senate in 1978 after serving six years in the House.
"It has been a great honor to serve the people of Mississippi and our country. I've done my best to make decisions in the best interests of our nation, and my beloved state," Cochran said. "My top concern has always been my constituents in Mississippi. My hope is by making this announcement now, a smooth transition can be ensured so their voice will continue to be heard in Washington, D.C. My efforts, and those of my staff, to assist them will continue and transfer to my successor."
Republican Gov. Phil Bryant will appoint a temporary replacement. Then a special election will be held to fill the rest of the term, through January 2021.
Senate Majority Leader Mitch McConnell of Kentucky praised Cochran.
"Thad knows there's a big difference between making a fuss and making a difference. And the people of Mississippi — and our whole nation— have benefited from his steady determination to do the latter," McConnell said in a statement.
Cochran's "calm and collegial approach to even the most intense debates have made his broad experience and deep expertise that much more valuable to his colleagues, his constituents, and his country," McConnell said.
Cochran led the Appropriations Committee in 2005-06, channeling money to Mississippi and other Gulf Coast states for Hurricane Katrina recovery after the 2005 storm, and regained the committee chairmanship in January 2015, when the GOP again took control of the Senate.
Mild-mannered and known for working across party lines, Cochran easily won most of his re-election campaigns. However, he struggled before winning a 2014 Republican primary over tea party-backed state Sen. Chris McDaniel, who received financial support from libertarian-leaning groups that criticized Cochran as a big spender.
That race grabbed national attention after a McDaniel supporter entered a nursing home without permission and photographed Cochran's wife, Rose, who was bedridden with dementia. Images of her appeared briefly online. McDaniel said he had no connection to the incident. Rose Cochran died in December 2014.
McDaniel — who never conceded his loss to Cochran — announced last week that he will run this year against Mississippi's other Republican senator, Roger Wicker. But moments after making that announcement at a rally in his hometown of Ellisville, McDaniel said he could drop out of the Wicker race and run in the special election if Cochran resigns.