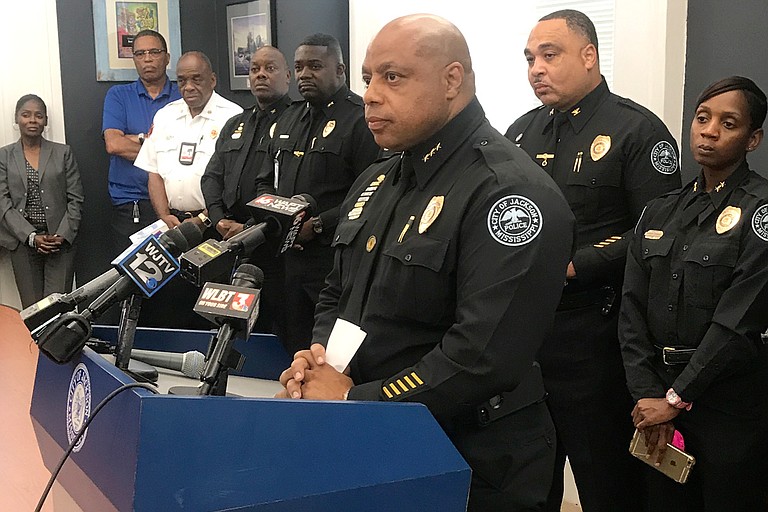 JACKSON — James Davis' first words as Mayor Chokwe A. Lumumba's second interim chief of police were "Glory be to God." He uttered them yesterday in Jackson City Hall's ceremonial office, just dozens of feet away from where a dead body had been found hours before.
In response to a call from a concerned citizen, the Jackson Police Department found an unresponsive black man on the sidewalk in front of the Warren Hood building (directly across from City Hall) shortly before 7 a.m. on June 28. JPD believes the man had been assaulted prior to his death. The cause of death is pending results of an autopsy, and the victim's identity has yet to be released.
For a few hours after discovering the body, JPD taped off the streets around City Hall, and city employees who work in the Hood building had to use a rear entrance.
By the time the afternoon press conference rolled around, things seemed normal outside the municipal buildings, and aside from the mayor's brief mention that he could provide very little information about the open investigation, the announcements about the new interim chief went as planned.
In the 25 years Davis has been with JPD, he has moved up the ranks from 10 years as a patrol officer to the first African American range master at the training academy, to sergeant, to lieutenant of the 3rd Precinct, to district commander, to deputy chief, to assistant chief, and now interim chief. Davis also spent 15 years with the S.W.A.T. team, and has been a Jackson resident for 30 years. He hopes to become the mayor's ultimate choice to run the capital city's police force.
"Yes, I would like to be permanent chief," Davis said to reporters.
Mayor Lumumba said he will be "simultaneously commencing a permanent search for police chief" alongside Davis' appointment.
The mayor did not want to suggest that his administration had not yet begun searching for a permanent police chief since Chief Lee Vance stepped down in late December, but rather that he had been considering how things were progressing under the outgoing interim chief. Lumumba stressed that his administration is the first to face the state law that only allows interim employees to serve 180 days. This went into effect in July 2017—the same month of Lumumba's inauguration.
Anthony Moore, the city's first interim chief following Vance's retirement in December 2017, was not at the press conference yesterday. In his absence, Lumumba summarized Moore's six-month tenure, which included starting the officer-ID task force, eliminating the distribution of mugshots following officer-involved shootings and juveniles charged as adults, and bringing in the Mississippi Bureau of Investigations to investigate officer-involved shootings.
It is not clear whether or not Moore will even remain with JPD following this transition.
"I thought that (Moore) brought necessary leadership for the time that he was there, and we're thankful for his contribution," the mayor said. "He has been requested to continue to serve with the police department, and that is a decision that he is taking the time to deliberate on and see whether he feels that he can be of service. So we're looking forward to his response in that."
Davis will be able to put in his bid to be permanent chief, Lumumba said, and the mayor believes he will be a strong leader.
"We do seek stability, but at the same time our principled purpose is to make sure we make the right decision for the citizens of Jackson," Lumumba said. "I do believe that Chief Davis with his time in the police department will bring great leadership ... and the possibility that he could be the permanent selection."
When Davis stepped to the podium, he talked about implementing community-policing practices by setting an example. He promised that more of his officers, including the handful that stood behind him, would be visible in the communities so they can be proactive about crime.
"My beat officers, instead of driving through the community, I want them to slow down and talk to the kid on the corner—talk to Ms. Johnson on the porch," Davis said. "I do it, and I ask that they do it."
Davis also talked about collaborating with the community to solve crimes and using resources from federal partners. U.S. Attorney Mike Hurst was among the crowd in the ceremonial office.
"I'm just here today to show my support for the Jackson Police Department and let the public know that the U.S. Attorney's Office will continue to do its part in cleaning up the city of Jackson and protecting our citizens from violent crime," he told the Jackson Free Press after the press conference.
Hurst's brainchild to fight crime in Jackson is Project EJECT: Empower Jackson Expel Crime Together. Mayor Lumumba in the past has been hesitant to say that Project EJECT is a City initiative, although it makes use of JPD. But with more and more Project EJECT stings in the capital city in partnership with JPD, the collaborative effort is clear and will likely continue under Davis.
"We're going to reach out for all the resources that we possibly can to address the crime issues in Jackson," Davis said.
Email city reporter Ko Bragg at [email protected].