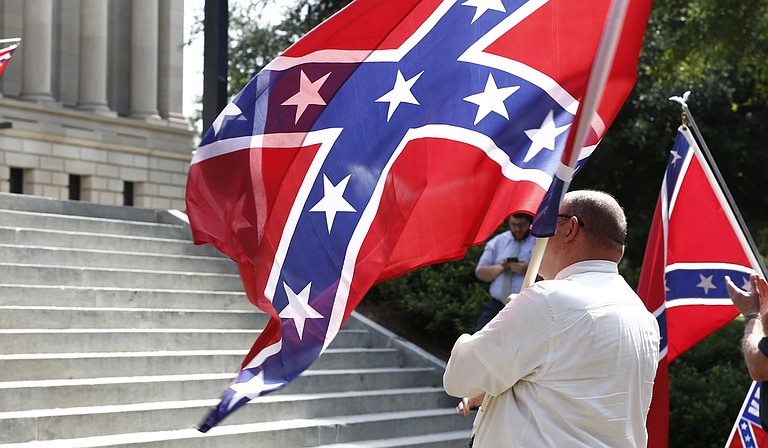 JACKSON, Miss. (AP) — A group of about 30 demonstrators on Monday burned a Mississippi state flag, saying it symbolizes the racism at the heart of the state's problems with poverty, education and health care.
Demonstrators with the Poor People's Campaign burned a Confederate battle flag and then a separate Mississippi state flag Monday in front of the governor's mansion.
Mississippi's flag has contained the Confederate battle emblem since 1894, and residents who voted in a 2001 statewide election chose to keep the emblem on it.
The campaign includes activists in 40 states who are demonstrating, seeking to force communities to address poverty. They say poverty continues to be ignored and only a "moral revival" can bring it to the nation's consciousness.
"This flag needs to come down," said organizer Danyelle Holmes of Jackson. "This flag needs to burn. We're burning the hate out of their hearts. We're burning the hate out of our state."
Monday was the climax of six weeks of demonstrations in Mississippi. Last week, for example, protesters built a cardboard shack symbolizing homelessness with signs calling for better social services and health care for the poor. Holmes, though, said lingering white supremacy is bound up in all of Mississippi's problems.
Confederate symbols have been the subject of widespread debate across the South, particularly since the racially motivated killings of nine African-American parishioners in 2015 at a church in Charleston, South Carolina, and after last year's violent protests at a white supremacist rally in Charlottesville, Virginia.
Although flag protests are frequent in Mississippi, burning the banner is rare.
Several city and county governments and all eight of Mississippi's public universities have stopped flying the state flag in recent years amid critics' concerns that it does not properly represent a state where 38 percent of residents are African-American. Supporters of the flag say it represents history.
Republican Gov. Phil Bryant maintains that if the flag is to be changed, another election should be held.
"This is an unfortunate instance of a group exercising their rights in a completely disrespectful and unproductive manner," Bryant said in an emailed statement. "There are better ways to bring attention to one's opinions than burning the state of Mississippi flag on a public street corner."