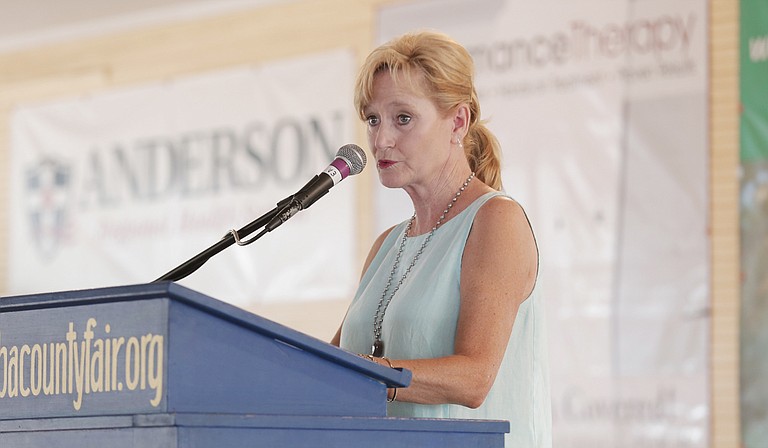 JACKSON, Miss. (AP) — An appointed U.S. senator in Mississippi is raising more money so far than her challengers in a special election, backed by contributions from colleagues including Senate Majority Leader Mitch McConnell of Kentucky.
Campaign finance reports show Republican Sen. Cindy Hyde-Smith collected nearly $1.6 million through the end of June.
That compares to $308,236 raised by Democrat Mike Espy and $272,263 raised by Republican Chris McDaniel .
In addition, Espy, who's a former U.S. agriculture secretary, has loaned his own campaign $100,000. McDaniel, who's a state senator, has loaned his own campaign $55,000.
The Federal Election Commission website showed no finance report Tuesday for candidate Tobey Bartee , who is a Gautier city council member.
Republican Gov. Phil Bryant appointed Hyde-Smith, who was in her second term as state agriculture commissioner, to serve temporarily when longtime Sen. Thad Cochran resigned amid health concerns in April.
The winner of a nominally nonpartisan November special election will serve the final two years of a six-year term started by Cochran. There are no party primaries, and candidates' party affiliations are not listed on the ballot. If nobody receives a majority in Nov. 6, the top two candidates will advance to a Nov. 27 runoff.
The race is considered crucial as Republicans and Democrats grapple over the GOP's slim majority in the Senate.
The Hyde-Smith campaign reported $974,737 from individual contributions and $565,855 from political action committees.
Hyde-Smith received $10,000 from McConnell's Bluegrass Committee. She also received donations of $5,000 each from political action committees of Republican Sens. Roger Wicker of Mississippi, John Cornyn of Texas, Joni Ernst of Iowa and Todd Young of Indiana.
"This report shows the broad support she has received for the work she is doing, such as securing our borders, strengthening our military, reducing the debt and confirming conservative judges," Hyde-Smith campaign spokeswoman Melissa Scallan said in a statement.
Most of Espy's money, $277,118, came from individual donors. Another $847 came from a political party committee and $30,271 came from political action committees, including $5,000 each from the PACs of Senate Minority Leader Chuck Schumer, a Democrat from New York; Democratic Sen. Kamala Harris of California; and Democratic Sen. Chris Van Hollen of Maryland. Van Hollen is head of the Democratic Senatorial Campaign Committee.
Democratic U.S. Sen. Cory Booker of New Jersey campaigned for Espy on Friday in Jackson. At that event, Espy said he had "no idea" Cochran would resign, and he has had to compress fundraising efforts into a short time.
"We have to do better," Espy said. "I'm running every day, calling people I know, calling people I don't know, asking them to invest in me, because if they invest in me, I'll invest in us."
McDaniel, who nearly defeated Cochran in a contentious Republican primary in 2014, said most of his money for this campaign, $270,613, has come from individual donors; $1,000 was from the Jones County GOP; and $650 came from political action committees, including $500 from the Mississippi Tea Party PAC.
McDaniel said in a phone interview Tuesday that he has a "better ground game" now than he did in 2014 and that Hyde-Smith has less money than Cochran did in 2014.
"As we go down the stretch, you're going to see a lot more interest in the race and a lot more funds coming into the race," McDaniel said.