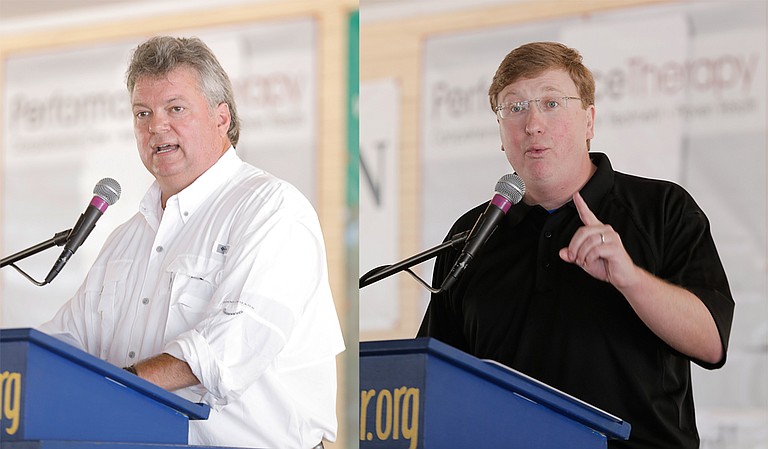 JACKSON, Miss. (AP) — The Mississippi attorney general said Wednesday he's investigating a $2 million road that was planned to connect a suburban Jackson shopping center to two gated neighborhoods, including one where the lieutenant governor lives.
The investigation creates a potential clash between Democratic Attorney General Jim Hood and Republican Lt. Gov. Tate Reeves. Both men are expected to run for governor in 2019.
The Mississippi Department of Transportation put the road on hold after the Clarion Ledger reported last week that the project had been planned. The short stretch was supposed to run parallel to Mississippi 25 in the Jackson suburb of Flowood. The heavily traveled highway is also called Lakeland Drive in that area, and people who live in the gated neighborhoods have said it can be difficult to turn left onto Lakeland.
The transportation department's director, Melinda McGrath, told the newspaper there had been "political pressure" from "the Senate side" to build the frontage road. Reeves presides over the Senate.
Hood sent letters to the department and lawmakers Wednesday telling them not to destroy any paper or electronic documents about the proposed road. He also requests copies of all communication, including text messages and email, by Aug. 1.
"The purpose of this investigation is to determine whether there exist any violations of law," Hood wrote to Reeves, lawmakers and elected transportation commissioners. "One of the many potential outcomes of the ongoing investigation could be civil litigation or other legal proceedings arising under state law."
McGrath, who is appointed and not elected, said much of the communication from the Capitol to her department was verbal. The newspaper reported Reeves' staff and his neighborhood's property owners association communicated with the department about the road.
Reeves last week denied pressuring the department, and sent a letter to McGrath seeking details about political pressure on the department.
Reeves said in a statement Wednesday that Hood is playing "political games" and that "grandstanding for the press is one his favorite pastimes."
"I have not been made aware of any communication between anyone within the office of the Lt. Governor and the Department of Transportation suggesting political pressure on this matter," Reeves said.
The central district transportation commissioner, Republican Dick Hall, said last week that was putting the road project on hold. Hall said he originally decided to build the frontage road because he thought it might be needed for safety.