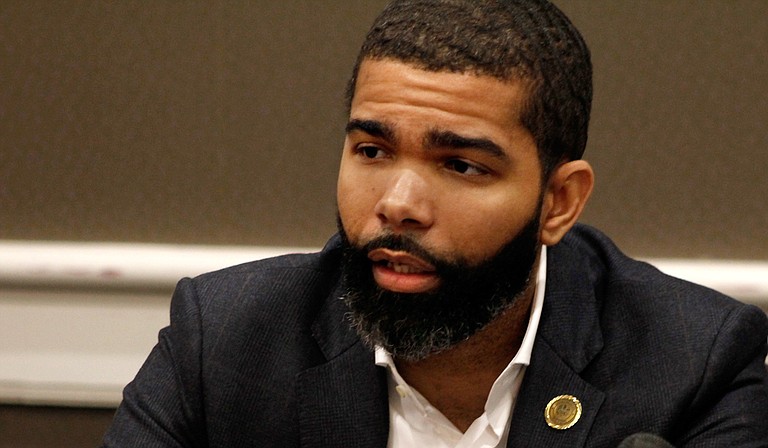 JACKSON, Miss. (AP) — The mayor of Mississippi's largest city on Wednesday renewed longstanding warnings about the city's drinking water, saying the city still isn't maintaining the chemical balance needed to prevent lead and copper pipes from corroding.
Jackson Mayor Chokwe Lumumba said at a news conference that the city continues advising pregnant women and children younger than 5 to drink only filtered or bottled water.
Lumumba said the city is sending letters by Friday to all 190,000 water customers explaining the problem and relaying warnings.
The mayor said no lead has been detected in city pipes, saying Jackson's situation is not like Flint, Michigan.
"We are not in a Flint circumstance where lead has been found in a failed test," Lumumba said.
But when Jackson's problem was first discussed in 2016, officials warned old pipes at individual homes could be corroding. In 2016, tests found lead problems at about 10 percent of 121 homes tested. Residents are generally responsible for testing water in their own homes.
Public Works Director Robert Miller said the city occasionally violated acidity standards between January and June. He said the state Department of Health instructed the city to issue the warning within the last two weeks. Spokeswoman Liz Sharlot said the department issued the notice of violation to the city at the recommendation of the U.S. Environmental Protection Agency.
Miller said the problem is that soda ash, used to reduce acidity, is clumping because of Mississippi's humidity and jamming inside a storage tank from which it is injected into the water. Miller said the city plans to install a temporary system that uses lime to cut acidity, and later install permanent machinery that will use soda ash. The replacement tank is projected to cost $500,000.
Officials advise water users to run their taps for 1 to 2 minutes before using water for drinking or cooking, especially when first using water in the morning. They also advise that people should also not use the water to make baby formula, in addition to pregnant women and young children not drinking it.
Health officials also advise against using hot water for drinking or cooking and recommend people clean their faucet aerators. Finally, they recommend that parents make sure their children have health screenings for lead.
Only customers who get water from the Ross Barnett Reservoir are affected. A minority of customers on Jackson's south side who get water from wells are not affected.