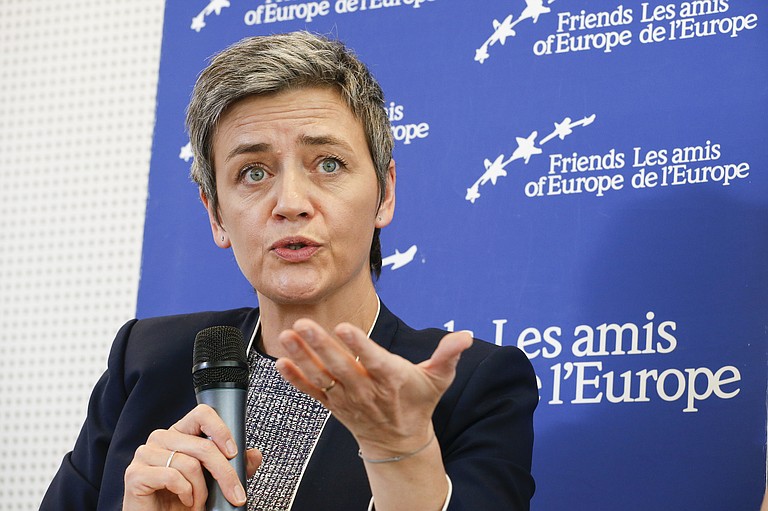 BRUSSELS (AP) — The European Union fined Google a record $5 billion Wednesday for forcing cellphone makers that use the company's hugely popular Android operating system to install Google apps.
The EU said the practice restricts competition and reduces choices for consumers.
The fine, which caps a three-year investigation, is the biggest ever imposed on a company by the EU for anticompetitive behavior.
It is likely to stoke tensions between Europe and the U.S., which regulates the tech industry with a lighter hand and has complained that the EU is singling out American companies for punishment.
Google immediately said it will appeal. Android has "created more choice for everyone, not less," Google CEO Sundar Pichai tweeted.
In its ruling, the EU said Google broke the rules when it required mobile phone makers to pre-install the Google Search and browser apps if they wanted to use Google's app store. Google also paid big producers to exclusively pre-install the Google Search app.
EU Competition Commissioner Margrethe Vestager said "companies must compete on their merits," playing by rules that favor consumers and open markets, and not restrict competition.
Vestager said that given the size of the company, the 4.34 billion euro fine is not disproportionate. The penalty is on top of 2.42 billion euro fine ($2.8 billion) that regulators imposed on Google a year ago for favoring its shopping listings in search results.
The latest fine is well within Google's means. Its parent company, Alphabet, made $9.4 billion in profit in the first three months of the year and reportedly had over $100 billion in cash reserves.
But the EU's insistence that Google change its practices could have a bigger impact than the fine itself.
"The important thing is not to be distracted by the size of the fine. What is important is that Google has to change its abusive behavior," Rich Stables, CEO of the rival search engine Kelkoo, told The Associated Press.
Android is an open-source operating system that Google lets cellphone makers use for free. As a result, it is the most widely used system, beating even Apple's iOS. The EU says Google has market share exceeding 90 percent in most European countries.
The EU wants to ensure that phone makers are free to pre-install apps of their choosing and allow for competition in services such as internet searches. It also wants cellphone makers to be able to more easily use altered versions of Android.
Google argues that could hurt its ability to provide Android for free, as its main way of making money from the operating system is through advertising and the sale of content and apps. Its main rival in mobile systems, Apple, makes most of its money from the sale of devices.
Giving phone makers more freedom to use altered versions of Android could also hurt Google. Samsung, a hugely popular maker of Android devices through its Galaxy line, could break off and take much of the Android system with it.
If Google's business activities are too harshly constrained, the argument follows, it might no longer be able to provide Android for free to cellphone manufacturers.
Daniel Castro, vice president of the Information Technology and Innovation Foundation, a think tank in Washington, said the ruling "is a blow to innovative, open-source business models."
The EU's clash with Google is reminiscent of the bloc's battle with Microsoft. In that case, the EU said Microsoft used the market dominance of its Windows operating system to lead consumers to use Microsoft's browser, Internet Explorer. Microsoft was fined and in the end was forced to give users a more explicit choice of browsers.
As technology's impact in modern life spreads, European regulators have set the pace in shaping rules for the industry. European governments tend to want to exert more control than the U.S.
The difference in approach was highlighted after a scandal over the misuse of millions of Facebook users' personal data in political campaigns, including the 2016 White House contest. European regulators had already been working on tougher privacy regulation and in May enforced new rules that are influencing the way some companies operate outside of the region as well.
The Google crackdown comes at a sensitive time for trans-Atlantic relations, with President Donald Trump lambasting the EU as a "foe" only last week. The U.S. imposed tariffs on EU steel and aluminum this year, and the EU responded with import duties on American goods. The U.S. is now also considering taxes on imports of European cars.
The U.S. has also complained that the EU has mainly targeted American companies — including also Apple and Amazon — for breaking competition or tax rules.
"We have to protect consumers and competition to make sure consumers get the best of fair competition," Vestager said. "We will continue to do it, no matter the political context."