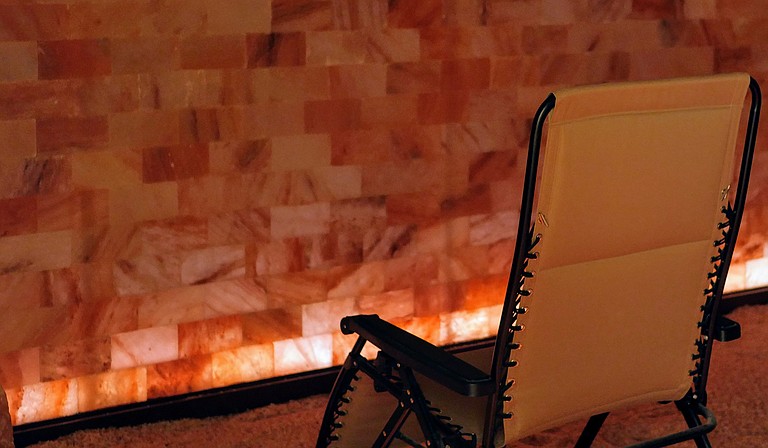 Soul Synergy Center's salt cave is not a cave in the normal sense. It's a six-person-capacity room at the center of the building meant to simulate a real salt cave. It has salt floors and reclining chairs facing different directions. It's mostly dark, except for soft lighting that glows orange as it shines on the salt blocks on the wall. The air inside the room feels icy cold—a cool 68 degrees with regulated humidity levels. And like most therapies that require mindfulness, it's quiet. During sessions, the only sounds are the meditative music and the soft hum of the halogenerator.
Soul Synergy Center co-owner Jill Clark first heard of salt caves while living in Asheville, N.C., from 2012 to 2016.
"I fell in love with them and loved going to them, so when we were opening our wellness center, we started thinking about (the fact) that there's not any salt caves in Mississippi," she says. "We decided to open the first one."
She and her husband of two years, Daniel Clark, now co-own the center. In addition to the salt cave, soul synergy also has yoga, massage therapy, foot reflexology and more. In hopes of achieving a "metaphysical wellness center," Jill Clark says the center additionally offers different events and classes, wanting to make it a teaching center as well. This is a place where each person would have a place to practice and teach their crafts, including reiki, a Japanese healing therapy.
Dry salt therapy dates back to the 1800s.
In 1843, Polish doctor Felix Boczkowski studied men who worked in salt mines and observed that they had fewer respiratory issues than others. During World War II, German physicians noted improved health in patients who hid in salt caves during bombings.
"Most of the time, back before we had all the testing, a lot of medical breakthroughs were brought about by just trial and error," says Dr. Timothy Quinn, who owns Quinn Total Health in Ridgeland.
"The common denominator is these people that were exposed to these mines, they were breathing salt particles, (and) they had improvement in their breathing."
Quinn says one drawback is that dry salt therapy does not have a lot of medical research in the U.S., so at this point, it's mostly just theory.
The American Lung Association says halotherapy could be helpful for those who suffer from chronic obstructive pulmonary disease, which causes airflow obstruction in the lungs, and other respiratory issues such as asthma, allergies and more.
"One of the theories is that the tiny salt particles being inhaled are killing off some of the microorganisms in the lungs," Quinn says. "This results in a reduction of inflammation, and decreasing the mucus."
This article is not meant as medical advice. Before starting any kind of treatment or therapy, it is best to talk to a doctor. For more information on Soul Synergy Center (5490 Castlewoods Blvd., Suite D, Flowood, 601-992-7721), visit soulsynergycenter.com.
CORRECTION: This story has been edited to reflect factcheck changes. We originally had co-owner Jill Clark's name as Jill Jackson. We also said that the sound in the room is an air conditioner. It's actually the halogenerator that turns the salt into tiny particles.
CLARIFICATION: The original piece stated that Dr. Timothy Quinn said not a lot of research had been done around salt therapy. We have clarified it to say that not a lot of research has been done in the U.S.
The Jackson Free Press apologizes for these errors.