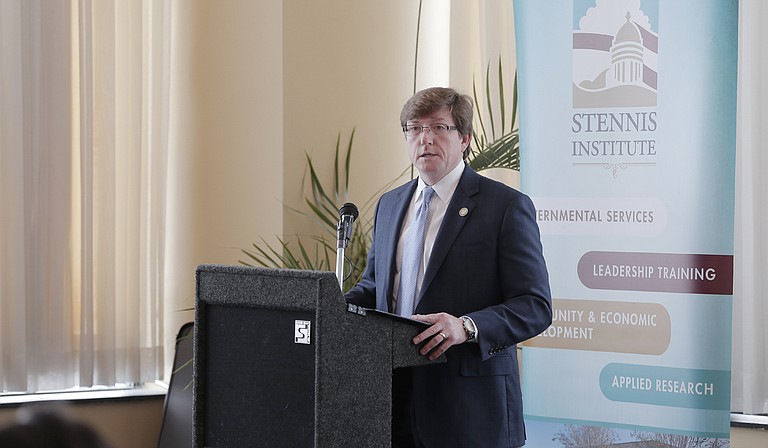 Tuesday, January 30, 2018
JACKSON, Miss. (AP) — The Democratic leader in the Mississippi state House said Monday that he is considering running for U.S. Senate this year.
Rep. David Baria of Bay St. Louis spoke at a forum in Jackson attended by reporters, lobbyists and others interested in government.
In a speech geared toward a statewide audience, Baria said Mississippi is experiencing a "brain drain" because leaders for the past 30 years have not provided basic things people need to build successful lives, including safe roads and bridges and well-funded schools.
"We haven't done the job here at home. We've dropped the ball," said Baria, a former Mississippi Trial Lawyers Association president who served four years in the state Senate before being elected to the state House in 2011.
He questioned whether Mississippi's low unemployment rate is connected to having fewer people in the workforce and whether wages are rising fast enough to keep up with inflation.
"We hear that the economy is going well and that unemployment is low," Baria said. "But do you feel like it's getting better?"
Republican Roger Wicker, who has been in the U.S. Senate for a decade, is seeking re-election this year.
Baria said people have approached him about seeking the Democratic nomination. Another high-profile Democrat, northern district Public Service Commissioner Brandon Presley, said Jan. 18 that he would not enter the Senate race this year because he wanted to continue focusing on his work as a utility regulator.
Mississippi will have one U.S. Senate seat and all four of its U.S. House seats on the ballot this year. Candidates' filing deadline is March 1.
Only one Democrat holds in statewide office in Mississippi, and Republicans hold a three-fifths majority in the state House and Senate. After Democrat Doug Jones won a special election for U.S. Senate in Alabama in December, some Democrats are hoping for a similar against-the-odds win in Mississippi.
Baria said a Senate race would be expensive and he would have to start federal fundraising from scratch if he decides to run. He noted that Wicker already has more than $3.5 million in a campaign fund.
Baria spoke at a forum sponsored by Mississippi State University's Stennis Institute of Government and the Capitol press corps.