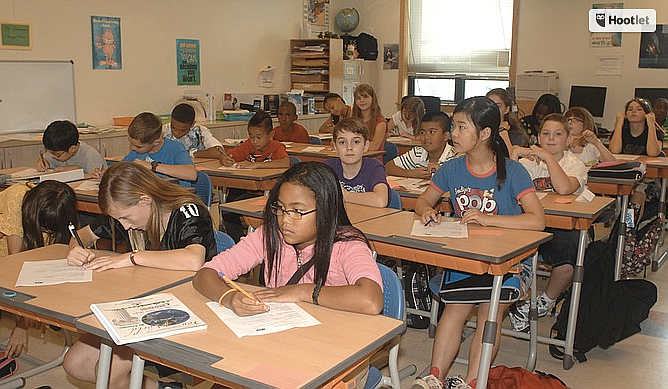 JACKSON, Miss. (AP) — Mississippi's system for assigning A-to-F letter grades to public schools keeps changing, and it looks like the state may have to reset the scale again in 2018.
The U.S. Department of Education rejected parts of Mississippi's system in December. Mississippi is among several states that have been asked to make changes in plans to comply with the Every Student Succeeds Act, signed in 2015.
At issue is how the state calculates points used to assign grades to schools. Establishing those scores is contentious, particularly because districts complain when the state changes rules in midstream. The current school year was supposed to be the first since 2010-2011 that Mississippi schools taught the same curriculum, gave the same standardized test and were graded using the same scoring system as the year before.
Nathan Oakley, who directs elementary education and reading for the Mississippi Department of Education, told state Board of Education members Thursday that the "unexpected" federal objections mean that Mississippi must now include a score this year for students learning English as a second language in its system, even though the school year is half over.
"The biggest issue as we see it is we're not only going to have to include it, we're going to have to include it this year," said state Superintendent Carey Wright.
Mississippi had planned to phase in the English learner measures, fully incorporating them in three years. Of Mississippi's 142 school districts, 68 report no English learners, while only 58 have more than 10 districtwide.
Oakley said the federal agency also objects to a performance measure that looks at the lowest-scoring quarter of students. State officials say it was meant to make sure that school districts wouldn't ignore achievement gaps between high-scoring and low-scoring students. But Oakley and Wright said federal officials demanded that such a measure include all students. Wright said officials are exploring replacements, including a plan that would heavily emphasize scores of the lowest 25 percent of students, but include data from all students.
State officials are happy about one change. Mississippi had planned to pay to create an Algebra II exam and administer it in high school to students who take Algebra I in eighth grade. But Oakley said federal officials now say Mississippi can continue with its current practice of giving both the eighth-grade math test and the Algebra I exam to those students in the same year, later crediting the Algebra I exam score to the students' high schools.
Mississippi will submit an updated plan to the federal agency by Feb. 1, but it could be three or four months before changes are finally approved by the board.
Oakley promised to "minimize the impact" of any changes. That was good news to board members, who have navigated contentious score-setting processes in the last two years.
"The idea of changing the cut scores again makes everyone go a little bonkers," said board Vice Chair Jason Dean of Madison.