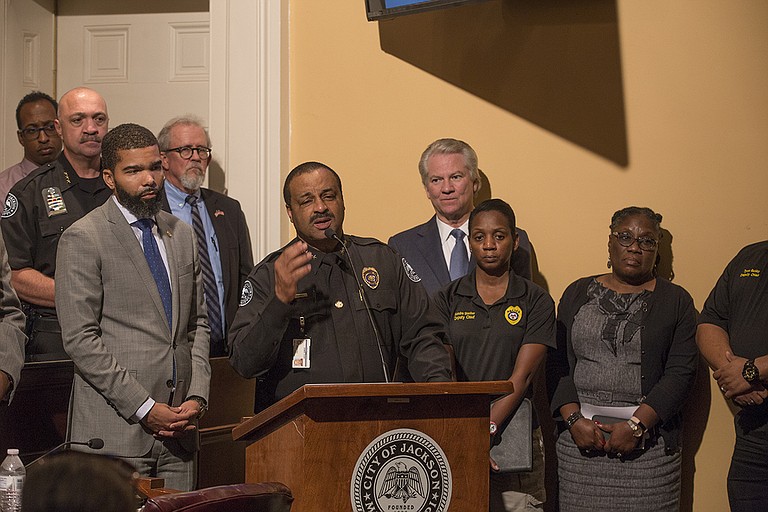 JACKSON — Mayor Chokwe Antar Lumumba appointed Anthony Moore as the interim chief of Jackson Police Department today. As a 34-year veteran of JPD he's also a criminal justice professor at Hinds Community College and Jackson State University. Moore also holds a master's degree in political science and a bachelor's in criminal justice.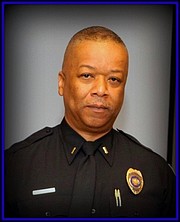 "Not only is he familiar with our police department and how it runs and functions, he's also familiar with the trends around the nation as he teaches criminal justice," Lumumba said of Moore at a last-minute press conference at City Hall this afternoon that was announced less than 30 minutes before it took place.
Lumumba said he has talked with Moore about community policing and different methods to ensure safe citizens and improved relationships between officers and community. One of those could be eliminating perp walks.
"I did speak to him specifically about perp walks," Lumumba told the Jackson Free Press. "I told (Moore) that I didn't think it was the right thing to do, and I didn't think it was the right representation for the City as well—especially as it pertains to juveniles."
The mayor specified that he is not in agreement with perp walks for anybody, regardless of age.
"The only possible benefit that can be derived (from perp walks) is to try to provide a perception of that individual for the public for a later date of trial, right?" Lumumba continued. "Outside of that, it makes them look like a barbarian, and it makes us look like we deal with barbaric circumstances in Jackson."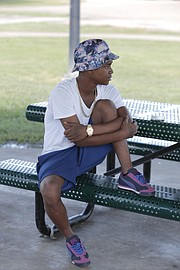 A full archive of the JFP's "Preventing Violence" series, supported by grants from the Solutions Journalism Network. Photo of Zeakyy Harrington by Imani Khayyam.
Moore is filling Vance's vacancy following his retirement after 30 years with JPD. One of the final actions of Vance's role as chief was the implementation of Project EJECT, a controversial crime-fighting plan. Under the strategy, state and federal officials collaborate to arrest suspects and withhold both bail and parole, with the goal of sending suspects to federal prison in other states.
Lumumba told the Jackson Free Press that he and Moore had not yet had a chance to discuss Project EJECT, but the mayor emphasized that the two spoke about ensuring good relationships between police and community.
Moore previously served on the patrol division and was promoted to sergeant in 2003 and then lieutenant/watch commander in 2013. He has served as acting precinct commander on various occasions since 2015.
The new interim chief was under the weather and could not attend the press conference, and until he is well enough, Deputy James Davis will be over the day-to-day operations, the mayor said.
Lumumba said they will try find a permanent police chief as quickly as possible and "will not allow an egregious delay." The mayor added that Moore will be considered for the permanent chief position once they see how he takes on the interim role.
"He's a man of few words, he's introspective and willing to learn," Lumumba said. "And I say that knowing that he's already learned so much, and has so much to teach us. He continues to thirst for knowledge."
Email city reporter Ko Bragg at [email protected]