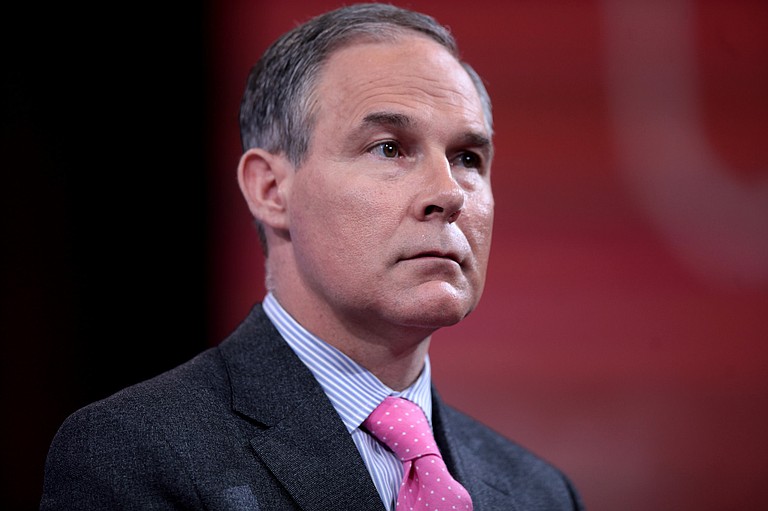 Thursday, February 22, 2018
WASHINGTON (AP) — A Republican-led congressional committee is demanding records related to premium-class flights taken by Environmental Protection Agency chief Scott Pruitt.
House Oversight Chairman Trey Gowdy issued a letter to Pruitt this week seeking an accounting of all flights taken by the EPA administrator over the last year and whether the ticket was coach, business or first class. Pruitt defended his use of premium-class airfare in media interviews earlier this month, saying security concerns were raised after unpleasant interactions with other passengers.
The South Carolina Republican's letter sent Tuesday specifically cites the evolving explanations of EPA spokesman Jahan Wilcox, who initially told reporters that Pruitt had a "blanket waiver" to fly first class before then saying separate waiver had been granted by ethics officials for each flight. Federal employees are typically supposed to fly coach, and travel rules such bar blanket waivers.
"We will respond to Chairman Gowdy through the proper channel," Wilcox said Wednesday.
Pruitt, the former GOP attorney general of Oklahoma, has been under increasing scrutiny for his jet setting since his appointment by President Donald Trump last year. Records show Pruitt's airfare is often several times more expensive than that of aides booked on the same flights.
Gowdy's letter says the requested records are to be provided to his committee by March 6.
"Federal regulations require government travelers to obtain approval or authorization from their agency to use accommodations other than coach-class when traveling on official business," Gowdy wrote. "Clearly, federal regulations prohibit a blanket waiver to fly first class except to accommodate disabilities or special needs."
Pruitt said earlier this month he had some "incidents" on flights that necessitated his need for first-class seats. EPA has refused requests from The Associated Press to provide details of those incidents.
"We live in a very toxic environment politically, particularly around issues of the environment," Pruitt said in an interview with a New Hampshire newspaper. "We've reached the point where there's not much civility in the marketplace and it's created, you know, it's created some issues and the (security) detail, the level of protection is determined by the level of threat."
Pruitt is the first EPA administrator to have a 24-hour security detail, even inside the agency's secured headquarters in Washington. He has also taken other security precautions, including the addition of a $25,000 soundproof "privacy booth" inside his office to prevent eavesdropping on his phone calls and spending $3,000 to have his office swept for hidden listening devices.
Pruitt has denied he played any role in purchasing the premium-class tickets, saying his chief of staff and EPA security had made those decisions.
Federal regulations allow government travelers to fly business class or first class when no cheaper options are "reasonably available" or if there are exceptional security circumstances. However, past federal audits have found that those rules have been routinely violated by high-ranking government officials under both Republican and Democratic administrations.
Pruitt's frequent government-funded travel, which records show has often included weekend layovers in his home state of Oklahoma, is already under review by EPA's internal watchdog.
The use of luxury air travel by members of Trump's Cabinet has been attracting attention for months. Health and Human Services Secretary Tom Price was forced to resign in September following media reports he spent at least $400,000 in taxpayer funds on private jets for himself and his staff.
A report recently released by the inspector general at the Department of Veterans Affairs found that Secretary David Shulkin and his staff made "false representations" to justify his wife accompanying him at taxpayer expense on an 11-day European trip that mixed business and sightseeing.