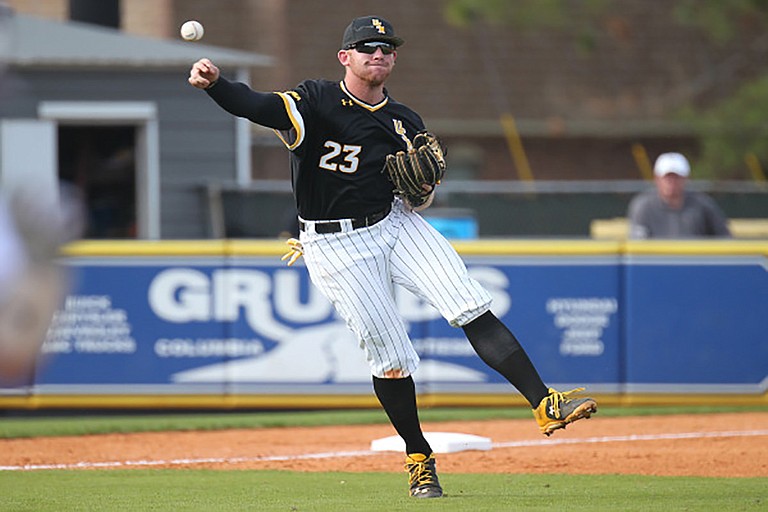 Thursday, February 22, 2018
The start of the 2018 college baseball season was a long wait for Luke Reynolds. The current University of Southern Mississippi third-baseman hadn't played in a college game in two years.
Reynolds last played for Mississippi State University in 2015. That season, he had a .304 batting average after playing 35 games with 20 starts. He recorded 28 hits, 21 walks, 15 runs, 12 RBIs and six doubles.
Former MSU head coach John Cohen, now the school's athletic director, decided to redshirt Reynolds before the start of the 2016 season. Instead of taking a redshirt, he decided to transfer to Southern Miss.
He ended up sitting out the 2016 season when he left MSU for USM, and had to sit out 2017 after the NCAA chose not to approve his waiver to play in Hattiesburg. Reynolds did play summer ball while he was waiting to hit a college field again, however.
The Forest, Miss., native began the restart to his college career last weekend, Feb. 16-18, and lo and behold, the Golden Eagles' opening series was against Mississippi State. USM's last season ended with a pair of losses to the Bulldogs with Reynolds unable to play.
He made a major contribution to the start of the 2018 season. In game one of a three-game series, the third-baseman had two hits in four at-bats, scoring three runs and driving in two RBIs in the Golden Eagles' 11-0 shutout.
Things didn't get much better for MSU against Reynolds in game two. He went two-for-three batting with another RBI and two runs scored, helping USM win 7-4 over the Bulldogs.
Southern Miss went for the sweep in game three, and once again, Reynolds was a driving force for the Golden Eagles. The third-baseman went two-for-three again with two RBIs and a run scored, and even stole a base. USM won the series finale 5-2, handing MSU its first losing opening-series sweep since 1996.
When it was all said and done, Reynolds went six-for-10 at the plate during the series. He scored six runs, drove in five RBIs, hit two doubles and a homerun, and stole one base. His efforts earned him Conference USA Hitter of the Week.
USM swept the conference's weekly honors with pitcher Nick Sandlin earning C-USA Player of the Week. It is the first time that Reynolds and Sandlin have won weekly honors in C-USA and the first time the Golden Eagles have taken home both awards since 2012.
Southern Miss took its 3-0 start to the University of South Alabama on Feb. 20, but the Jaguars outlasted the Golden Eagles for a 10-9 victory. Reynolds stayed hot in the batter's box despite the loss. He went three-for-five at bat, scoring three runs and driving in two RBIs with two homeruns. After four games this season, Reynolds has a .600 batting average, a .684 on-base percentage and a 1.003 slugging percentage.
Shining in an athletic setting isn't new for Reynolds. In high school, he was a First Team All-State baseball player in 2012 and 2013, and Second Team All-State in 2011. He also earned First Team All-State as a tennis player in 2013, won a state football title in 2010 with Second Team All-State honors in 2012, and played soccer.
Before going to MSU, Reynolds played one season at Hinds Community College. In his lone season at the junior-college level, he played in the National Junior College Athletic Association championship game at the NJCAA World Series in Enid, Okla., but Hinds fell 7-9 to Mesa Community College.
Golden Eagle fans will have to wait awhile to see Reynolds back in action at Pete Taylor Park. USM plays in the Stephen F. Austin University Tournament from Feb. 23 to Feb. 25, takes a trip to the University of New Orleans on Feb. 27, participates in the Cox Diamond Invitational from March 2 to March 4, and has a final road trip to the University of Alabama on March 7.
USM finally returns home for a three-game series against Georgia Southern University March 9-11.