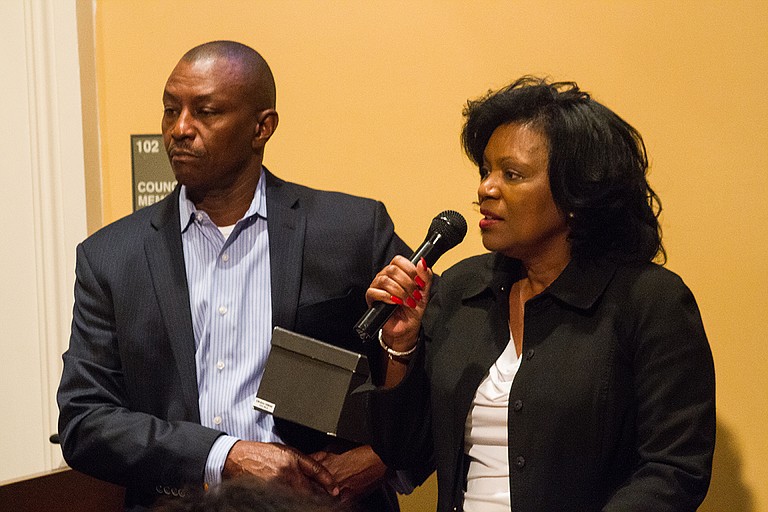 Wednesday, February 14, 2018
JACKSON — A month has passed since the City held its first Equal Business Opportunity Review Committee hearing to mediate a dispute between the larger Massachusetts-based company, Veolia North America - South, LLC, and Fisher Construction of Jackson. Fisher filed a grievance against Veolia in December 2017 that escalated into a hearing in front of the City's Equal Business Opportunity board on Jan. 12 that reveals the inner workings of a municipal contracting system where chains of contractors and subcontractors often end up fighting among themselves over taxpayer money.
The Jackson City Council approved a $10,930,464 contract with Veolia in October 2016 to manage and operate Jackson's wastewater-treatment plants to ensure compliance with the U.S. Environmental Protection Agency's consent decree—the City was dumping untreated wastewater into the Pearl River.
Veolia then subcontracted with Fisher, a local minority contractor, to move the sludge. Fisher then subcontracted with 
others to do the work, and they have accused him of not fully paying them, with him saying Veolia had not finished compensating him.
The mayor recused himself from the discussion at the Jan. 30 City Council meeting because a family member received a subcontract from Veolia at some point that has since been completed.
At a second EBO hearing on Feb. 2, Veolia revealed that it had terminated and replaced Fisher Construction, despite Jackson's Equal Business Ordinance requirement that prime contractors get permission from the EBO board before swapping out minority contractors.
Documents from Veolia lawyers allege that Fisher did not have the capacity to do the sludge hauling they had contracted with him to complete, so it replaced Fisher. But, Fisher's lawyer told the Jackson Free Press that there is "no doubt" her client had the capacity to do the work, despite only being paid half of what he believes he was contracted to earn.
The JFP obtained documents that clarify some of the questions. Still, the situation remains as muddied as the sludge.
A Deeper Look
Veolia and Fisher negotiated a memorandum of understanding in December 2015—a year before Veolia was awarded the project. A December 2017 memo from Veolia's lawyer, Bobby Owens, to the City's EBO board says Fisher agreed to negotiate in good faith and exclusively with Veolia in exchange for awarding Fisher the subcontract if Veolia won the City bid.
Veolia paid Fisher $5,000 a month for travel and "other expenses," and they later helped him procure equipment totaling $100,000 before any work was done.
In May 2016, Veolia submitted its EBO plan, a requirement in the City of Jackson that breaks down the percentages of minority and women-owned businesses that will help carry out contracting work.
Document
Fisher Construction had not only the largest estimate of the dollar value of the work to be performed at $1,347,942 annually, it also had the highest percentage of minority and women participation—Veolia listed that 15.13 percent of the participants would be minority-owned and women-owned businesses, with Fisher making up 11.6 percent of the total.
In August 2016, the COO of Veolia wrote a letter to Fisher and his business partner Jackie Andrews stating that Andrews informed Veolia that Fisher was also working on behalf of American Water—a breach of Fisher's contractual agreement to work exclusively with Veolia.
Owens wrote to the EBO board in December 2017, that Fisher admitted to working for American Water in a public-relations capacity, but Veolia continued working with Fisher because it had already submitted the proposal to the City.
In addition, on Nov 2, 2017, Veolia notified the City that at least four vendors were claiming that Fisher had not paid them for work done at wastewater-treatment facilities. One of those was Bridgette Gandy, an environmental consultant who would come to the city council in January 2018 to complain about money Fisher still owed her. Listed as one of the primary legal contacts in Fisher's contract with Veolia, Gandy's role was to complete reports for the EPA. 
 Those records were due Jan. 5, and Veolia's records provided to the Jackson Free Press indicate that Fisher never turned them in—another breach of the contract. Owens estimated that Fisher owes more than $150,000 to vendors, and they urged him to repay them immediately to limit Veolia and City liability.
One vendor took it to the courts. Partridge-Sibley Industrial Services filed a civil suit against Fisher Construction in October 2017 for unpaid fines and breach of contract. Partridge is seeking nearly $38,000 plus attorney's fees. Fisher had entered a lease agreement effective January 2017 for land-application and transportation equipment, but this was terminated in June 2017 because Fisher allegedly failed to pay.
Veolia accuses Fisher of operating as a pass-through because he "passed" work through PSI, a non-minority firm, which violates the EBO ordinances and the Fisher-Veolia contract. Due to those factors and failure to document insurance and licenses, Owens said that "Veolia had no choice but to terminate Fisher, effective immediately" in a Jan. 16 memo to the EBO board.
Show Me the Money
May, Fisher's attorney, argues that Veolia wants to have it both ways: It alleges Fisher did not have the capacity to do the work, but also claims Fisher did not earn the money promised because rain last year hindered the sludge-hauling process because of toxic runoff risk in those conditions.
No explicit annual dollar amounts are included in Fisher's contract with Veolia. Rather, the company promised to pay Fisher on a per-unit basis depending on the amount of sludge he hauled and took to landfills. May said that the fact that Veolia told the City of Jackson one amount in the EBO plan and then decided to pay Fisher per-unit in their contract with him is a "bait-and-switch."
"That is what they base their proposal on to get the contract from the City of Jackson, but they're not paying Fisher that; they're paying a much lesser amount," May told the Jackson Free Press. "That just doesn't seem to be fair."
In December 2017, Veolia's records say Fisher only hauled 59 loads, whereas in January 2017, when he was still under contract with Partridge, he hauled 233 loads monthly. Four Seasons Enterprises, the replacement minority-owned subcontractor, hauled 71 loads from Jan 18 until Feb. 1.
Four days after the initial hearing in January, Veolia terminated Fisher's contract without response from the EBO board. May said that without the EBO decision, her client is technically still bound to Veolia until they approve or deny the swap.
"So they're trying to use ... the City of Jackson to kind of clean up the improper procedure that they went through," May said. "They terminated Fisher without complying with the EBO executive order."
Fisher and May did not show up at the most recent meeting. May told the JFP it was "moot" at that point.
"(T)hose (EBO) provisions deal with permissions, not forgiveness," May said. "So, when you want to replace someone, you need to get approval. But, once you've already terminated the subcontractor, and you want to go back in and bless what you've done, that's not what that program is designed for."
As of Feb. 9, the City of Jackson still did not have a decision from the board.
Email city reporter Ko Bragg at [email protected]. Read more about city contracting controversies at jfp.ms/contracts.