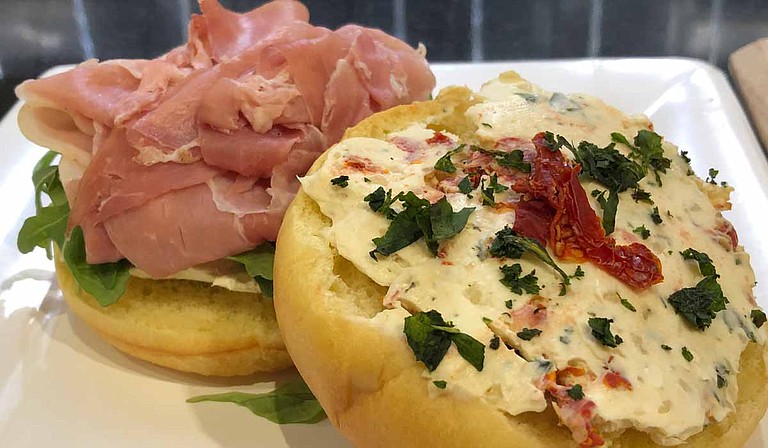 Friday, December 21, 2018
At U.S. Foods, local chef Alivia Ashburn-Townsend sat talking to Markesha Wells. Off to her left were four dishes, some of which you might see in a New York deli—a prosciutto Italiano sandwich with arugula, basil, sun-dried tomatoes and a garlic cream-cheese spread; a frankfurter with sauerkraut, onions and brown mustard; smoked trout tartare; and a New York cheesecake.
The dishes are menu items for Ashburn-Townsend's stall in Cultivation Food Hall, Ariella's NY Delicatessen, of which Wells will be the assistant manager.
In May 2018, Ashburn-Townsend traveled to New York, where she fell in love with the deli experience.
"It's very upbeat, very fast pace," she says. "The vibe in it is just positive, and it just moves, and it's entertaining. ... If you're not ordering quick enough, they have something jazzy to call you. They'll call you a putz. They'll call you a schmuck if you ask for mayo on your pastrami. Of course, we won't be doing that in the food hall, but that's part of the experience."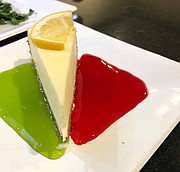 In crafting the menu, she developed deli staples such as the frankfurter with sauerkraut, along with Italian items she thought would complement the restaurant's theme. But one thing she knew she wanted to do was honor the cuisine's 
Jewish roots, so she consulted Leah Dubin, a member of the local community.
"This is their history," she says. "This is their cuisine, and I wanted to represent them well."
She says Dubin and others invited her to go to Beth Israel Congregation, and also showed her "Deli Man," a documentary about New York delis.
"The good thing about Jewish deli food is it's very simple," she says. "If you have good quality (ingredients), you don't have to do a whole lot to it. The simplicity is enough. I just really want to stick with that because if I want to do somebody's cuisine, and I'm going to be authentic with it, then I need to be authentic with it and represent them well."
Ashburn-Townsend says a New York deli is what the local food community needs, especially in the absence of businesses such as Old-Tyme Deli, which closed in 2000. "People miss Old-Tyme Deli," she says. "They miss Irv (Feldman). I'll never be Irv, but I aspire to be Irv. They really miss that, although this isn't Old-Tyme Deli, it will never be. But as long as I feel like that I'm doing the cuisine justice, and I'm making the Jewish people proud, and bringing something new to the city that they otherwise wouldn't get to have because they don't travel outside of Mississippi, then it's a win."
Cultivation Food Hall (1200 Eastover Drive, Suite 125, 601-914-0800) will have other businesses such as Fete au Fete, il Lupo Coffee, Poke Stop JXN, Whisk Creperie, 
Fauna Foodworks and more. For more information about Ariella's NY Delicatessen, find the business on Facebook.