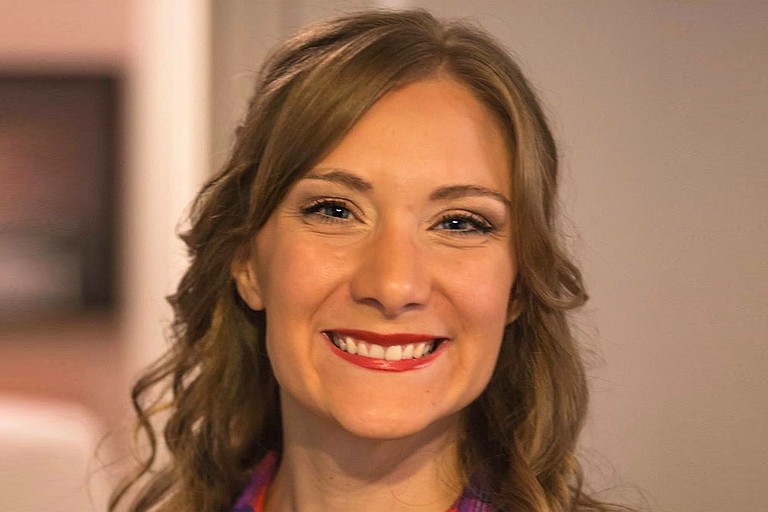 Wednesday, December 19, 2018
While working with Teach for America from 2011 to 2013, current Woodward Hines Education Foundation Communications and Impact Coordinator Lisa Potts says she saw a lot of needs among the students and also noticed the need for more resources.
For example, some students did not get textbooks until Christmas, and it felt like no one at a legislative level was working to provide better facilities and resources by improving the systems, she says.
"It wasn't something that one person or even a small group of people could fix or change," she says. "At that point, I felt like it was a state of emergency that wasn't getting taken care of."
Potts is a Minnesota native who attended the University of Minnesota and then the Art Institute of Minneapolis, graduating in 2009 with a bachelor's degree in graphic design. She received her master's degree in organizational leadership from Ohio's Union Institute & University in 2014. She also completed Millsaps College's Business Advantage Program this fall.
She first became interested in teaching after she finished a project with Design Ignites Change, a program that encourages high-school students to use design thinking to solve complex social issues.
From November 2009 to June 2010, she served as the project manager for Design Ignites Change's "Create! Don't Hate" initiative, which aimed to empower high-school students in underserved communities through the avenue of professional art.
"In Minneapolis, with this design group, we worked with high-school students to kind of mentor them through design thinking and to show them a little bit of an applied art," she says.
She and the group created billboards centered on the idea of tolerance. She says that after the program ended, some students told her that their experiences altered what they would do after high school. Several enrolled in graphic-design programs at universities and colleges.
"Seeing that impact that just one person could have on another person, I started looking into teaching," she says.
Wanting to give back, she decided to enroll with Teach for America, which sends teachers into low-income and underserved communities. TFA sent her to Mississippi, where she worked at Hazelhurst elementary and middle schools, and Utica elementary and middle schools from 2011 to 2013. At the end of her time with TFA, she chose to stay in Mississippi.
"[O]ne of the reasons I stayed was to just try and go deeper into the rabbit hole of trying to figure out how can this be changed," she says. "I think a quality education is something that, in the United States, should be (what) all students have."
In the meantime, Potts worked as a graphic designer for Creative Distillery from May to December 2013, Visit Mississippi's creative economies program manager from February 2015 to February 2016, director of marketing for Wier Boerner Allin Architecture from February 2016 to August 2017, and outreach and program coordinator for a Mississippi-based nonprofit organization from August 2017 to August 2018. Potts became the communications and impact coordinator for Woodward Hines Education Foundation in August.
"I think that the organization is in a really interesting place with how it's grown and what it's looking to do, and also with how it goes about seeing the problem and approaching a solution," she says. "One of the things that intrigued me about Woodward Hines is that it doesn't look at just one issue in isolation. It looks at the system ... that problem is in and tries to look at, 'How do we influence the system?'"
One of the organization's primary programs is Get2College, in which advisors that travel across the state to help to increase students' access to college.
"It could be filling out the FAFSA, helping them apply to college—it could be helping them learn the strategy behind taking the ACT," she says.
Get2College also aims at the first area on Woodward Hines' "priority list," Potts says: increasing access to post-secondary education, whether that would be going to college or a trade school, or getting an apprenticeship.
The second priority area is helping students complete college.
"There's a higher percentage of students who take longer than what has been the traditional four years," she says, "especially if you're a student coming from a high-poverty area, where you may have to be working full time to support your family or maybe you have a child that you're taking care of, as well. We're trying to work toward more individuals completing their degree or completing their college."
The third priority is making sure a post-secondary education leads meaningful employment, she says.
On the importance of getting people to and through post-secondary, Potts points to recent research from the Georgetown Center on Education and the Workforce, which says that by 2020, 65 percent of jobs will require some type of post-secondary education.
"Especially in Mississippi, if we can create, as we say at Woodward Hines, a 'college-going culture' within our high schools that focuses and encourages attention of our young people to go and persist through getting that degree, they can then bring that back to support their families, and then encourage their own children to do the same," she says.
When not at work, Potts says that she likes to read and draw. She and her husband, Linden Potts, also enjoy outdoor activities such as running, kayaking, canoeing and hiking. During the 2019 Mississippi Blues Marathon, she will be part of Woodward Hines' relay team.
For more information on Woodward Hines Education Foundation, visit woodwardhines.org.