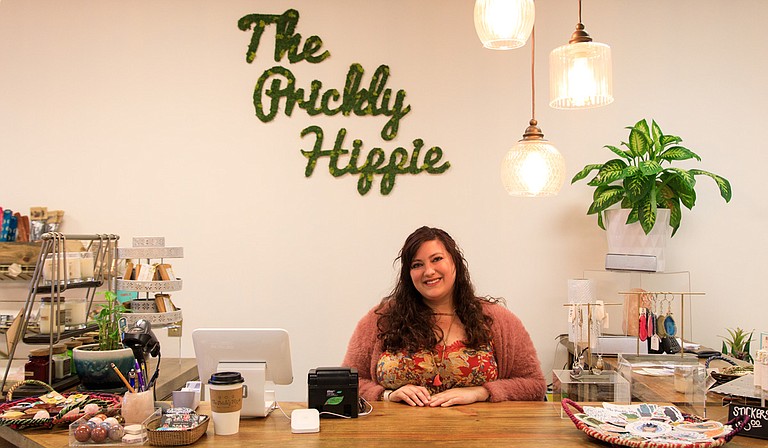 Wednesday, December 12, 2018
JACKSON — The first thing people might see when they walk into The Prickly Hippie is not the titular "prickly" cacti, but instead a bevy of soft sweets in the dessert case.
On a daily basis, it is filled with one of the shop's specialties—craft donuts. For instance, there is the Yabba Dabba Donut, which is coated in Fruity Pebbles and a fruit glaze, and the Psychedelic Donut is marbled in white chocolate ganache.
In opening The Prickly Hippie's Ridgeland storefront, owner Jenni Sivils says she knew that she wanted to make donuts one of the focuses of the bakery side.
"I thought that there was a good space for having interesting donuts and other unique items," she says.
Now, the store is also known for its homemade Pop-Tarts, mini cakes and other creations, but originally, The Prickly Hippie business did not have a culinary element.
Sivils, a Eufaula, Ala., native, attended the University of Alabama, and then transferred to the Mississippi University for Women in 2009. She graduated with a bachelor's degree in English with a creative writing emphasis in 2013. While attending the University of Alabama, Sivils says that she and her grandmother, Alyne, were watching "Ace of Cakes."
"She was like, 'You could do that,' and I was like, 'Uh uh. I don't want to do that,'" Sivils says with a laugh.
At the time, Sivils had no interest in baking as a career. However, her grandmother gave her money and told her to go make the cake for her mom's birthday. Sivils did, and the cake was a hit. After she transferred to the W, she was inspired to form her own cake business, Three Peacocks Cakery, making cakes for student get-togethers, school functions and other events.
In July 2014, Sivils became a technical sales service representative for CSM Global Bakery Solutions, meaning she trained bakery employees at more than 100 stores on how to use the company's products.
"My job was to travel across six states and teach all the people in the bakery how to bake bread, how to make donuts and how to decorate cakes," she says.
She and husband Josh Sivils moved to Jackson around 2015 after he accepted a job at the Butler Snow law firm. Jenni Sivils spent a lot of time traveling, and to relieve stress from her job, she would go to Goodwill and other thrift stores in the cities she was in and find weird, interesting containers, she says. One day, she went to a grocery store and bought discount 
succulents and began planting them.
"A lot of my friends and family, they were like, 'I want to buy one,' and (The Prickly Hippie) was born," she says.
She began selling her succulents online, as well as at local venues such as the Mississippi Farmers Market and Fondren After 5. Eventually, she began doing 
floral arrangements for wedding and events through the business.
Sivils decided to present all the skills that she has learned over the years for The Prickly Hippie storefront, which opened in July 2018. In creating the menu for the business, she took inspiration from creative desserts that she saw while on a trip to California in 2017, as well the fresh, light 
ingredients that she tasted while on a trip to Colorado earlier this year.
Along with the cafe and bakery side of the business and its selection of succulents and floral options, The Prickly Hippie sells work from a rotating lineup of local artists, including Will Brooks and Emmi Sprayberry. However, Sivils says one of her favorite parts of the new store is the "Build a Bouq" wall, where customers can build a bouquet to give someone.
"I think there's something for everyone here," Sivils says. "I think they just have to come and try it."
In the future, Sivils says she plans to host events at her business such as open-mic nights and other activities.
"I have tons (of ideas) in my pocket. ... It's just a lot. So much," she says with a laugh.
For more information, find The Prickly Hippie (500 Highway 51, Suite F, Ridgeland, 601-910-6730) on Facebook or visit pricklyhippie.com.