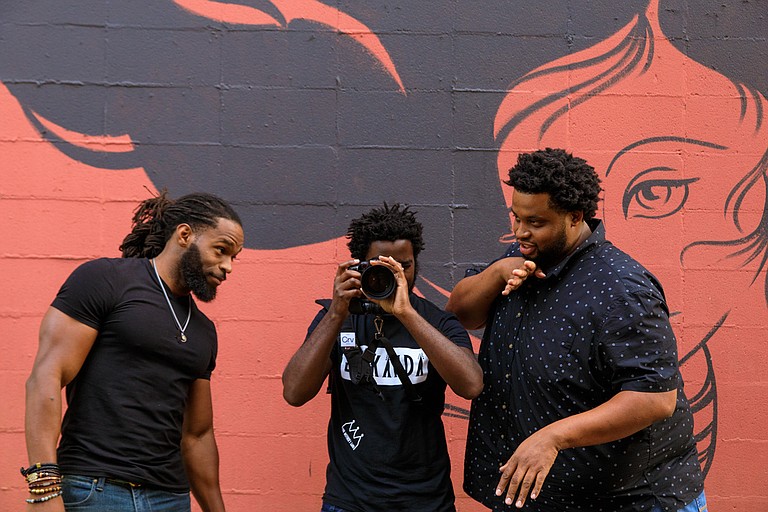 Wednesday, December 12, 2018
On a warm October evening, friends and art lovers crowd into midtown store Offbeat for "Summer Alchemy," an art show featuring a collection of photographs from Curtis McAfee and Terrance Wells.
The show offers a glimpse at the pair's recent work—models in warm colors and scenes of summer life. The photographers greet guests, making their way from one area to another, offering information and answering questions.
For McAfee, Wells and business partner Melvin Robinson, this "birthday party" is also a formal introduction to their business, 242 Creative, one of Jackson's newest content creation companies.
The idea began after Robinson 
decided to professionally pursue his longtime personal interest in video. Over the years, the former co-owner of Martin's 
After Dark had begun to accumulate more clientele for videography, while Wells and McAfee were working in photography.
"One day, I was like, 'Yeah, we just need to come together and do it,' and we sat down and came up with 242 Creative," Robinson says.
242 Creative spent its earliest days in the Stop Drop Cleaners on Capitol Street. The owner, Denise Ridgley, offered some of the space as a studio. Then, they moved to a building at 906 N. Mill St.
Using the motto, "Creativity is our element," each content creator contributes their previous professional skills and talents to the team. McAfee often handles aspects such as the design of photo shoots and set dressing. Wells, who has worked as a professional photographer since 2006, provides mentorship and experience behind the lens. Robinson handles the business end and videography responsibilities.
Robinson says the trio does not consider the company to be a photography or videography business solely, though It is a one-stop shop that handles event planning, website design, graphic design, branding services and creative direction, among other things, and has a number of experienced contractors and connections to whom clients can be referred for specialized services.
"We basically want to do stuff that is super dope, and we feel that we are very creative people who can provide that to people who might need help finding their voice," Robinson says.
The company's name is a reflection of the importance the men place on their Jackson roots. 242 is a reference to the house that Robinson grew up in—242 Broadview Drive in west Jackson. McAfee is also from west Jackson, and Wells grew up nearby in Clinton.
"Because of where we come from, when we do our work, we try to make sure we give an excellent product. We also try to price (our services) so people who are from where we are from can afford it," McAfee says. At the start of 2019, they will offer a small-business package to provide entrepreneurs and small businesses with high-quality marketing materials.
242 Creative also sponsors podcasts such as Jxn Transplants with host Ashlee Kelly and WTF?! IDK with host Krystal Chatman. Robinson also hosts the Roguish Gent Podcast under his stage moniker Theca Jones.
Recently, 242 Creative has done work for local organizations such as the Mike Espy for U.S. Senate campaign, Mississippi Roadmap for Health Equity, the Mississippi Volunteer Lawyers Project and local creatives such as Rita Brent, DJ Young Venom, Mike Hustle and Compozitionz.
The business is also looking to secure financing to host a summer-long multimedia course for high-school students. During the camp, students will create a podcast, public service announcement or webcast series. For Robinson, the goal is to help young people see media as a viable career option and understand how technology gives a historically under-represented group the opportunity to control narratives.
"We just want to help people. There are a lot of people here that are incredibly talented. They just need a little help or a little information," Robinson says.
For information, find 242 Creative on Facebook or visit 242creative.com.